Volkswagen New Beetle

Debut: 1997
Maker: Volkswagen
Predecessor: Beetle
Beetle is back! Volkswagen unveiled the "second generation" Beetle in the 1998 Detroit motor show, hoping it to revive the company's fortune in North America. You might not know, the original Beetle is still producing in Brazil, more than 60 years after the first prototype launched in 1936. Of course, in 1998 you won't expect a rear-engined air-cooled new car anymore, so I think you won't surprise that the new Beetle is based on the front-engined, front-wheel drive Golf Mk IV platform. Same structure, same suspensions, but the Beetle is 59mm shorter and 10mm narrower, moreover, it is a strictly 3-door. The cute styling originated from the "Concept 1" show car which is very loyal to the original Beetle, it can easily attract young customers. Cabin is also designed like a show car.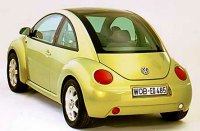 Compare with its mother, Golf, the Beetle seems to be inferior in every objective aspect. Firstly, it has less rear cabin space due to the ecliptic roof line. Secondly, the swoopy boot shape reduce cargo space from 330 litres to 209 litres. Thirdly, while the Golf uses Audi's 20 valves 1.8 litres engine (with or without turbo), Beetle still relies on the 115hp 8 valves 2 litres engine carried over from the last generation Golf. However, when later the Audi 1.8 turbo engine and even the VR6 are available, Beetle will be more desirable.

The new Beetle is produced in Mexico like the US-selling Golf. Price is about US$ 15,000 for the petrol version, that means very competitive. However, competition is not what Volkswagen thinking. The company wants the new Beetle to be an Icon Car like the original Beetle. If this turn out to be reality, new Beetle will comfortably enjoy a long waiting list without worrying competition.
The above report was last updated in 1998 . All Rights Reserved.
Beetle 1.8T

Forget the disappointing 8-valve engine, Volkswagen finally put a decent engine into the New Beetle to match its fresh image. As you know, the five-valve-per-cylinder, turbocharged 1781 c.c. unit was originally developed by Audi but it has been spreading to the whole Volkswagen empire, such as Golf GTi and Seat Ibiza Turbo. One hundred and fifty horsepower accompany with a flat torque curve. No turbo lag, really.

European testers used to say the New Beetle has handling better than its donor Golf, not just because of the 16-in diameter 205mm width rubbers. This means the Bug will cope with high power better than Golf GTi even without upgrading the tyres. It is. Now you have the power to slide the the car in tight corner.

However, to eliminate the high speed lift generated by the swoopy roof there is a small, speed-raised spoiler added to the top edge of rear window. Now it looks more and more like a 911 !
The above report was last updated on 8 Aug 99. All Rights Reserved.
Beetle RSi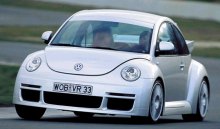 Ha, what do you think about this car? Funny or serious?

You may call it funny because this retro bubble thinks itself as a 911 Turbo. Look at that whale-tail ! that huge air dam and 80mm wider body, it reminds you some years ago you saw many Beetle Club members modified their old, original Beetle like this, and you couldn't help laughing out loud. Inside, the Beelte RSi tries to replicate another classic - Audi TT. Black background, aluminium grab handles, chromed gauges, carbon-fiber door panels ... all look like the TT. The beautiful gear lever is actually the same item as TT's. The Recaro racing buckets are mounted so low that visibility is hurt by the super-long dashboard, while the whale-tail limits rear vision in a similar way.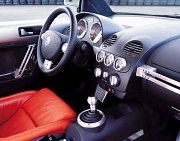 You may call it serious as well because the chassis is pure TT - and the top TT - that means the same suspensions and 4-wheel drive. The powertrain is no less serious, something derived from the Golf VR6 but only more serious. Stroked to 3.2 litres instead of 2.8, the compact 15° V6 pumps out 225 hp instead of 204, and a massive 35 lbft more torque. The transmission is the same 6-speed manual as its sister cars. So it is Volkswagen's interpretation of the top TT. Concerning chassis, there is a carbon-fiber tower strut to tighten rear suspensions, and then some big brakes and 18-inch wide rubbers. Serious.

Is it ? sorry, this super Beetle tips the scale at 1515 kg, some 120 kg more than the TT, therefore less responsive to corner. Grip and traction is abundance, but it loses a bit sharpness. In straight line, it is also slower than the 225hp TT, although the margin is smaller.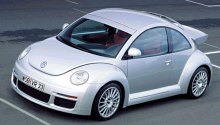 Funny, Volkswagen claimed the whale-tail rear spoiler generates a positive 77kg downforce at 160mph, but the problem is: this car CANNOT reach 160mph. The funny drag coefficient of 0.40 plus large frontal area limit it to just 140 mph, no wonder road testers found it unstable at Autobahn flat-out.

And the most funny is that Volkswagen asks for a price dearer than M3 or Boxster S, in other words, exactly 3 times of a Beetle 2.0. In return the customers get guarantee their car will be very rare - just 250 units will be built in a limited production run. Funny, a People's Car rarer than a Lamborghini Diablo !
The above report was last updated on 16 June 2001. All Rights Reserved.