The styling was responsible by Giorgetto Giogiaro. It might lack the romance you would expect from the Italian design maestro, but its folding-paper shape reflected a simple and no-nonsense philosophy that would characterize all generations of Golf until today. As on the aforementioned Fiat 127 and Alfasud, the Golf opted for a hatchback body to enhance luggage utility. This also allowed a short length of 3.7 meters to be achieved. It was considerably more compact than Beetle yet offered more passenger room and more luggage space with the rear seat folded. Both 3 doors and 5 doors version were available, while solid build quality was standard on all cars.
However, had it not introduced the GTI version in 1976, the Golf would not have been so famous or so important to history. The GTI was an evolution as well as a revolution. Mechanically, it evolved from the regular car. With a larger (1.6-liter) and tuned engine, closer gear ratios, stiffer springs, lower ride height, larger wheels and front disc brakes, the family hatchback was converted into a sporty one. Although the changes seemed minor, the result had a revolutionary meaning. It was a new kind of cars, ones that offering the practicality of family hatches but simultaneously the performance and handling of sports cars. It would be known as "hot hatches" later on but many rivals simply followed suit to use the GTI label. (Note: strictly speaking the first ever hot hatch had to be the 1973 Alfasud Ti, but the level of performance it offered was not as outstanding as the Golf GTI, thus it had little influence to the "hot hatch" trend.)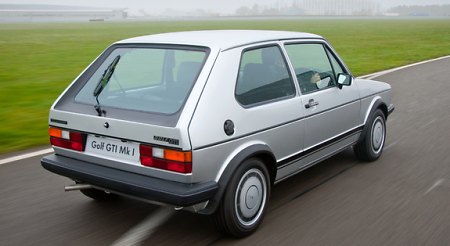 The original Golf GTI was powered by a 1.6-litre twin-carburetor SOHC engine with 100 horsepower. It was soon upgraded to 110 hp with the help of Bosch K-Jetronic (mechanical) fuel injection. The engine delivered not only outstanding power for its size but also exceptional smoothness for an inline-4, thanks to features like torsional dampers. Combined with a lightweight body and a 5-speed gearbox, which replaced the 4-speeder in 1981, it was capable to sprint from rest to 60 mph in 9 seconds, faster than many small sports cars of its time! In 1982, the engine was bored and stroked to 1.8 liters, giving a slight power increase of 2 hp and a fair bit more torque, shaving 0-60 mph time to merely 8.3 seconds.
Not just performance, the Golf GTI was renowned for handling. Its stiff torsion beam suspension resulted in good roll resistance and quick response in corner. Unlike many FF cars of the time it resisted understeer very well and offered the option of lift-off oversteer, which added to its driving thrills. The ride was hard but not to unacceptable extent. It also managed to provide a good steering feel and weighting, something not always easy on a front-driver. No wonder the GTI was usually regarded by motoring journalists as one of the favourite cars in the 1980s.
Evolution

Mk2 (1983-1991)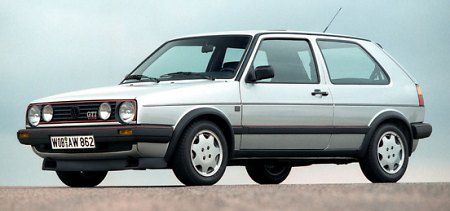 Golf Mk2 GTI 16V
The second generation Golf grew bigger – wheelbase was stretched by 70 mm while overall length grew to 4 meters. This moved it away from superminis like Renault R5, Peugeot 205 and Fiat Uno and placed it into the increasingly popular C-segment. Further improvement of build quality attracted many more buyers from classes above, so it was seen as a classless car. The new in-house design kept the trademark boxy profile and thick C-pillars but lowered coefficient of drag to 0.34.
The GTI version debuted in 1984. It kept using the 112 hp 1781 c.c. engine thus performance actually took a slight step backward. 0-60 mph now took 8.6 seconds to accomplish, although the more slippery shape enabled top speed to be raised slightly. Braking performance was improved by fitting disc brakes at all corners. The fine cornering balance and poise of the Mk1 was retained, while refinement was improved by better suspension damping and noise insulation.
In 1986, a DOHC 16-valve head came just at the right time to fend off challenges from Japanese rivals. It lifted output to 139 hp and shortened 0-60 mph to 8 seconds, although its peaky manner was not as welcomed. 1988 arrived the supercharged G60. It used a G-Ladder supercharger and intercooler to boost the 8-valve engine to 160 hp and 166 lbft of torque, which looked good on paper but contemporary road testers found out a less than energetic delivery in the real world accompanied with lots of noise and thirst. Anyway, few G60s were sold.
Mk3 (1991-1997)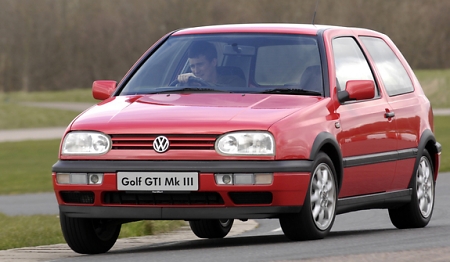 Golf Mk3 GTI 16V
The Mk3 grew further matured, higher quality but also rather dull to look. Its body construction was enhanced for crash protection and this inevitably gained a lot of weight. Fortunately, the GTI got a new 2.0-liter 16V engine with 150 hp. That said, the laurels of hot hatches would be shifted to Peugeot 306 S16/GTi-6 and Renault Clio Williams as Volkswagen no longer focused on keen drivers.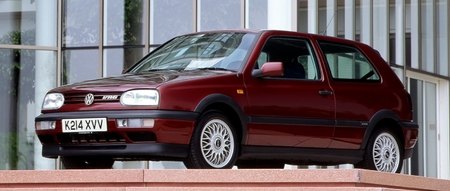 Golf Mk3 VR6
Instead, its new direction was to go upmarket. This was signaled by the new range topper VR6, which employed Volkswagen's new narrow-angle 2.8-liter V6 with 174 hp. Thanks to its unusual compactness, it could be fitted neatly into the engine bay. Superior torque and smoothness allowed it to rival BMW 3-Series, although it remained a choice of niches.
Mk4 (1997-2003)
Golf Mk4 GTI 1.8T
The Mk4 Golf continued the upmarket trend. No matter the tight assembly gaps or the superb quality of interior materials, it had actually exceeded the level of BMWs and Mercedes. Meanwhile, it saved costs by sharing platform with Audi A3, Seat Toledo and Skoda Octavia. The car got larger, safer and heavier again. To offset the weight it fitted Audi's 150 hp 1.8-liter 20-valve turbo engine to the GTI. Other upmarket engine options included a 2.3-liter narrow-angle V5 and a 24-valve, VVT version of the VR6 with 204 hp.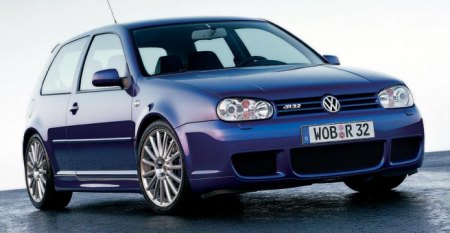 Golf Mk4 R32
In 2002, VW launched the sportiest Golf of all, R32. Based on the VR6, its engine grew to 3.2 liters and produced 240 horsepower. The torsion-beam rear suspension of the regular car was replaced with a new multilink setup to make space for the 4motion all-wheel-drive system. Lower and stiffer suspensions, quicker ratio steering, larger brakes and 18-inch wheels complemented the enhanced performance. This was a 150 mph super hot hatch with sharp handling to match. 5000 units were built during the last days of Mk4.
Mk5 (2003-2008)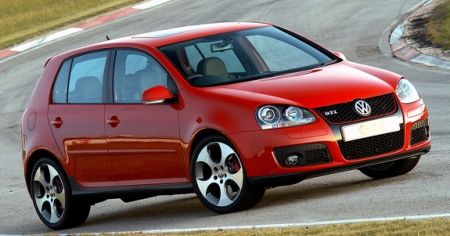 Golf Mk5 GTI
In the attempt to lure back keen drivers from Ford Focus, the 5th generation Golf abandoned its traditional torsion-beam rear axle for a new multi-link setup. Besides, it also adopted a more youthful exterior design, all while without altering its lead in build quality and ergonomics. A 67 mm stretch of wheelbase and increases in just about any dimensions brought a roomier interior. Engines were rationalized with a range of direct injection (FSI) four-cylinders and turbo diesel (TDI). A 170 hp 1.4-liter Twincharger engine combined supercharger and turbocharger cleverly in a compact package. Meanwhile, GTI switched to a vastly better engine, i.e. 2.0TFSI direct injection turbo. With 200 horsepower and 206 pound-foot of torque available from a very wide band, it finally got the performance boost it missed out in the last 2 generations. Now 0-60 mph was possible in 6.5 seconds and top speed was 146 mph. The new GTI combined good performance, refinement, practicality and driving fun – qualities that made the Mk1 and Mk2 so successful. No wonder it became popular again.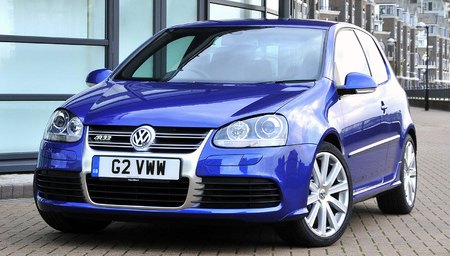 Golf Mk5 R32
The new version R32 could be distinguished from GTI by a chromed fascia and a centrally positioned twin-exhaust. No other Golfs until today could be so elegant! Mechanically, it was a light evolution from the previous generation. The VR6 added 10 horsepower to the top end, but more important a 6-speed DSG gearbox was available, whose seamless and quick gearshifts enhanced both driving fun and acceleration. Meanwhile, the new suspension of Mk5 returned a more forgiving ride than the last R32. An outstanding, if very expensive, hot hatch.
Mk6 (2008-2012)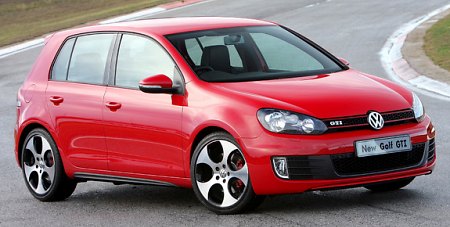 Golf Mk6 GTI
As Volkswagen changed its development strategy, the Mk5 Golf had its lifespan cut short and replaced with a mildly reworked version. This means the Mk6 should have been called Mk5.5 instead. The chassis and key components remained more or less the same. Improvement centered on upgrading NVH suppression, ride quality and cabin quality. To reduce emission, all naturally aspirated engines were replaced with downsized TSI direct injection turbo engines.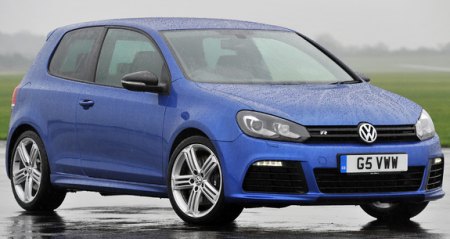 Golf Mk6 R
The GTI had its 2.0TFSI engine tuned to deliver 11 more horsepower, though it didn't go or corner much different from the old car. Bigger changes were found on the range topper. The R32 was killed for the sake of emission. Replacing it was Golf R, which employed a 270 hp version of the 2.0TFSI. Again it needed 4motion to handle the extra power. Sadly, it lost the elegant style of R32 and the unmistakable sound and smoothness of the outgoing VR6.