| | |
| --- | --- |
| Published on 14 Oct 2008 | All rights reserved. |
| | |
| --- | --- |
| | Will Toyota finally realize the dream that Smart has yet to fulfill ? |

Toyota said iQ is an innovative solution to our congestion and environmental problems. Solution ? yes. Innovative ? Of course not ! Copying the concept and styling of Smart and the 3+1 seating plan of the 2004 Fiat Trepiuno concept car (which eventually became Fiat 500 but unfortunately lost the innovative seating plan), the iQ is another example of Japanese copycat. However, we know the Japanese are good at improving and turning Western ideas into commercial success. Will Toyota finally realize the dream that Smart has yet to fulfill ?

The iQ has about the same width and height as regular B-segment superminis, but amazingly, it is just 3 meters long, or half a meter shorter than Fiat 500. Smart Fortwo is shorter still at 2.7 meters, but it carries only 2 people on board, where the little Toyota can take 3 adults plus a child.




| | |
| --- | --- |
| | ...just 3 meters long, or half a meter shorter than Fiat 500. |



Open the doors, you will find the cabin of iQ unusually spacious for its size because of its monobox profile, its generous width and its wheels locating right at the corners. Toyota specially designed a differential which locates in front of the engine so that the front wheels could be pushed as far forward as possible. As a result, out of the 3 meters length, as much as 2 meters is spent to the wheelbase to benefit interior space. More space is saved by employing a flat fuel tank underneath the rear seat and by using steeply angled suspension dampers. A thin dashboard (in the expense of glovebox) and console (thanks to a small air-con) intrudes little into the passenger space, so the front passenger seat may slide forward enough for another adult sitting behind it. It won't accommodate two six-footers longitudinally, but two 5 ft 10in guys will find comfortable enough for urban ride. Naturally, the driver occupies more space, so behind him/her may sit only a child.

The iQ has zero boot space unless you fold down its rear seat. Given such a short length, you can't have a boot and rear seat simultaneously. However, the short length doesn't compromise safety. Toyota expects its chassis can get 5-star Euro NCAP crash test rating, partly thanks to the 9 airbags it provides as standard. For comparison, Smart Fortwo got 4 stars in Euro NCAP.




| | |
| --- | --- |
| | Slim dashboard design saves space, though build quality hardly premium. |



On the road, the baby Toyota drives like a bigger car. Its ride is far more compliant than a Smart, while handling is reasonably faithful and predictable. Body control and high-speed stability are much more satisfying than Smart. Admittedly, given its longer wheelbase and very wide body you should expect more. However, compare with a proper B-segment supermini, the iQ isn't so impressive. You will find it rolls too much in corners, its steering light and lifeless, its energy-saving tires lack grip and its ride quality acceptable at best. Its compact size compromises its dynamics. The driver may complain for the lack of reach adjustment for the steering wheel, and rear-quarter vision is blocked by the thick B and C-pillars. On the positive side, you will find the little car very easy to steer and to park in congested city, thanks to its small turning circle. It also drinks little fuel and emits little greenhouse gas…

The iQ offers 3 choices of engines. The first one is a 68 horsepower 1.0-liter VVT-i 3-pot which comes intact from Aygo. The second is a new 1329cc VVT-i inline-4 with 99 horsepower and fuel-saving automatic start-stop function. The last one, Europe only, is a 1.4D4-D turbo diesel that comes from Yaris, with an output of 90 horsepower. These engines are quite high-tech in Japanese tradition, but they sound a little vocal at high rev in the cabin of iQ. Transmission includes 5-speed and 6-speed manual (the latter for diesel engine) and an optional CVT box.




| | |
| --- | --- |
| | Cabin sits 3 adults and a child in expense of luggage space |



In theory, the iQ should deliver superior fuel economy and emission than its larger European B-segment counterparts due to its smaller size, sophisticated engines and a choice of CVT. In reality, it isn't. Despite of its smaller size, the iQ is no lighter than, say, a Fiat 500. Base model starts at 845 kilograms and rises to 930 kilograms for a 1.3 CVT. The continuously variable transmission is also disappointing for its low efficiency, which results in 10 percent higher fuel consumption and emission than the manual box. The following table compares the iQ with some of the greenest European superminis:


| | | | |
| --- | --- | --- | --- |
| | CO2 emission | EU fuel economy | Max power |
| Smart Fortwo 800cc diesel | 88 g/km | 85.6 mpg | 45 hp |
| Ford Fiesta 1.6TDCi Econetic | 99 g/km | 76.3 mpg | 90 hp |
| Seat Ibiza Ecomotive 1.4D | 99 g/km | 74.3 mpg | 80 hp |
| Volkswagen Polo 1.4D Bluemotion | 99 g/km | 74.3 mpg | 80 hp |
| Toyota iQ 1.0 VVT-i | 99 g/km | 65.6 mpg | 68 hp |
| Smart Fortwo 1.0 | 103 g/km | 65.6 mpg | 71 hp |
| Mini 1.6D | 104 g/km | 72.4 mpg | 109 hp |
| Toyota iQ 1.4D4-D | 105 g/km | 70.6 mpg | 90 hp |
| Fiat 500 1.3 Multijet | 111 g/km | 67.2 mpg | 75 hp |
| Toyota iQ 1.3 VVT-i CVT | 124 g/km | 54.3 mpg | 99 hp |
| Mini One 1.4 | 128 g/km | 53.2 mpg | 95 hp |
| | |
| --- | --- |
| | Smarter than Smart, but still fails to beat conventional wisdom. |



As seen, many European superminis actually consume less fuel and emit less carbon-dioxide than the baby Toyota yet without its compromised accommodation, luggage space and dynamics.

Worse still, the unusual engineering of iQ requires a dedicated platform and many unique components, so it costs more to build than conventional superminis. As a result, Toyota tries to position it as a premium niche model. Price in UK starts from £9,500 for the base 1.0 model, the same as a well-equipped Fiat 500. Compare the looks and interior packaging of both cars, you will easily find which one is the real premium niche car. And that is before you compare their driving dynamics and usability. iQ might be smarter than Smart, but it still fails to beat conventional wisdom.
Verdict:



| | |
| --- | --- |
| Published on 2 Jun 2011 | All rights reserved. |
Aston Martin Cygnet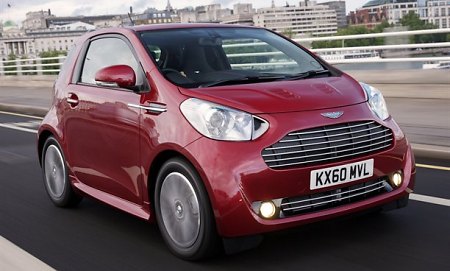 Two years ago, Aston Martin shocked us by revealing the Cygnet. Derived from Toyota iQ, it was easily the smallest and slowest Aston ever. We thought it was a late April Fool's joke by Dr. Bez, but eventually it turns out to be reality today.

Priced at £31,000 before options, you may see Cygnet as the cheapest Aston ever or the most expensive mini car we ever know. Dr. Bez doesn't care. He sees no reason to compare with mainstream city cars because his customers will never consider them anyway. To Aston Martin, the Cygnet is not a means to draw new customers or broaden its customer base. It targets at the existing loyal customers of Aston. Bez found many of them actually want a small, easy-to-drive car to commute within the living area. Regarding price, the rich customers won't care about £31,000 when they purchase a £150,000 Aston Martin, just like how they snap up luxury watches and suitcases at Aston's showrooms.

Sadly, the Cygnet is mechanically identical to the 1.3-liter iQ. Aston did not even try to retune its ECU or install a low-restriction exhaust, because that would have required type approval hence extra costs that the project cannot afford. So what you get is the same leisure performance (106 mph top speed and 0-60 mph taking 11.5 seconds) and civilized cornering dynamics. The only change is the use of larger, 16-inch wheels instead of 15-inch items, and 60 percent profile tires instead of 65 percent. It barely rides a tad firmer than the Toyota. That's all.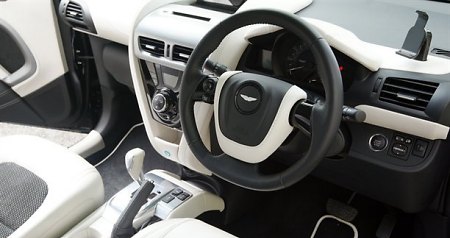 What Aston cares are purely cosmetic – the trademark front grille, hot air outlets at both sides and on the bonnet (all are pseudo), cosmetic extension of the headlamps, new taillights and bespoke wheels. These changes necessitate the replacement of all body panels bar the roof. In the cabin, the fundamentals are the same as iQ but Aston wrapped it with hand-stitched leather, Alcantara and some bespoke switchgears. Like other Astons, the production is human-intensive. It takes 150 man-hour to modify the iQ into Cygnet, not far off the 200 man-hours required to assemble DB9. Nevertheless, you can still easily see its Toyota roots, such as the cheap plastic dashboard behind the leather. It looks like a half-baked bread. From this view, the £31,000 investment seems less satisfying than a luxury watch.

As many people pointed out, the Cygnet is a trick to lower Aston Martin's fleet average CO2 emission. That's how it was conceived. However, as the new EU regulation eventually approved in 2009 allows niche car makers with annual sales less than 10,000 units to exempt from the 130g/km limit and apply for reasonable reduction targets instead, the call for a small car is no longer urgent. (Hopefully I will take some time to explain the regulation to our readers) Now it becomes more a marketing gimmick, or a toy to the very richest.

Verdict: