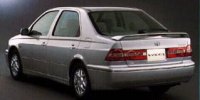 Since the debut in mid-1998, Vista is still available only in Japan. To Toyota, it represents a new direction of product development. They no longer want those conservative styled, big outside but small inside sedans. What they tried to pursuit in the Vista is a space efficient design accompany with environmental conscious.

The Vista couldn't be said as an achievement of styling. The first impression is : fat. Considering the ratio between 4645mm length and 2700mm wheelbase, the overhangs are still quite long. What makes it looks fat is the excessive height over competitors - 1505mm exceeds a normal car, say, European Accord, by 75mm. Other dimensions run close to others. Therefore the occupants can seat more upright to frees up leg room yet have abundance of head room.

The cabin isn't very stylish too. However, the use of digital dashboard mounting above the center console sets new direction for the subsequent cars, say the Yaris. Lack of transmission tunnel, plus the move of gear shifter to the steering column frees up foot and leg room for the front occupants. On the other hand, this imply the Vista is not designed to please keen drivers.

Power comes from a D-4 direct injection petrol engine, added with VVT-i variable valve timing, displacing at 2-litres and capable of 145hp. Of course the advantage is fuel consumption rather than performance.

To most of us, Vista might be just another unobtainable Japanese cars. However, I believe it will form the basis of next Corona / Avensis / Carina and probably a derivative for the US. Otherwise the development cost could hardly pay off.