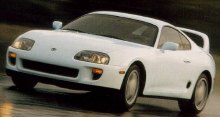 History
Studying the history of Japanese sports cars (more precisely, GT) and you will find there are two great names from the 2 biggest car makers: Nissan Fairlady (also known as "Z" cars in overseas) and Toyota Supra. These 2 families of sports cars compete to be the quickest Japanese sports car since the 60s. Nissan 240Z took the first crown by its overwhelming success in both the domestic and the US market, while Supra's predecessor, 2000GT, failed to achieve any success other than starring in a James Bond film. Then the Z continued to evolve into 260Z, 280ZX, the first and second generation 300ZX, despite of less success. Supra, on the other hand, still failed to be popular, had to satisfy to be a derivative of its successful younger brother, Celica.
In 1987, an all-new Supra independent of Celica was born, which was powered by a 230 hp turbocharged straight 6 with twin-cam and 24 valves, accompany with a beautiful look, if somewhat imitating Porsche 944 and Chevrolet Corvette. Not only being faster than the contemporary 300ZX, it also stole the Z's sales worldwide.
As the newer (and the last) 300ZX launched in 1989, Supra once again lagged behind. Supra struggled for several tough years and finally have a scheduled replacement in 1993.
The Development
The philosophy of Supra was never changed, that is, being a fast, practical and affordable 2+2 GT. During the development period, engineers were arguing whether to develop a new 5 valves per cylinder V8 or upgrade the existing turbo straight 6. V8 may guarantee excitement and character that can put Supra one level above its Japanese rivals and can have a good fight with Porsche. But upgrading the straight six seems wiser during the recession years, as it would cost far less money and time to develop. Therefore they chose the latter.
The Car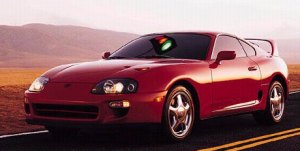 Visually, Supra cannot be described as a beautiful car. The soft, smooth profile does not coincide with the aggressive air intakes and huge headlamps. Therefore it looks half civilised and half sporty, without delivering any elegant feeling like the 300ZX or Porsche 928. The high rear spoiler generates necessary down force, but it looks uninspiring.
Forget the styling and you will find an overall lovely machine. The Supra has a very well tuned chassis. Double wishbones suspensions and rear-wheel drive are inherently successful formula, but the pretty good weight distribution (53:47 between front and rear) and attention to details also play important roles. It's not as playable as today's lightweight roadster, but neither did its contemporary rivals. Judging it by super GTï's standards, it was nearly the peak of its time.
Strong engine is the first good element. The 3.0 straight six is boosted by a pair of turbochargers operating sequentially, that means, one of them starts working at lower rpm and the other joins to provide maximum boost pressure at high speed. The result is linear output, or you can say better low speed response, or less turbo lag. It's not a new idea, Porsche 959 and Mazda RX-7 hard already tried that.
Further enhanced by variable valve timing, the 2JZ-GTE engine pumps out a full 320 hp at 5,600 rpm. Maximum torque of 315 lbft occurs at 4,000 rpm (DIN rated it as 326 hp and 325 lbft). Not only more powerful than 300ZX turbo or 944 turbo SE, it is able to rocket the Supra from zero to 60 mph in merely 5.1 seconds and to 100 mph in 12.3 seconds, which became the quickest Japanese car bar Skyline GT-R. When Autocar tested it in 1993, the British magazine described it as the fastest cross-country production car they could buy.
Supra also impressed Road & Track by its tremendous grip. The American magazine recorded 0.98 g lateral acceleration in skidpad, which is as good as Ferrari F355 and Dodge Viper GTS. Figures just told us part of the story. The remaining has to be explored by driving it in real world. It's chassis is very well balanced, while all controls work up to very high standards - smooth and tractable power delivery, throttle steerable, pretty good damping, tidy body control, well-weighted clutch by European standard, precise Getreg 6-speeder (although would be better if slicker), strong and progressive brakes, fine steering feel (if not as sensitive as Porsche 968CS) ... it's so refined that some people compared it with the much expensive Porsche 928GTS.
Admittedly, the Supra was never cheap because it was born at strong yen and high production cost in Japan. Being priced above the entry-level Porsche, despite of true ability to insult the Porsche, not many people were convinced that a Japanese GT worth that, especially the Supra was seen as lacking character - dull look, boring engine noise, dark cabin. Therefore it never matched 300ZX's sales figure a few years back.
The roadster boom started by Mercedes SLK and Porsche Boxster eventually dried up the demand for Supra in North America as well as in Europe. Today, like Mazda RX-7 and Mitsubishi GTO, the Toyota super GT is strictly bounded in Japan and waiting for either an unlikely replacement or an execution.