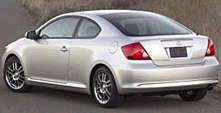 Toyota established the "Scion" brand in USA as an attempt to lure young customers. Scion tC is the third model of the brand, after Scion xA (equivalent to the Japanese Toyota ist) and xB (Toyota bB). tC is a hatchback coupe derived from the Avensis platform to compete in the "soft coupe" market with Honda Integra (Acura RSX), Hyundai Tuscani, Saturn Ion Quad-Coupe and Chevrolet Cobalt Coupe.

It shares the 2700mm wheelbase with Avensis, ensuring a roomy cabin. Being a four-seater coupe, it provides plenty of legroom for the rear passengers, although headroom is compromised with the rear window. Panoramic glass roof allows a bright and airy ambience. By coupe standard the interior is unusually practical, not only because it is actually a hatchback, but the 60/40-split rear seats can fold down to leave a flat loading space. In case you need to take long items such as surf boards, the front passenger seat can fold down.
The interior design tries to be funky but in my eyes it is far from successful. Fake aluminum center console looks unpleasing, as is the 350Z-style gauges. Scion tC is built in Japan at the Tsutsumi plant, so build quality and reliability are trustable. Nevertheless, the plastic materials used are pretty low rent, obviously designed for the American market and to sell at a very low price. In fact, the car is really cheap, priced at only US$16,500 despite of a long list of standard equipment and the panoramic glass roof. It represents good value for money.
Suspensions are carried over from Avensis, with struts at the front and double-wishbones at the rear. This setup has been thoroughly tuned by Toyota Europe and Lotus in Avensis thus ride and handling are promising. In the tC, the suspension tuning is a little firmer, while wider and lower profile rubbers (215/45) and 17-inch wheels increase grip and sharpen handling further. However, compare with Honda Integra and many European hot hatches the tC still biases more towards comfort. Its suspensions soak up bumps effectively, delivering a supple ride unfound at this price. The downside is a little more body roll than desired. It would be better if Toyota can tune it to be sharper.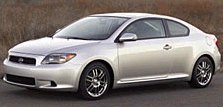 The hydraulic power steering is accurate and well weighted. And its feel improves with speed, encouraging you to push harder. The same goes for the slick and short-throw 5-speed manual gearbox. It comes from Camry, but received improved linkage and shorter gearing to speed up engine response. The engine is Camry's 2.4-litre inline-4, with twin-cam 16 valves operated by VVT-i variable valve timing (at the intake side). The all-alloy engine has twin-balance shafts to counter-balance the typical vibration for big-capacity four cylinder engines, thus it revs smoothly until the 6200rpm red-line. It is not a high-revving engine, but the plenty of cubic centimeters enables plenty of power and torque - 160hp at 5700rpm and 163 lbft at 4000rpm.

At 1370kg, Scion tC is heavy - good value for the amount of metal it offers! anyway, the 2.4-litre engine is still capable to push the car from rest to 60mph in 7.4 seconds. Overall speaking, Scion tC is practical, comfortable and fun to drive, if not quite sporty and attractive to eyes.