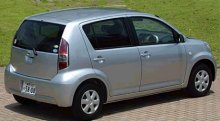 If the 1999 Yaris was a statement of style, the 2004 Passo must be a statement of practicality. Its exterior design is neither pretty nor elegant. Its cabin design is uninspiring. Plastic quality is average. It innovates nothing. It does not set any new standard in any areas. Nevertheless, it is undoubtedly a practical, easy-living hatchback. Its squarer shape provides plenty of interior space, so is the long wheelbase that exceeds Yaris by 70mm. Four large doors enables the passengers to access conveniently. A huge and wide-opening tailgate aids luggage access. Rear seats fold flat to form a flat load area. A pair of simple hooks allow 2 tilt angles for the rear seatback….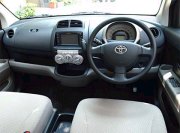 Passo has a twins sister named Daihatsu Boon. They are the first joint venture between Toyota and its subsidiary Daihatsu. Basically, they are the same car with just the slightest deviations in packaging. To Toyota, Passo slots in the space under Yaris to be the company's bottom of the range. On the contrary, Boon replaces Sirion (Storia) to be Daihatsu's top model. According to insiders, the twins were basically engineered by Toyota but the interior packaging was developed by Daihatsu taking advantage of its small-car-big-interior know-how.
The Passo has the same length and width as Yaris, raising concern whether it will create internal competition. However, Yaris is 5 years old now and I expect the next generation will grow in size again to avoid competition with Passo. Moreover, Yaris will have better styling and higher quality packaging to ask for a higher price. Therefore the lean Passo will be Toyota's cheapest model.
Apart from a lower price tag, the Passo is also designed to be cheap to run. It employs a pair of newly developed engines. The base engine is a 1.0-litre VVT-i three-cylinder. Using one fewer cylinder helps it to achieve lower thermal and frictional loss hence it can return more miles per gallon of fuel. Its character is smooth, lively and surprisingly powerful, if noisy at high rev. Another engine is a new 1.3-litre VVT-i four-cylinder, with longer stroke and smaller bore than the Yaris' unit to enhance torque and fuel efficiency.

The chassis of Passo has nothing exciting. It gets the usual suspension design and the usual Japanese-style tuning. In other words, priority is put on ride comfort instead of body control. If you push it into corners, you will find it rolls and understeers more severely than European hatchbacks. Besides, the steering is also set to the light side, opposing to the taste of keen drivers. At the current setup, Passo is not going to please car enthusiasts. However, once it is exported to Europe - more likely to be in Daihatsu form - it will undoubtedly get some treatment. But even so, it is not going to attract many attention. The point is, Passo lacks a clear character to distinguish itself from countless of other fine superminis.