| | |
| --- | --- |
| Published on 9 Dec 2009 | All rights reserved. |
| | |
| --- | --- |
| | For the first time, a Japanese car aims at the top Ferrari and Lambo... |

Japanese people must be excited about the birth of Lexus LF-A, their first ever 200 mph supercar. No matter in terms of top speed, horsepower or market position, this car has exceeded the achievement accomplished by Honda NSX and Nissan GT-R V35. It is the first time a Japanese supercar designed to rival the top Ferrari and Lamborghini. It even commands a price higher than any of its mainstream competitors, and near the level of Pagani Zonda ! While the Japanese are busy in celebration parties, our view on this car is overshadowed by a lot of questions, questions that I'm afraid not even its creator can answer…

The first question concerns its badge. Lexus might be the most prestigious brand Toyota owns, but does it fit into the image of a supercar ? Lexus is always renowned for ultra-refinement, comfort and quality. It has nothing to do with driving excitement or performance – even the recent IS-F cannot change that perception. I can't see what values the Lexus brand can bring LF-A, or vice versa.

The second question surrounds Toyota's product portfolio. Since the retirement of MR-S (MR2), Celica and Supra, Toyota no longer offers any sporting models in its lineup. How well LF-A can fit into its non-sporting lineup is really questionable. Look at Nissan, it has 370Z and G37 Coupe working under GT-R. In the 1990s, Honda also had Civic Type R, Integra Type R and Prelude supporting NSX. Their supercars actually help selling the money-making mass production models. The situation at Toyota is totally different. Having killed all its sports cars and concentrated on promoting a green image, it suddenly come back with a wild supercar. What is the purpose and benefit of this strategy ?


| | |
| --- | --- |
| | Even at €375,000 apiece, this car is destined to make a loss ! |

But above all, the most questionable thing about LF-A is its price. €375,000 or £340,000 may buy you the most exclusive, most artistic hand-made supercars in the world. Pagani hand-crafts a dozen or so cars per year, that's why it can command a price multiple times of the mainstream Ferrari V8 or Lamborghini V10 models. In contrast, Toyota plans to build 500 units of LF-A in 2 years. That might be peanuts to the Japanese giant, but obviously too many for this class. Ferrari could command a similar price for Enzo a few years back because it represented the most sophisticated technology and innovation then – the same cannot be said to the Toyota – and after all, it was a Ferrari, not a Toyota.

If you think Toyota is greedy, Akio Toyoda will tell you at pains that the LF-A program is actually destined to lose money on every car it sold, even at that price. This is because of its lengthy, money-no-object development process. The LF-A project started as far back in year 2000. It took 10 years of development and a few radical rethinks during the process – such as switching from aluminum spaceframe chassis to carbon-fiber monocoque when it saw rivals got stronger. If the same amount of investment and time were put into Ferrari, I'm sure it will create another landmark supercar like McLaren F1. Unfortunately, Toyota has little or virtually no experience in supercar making. It spent a lot more on learning from mistakes and establishing the essentials. From this point of view, it has done an admirable job.


| | |
| --- | --- |
| | Carbon-fiber chassis means agility and response not presented in Ferrari 599... |

Nevertheless, in the cruel supercar world, no one cares about how it got there, but how good it looks, sounds, feels and performs. Objectively, the Japanese supercar is no better than a new Ferrari 458 Italia, which ridiculously asks for half the money ! Both cars have a claimed top speed of 202 mph, and the Ferrari is 0.3 or 0.4 seconds quicker to accelerate from zero to 60 mph – that's a big difference when we are talking about 3 and a half seconds range. Horsepower-wise, the Ferrari has a slim advantage of 10 hp. Weight-wise, they are just within 5 kg. If the Japanese car cannot win by figures, how can it win by subjective qualities ? Yes, the Ferrari can easily knock it out in beauty contest, if not singing contest, which is close call. Its gearbox, its ride and its steering are all better than the LF-A. Haruhiko Tanahashi, the chief engineer of LF-A, said they benchmarked against the best European supercars during the development. Unfortunately, Ferrari 458 was not available then.

However, in certain aspects it does beat Ferrari's front-engined grand tourer, the £200,000 Ferrari 599GTB, because it is designed to be a sportier machine. Like the Ferrari, it has a front-mid-engined layout and a rear-mounted transaxle to achieve a perfect, slightly rear-biased 48:52 weight distribution. It also employs classic rear-wheel drive and a Torsen limited slip differential to lay down the power on road. But unlike the Ferrari, it has a smaller V10 engine and a very classy carbon-fiber central chassis to achieve a kerb weight of 1480 kg, undercutting the V12-powered aluminum-chassis Ferrari by a massive 210 kg ! This lightweight feeling is obvious in the driving experience, where it shows superior agility and response.

Believe or not, the carbon-fiber tub is built in-house using Toyota's weaving technology (remember its root in textile industry). Carbon fiber roof rails are bolted to form the full carbon-fiber survival cell. Fore and aft of it are aluminum subframes extended to provide mountings for powertrain and suspensions, and serve as crumple zones in case of collision. The carbon chassis has immense rigidity, four times that of the previous aluminum spaceframe chassis and weighs 100 kg less. Bodywork is also made of carbon-fiber reinforced plastics. Suspensions are predictably aluminum double-wishbones all round. Fixed rate dampers show its uncompromising character, something excels on race tracks instead of public roads. Despite of standard ceramic brakes, its ride is hard, okay on Autobahn or Nurburgring as most of the testing was conducted in Germany, but on ordinary roads it lacks the Ferrari's suppleness.


| | |
| --- | --- |
| | Bespoke V10 is one of the best sounding engines in the world... |

The V10 engine was developed with the help of Yamaha, the long-term engineering partner of Toyota since the days of 2000GT. Technology-wise it is conventional rather than edge-leading. A 72-degree V-angle was selected for its even-firing order (unlike Lamborghini and Porsche's V10). Dry sump lubrication is a must for such a high-performance engine, as is all-alloy construction, forged aluminum pistons and full variable valve timing. Sadly, there is no variable valve lift, despite that lesser Toyotas have Valvematic or VVTL-i, probably because these complex mechanisms are not durable enough for the rev it demands. However, the V10 has applied all the lightweight and low-friction know-how, such as titanium valves and con-rods, carbon-coated valve tappets and rocker arms. Its oversquared combustion chambers measure 88mm bore x 79mm stroke, benefiting revability. The lack of direct fuel injection is a disappointment – considering most Ferrari, Porsche and Lamborghini have that now - but it can still run a 12.0:1 compression ratio, proving the high-precision of its hardware and knock control system. Overall, the 4805 cc engine produces 560 horsepower at 8700 rpm. It redlines at 9000 rpm, joining Ferrari's V8 as the highest revving engine in the world. The V10 is equipped with a 3-stage intake manifolds, with 2 inlet lengths plus a resonance chamber, but its torque delivery is not as great as the Ferrari V8 despite of its larger capacity. Maximum torque is 354 lb-ft at 6800 rpm, neither remarkable nor poor. Fortunately, the torque curve is quite flat, with 90% of the peak torque available from 3700 rpm.

The small-capacity V10 is smooth, linear and extremely rev-happy. Throttle response is razor sharp. Mid-range torque is adequate rather than mind-blowing, but it revs quickly into the sweet zone from 6000 to 9000 rpm, when it sounds really addictive - angrier than Audi's or BMW's V10, more like a detuned Formula One engine. It is definitely one of the best sounding engines in the world !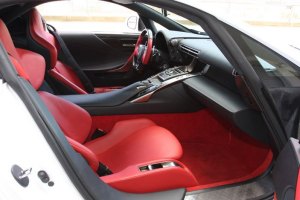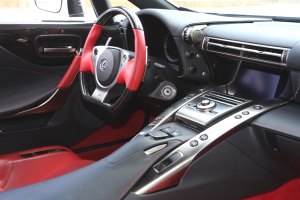 High quality but lacks sense of occasion...





Nevertheless, its straight line performance is somewhat disappointing for a car at this price. Its low drag (Cd 0.31) seems to permit a top speed closer to the level of exclusive supercars like Pagani or Carrera GT, but this is actually deceptive. Above 50 mph, a big spoiler deploys from the tail to generate the necessary downforce and reduces its top speed to a less spectacular 202 mph, right in the league of junior supercars. As for acceleration, for sure, 3.6 seconds to go from 0-60 mph is by no means slow, but it can't beat a GT-R or ZR1 which costs just a fraction of its price. Part of the problem comes from the 6-speed automated manual gearbox. Toyota said it preferred single-clutch gearboxes to new generation double-clutch boxes for its direct feel. If so, I suppose it should have employed a conventional manual gearbox instead of a robotized gearbox, shouldn't it ? The robotized gearbox of LF-A not only lacks the speed and smoothness of Ferrari's new double-clutch gearboxes, but it is also much slower than the robotized F1 gearbox employed by the last generation Ferraris. Even in its sportiest mode, it needs as long as 200 millisecond to complete a gearshift, versus 60 ms in 430 Scuderia and 100 ms in 599GTB. Besides, its shift quality is far from perfect, okay on a perfectly controlled race track but sometimes reluctant and inconsistent on public roads. This is the weakest link of the car.

Two more things prevent it from perfection: first, the steering. In contrast to other supercars, LF-A adopted a pure electrical power steering. It is super quick – with 2.0 turns lock to lock like Ferrari 458 – and accurate yet surprisingly light. Feedback is the best yet we have seen on an electrical steering, but still it doesn't provide as much communication as conventional hydraulic steering of its rivals. This damages slightly its otherwise excellent handling, which is sharp, agile and highly throttle adjustable.


| | |
| --- | --- |
| | A milestone in Japanese supercar history, but it won't have the same impact as NSX and GT-R... |

Another flaw is its styling. While its body profile is not much different from Aston Martins, the styling gimmicks are rather disgusting to me. First have to go are the weird upper side intakes (which draws air to cool the rear-mounted radiators). The huge, trapezoidal outlets at the tail and the triangular front intakes also challenge our sense of beauty. Worst still, the cutlines linking the headlamps and triangular intakes look like scars on a pretty face, damaging the integrity of the design. Turn to the interior. Yes, the bucket seats are excellent, the build quality is as good as other Lexus – which is impressive for a low volume car – the design is rather odd. The double-decker dashboard doesn't inspire. The air vents and switch gears lack sense of occasion. The alloy center console is well finished, but it might just happen in other Lexus luxury cars. What about the fancy, video-game like TFT-screen instrument panel ? Motoring journalists seem excited about it. Go home to play your Playstation.

20 years ago, Honda stunned the world with NSX, a car out-teched and out-handled contemporary Ferrari 328/348 yet being far more user-friendly. 2 years ago, Nissan GT-R stunned us with its supercar performance and handling at an affordable price. Lexus LF-A is another milestone in Japanese supercar history, but it won't have the same impact to the world as the other two. Considering its price, it should have achieved more. If it were priced at one-third of the current level, it could have been considered as a great success. But then how can it afford the carbon-fiber chassis, ceramic brakes, dedicated V10 and titanium components ? or the 10 years of development ? No matter from which viewpoint, the LF-A project is not going to be commercially viable. Instead, it is a statement of the wealth and ability of Toyota.

Verdict:




| | |
| --- | --- |
| Published on 5 Oct 2011 | All rights reserved. |
LFA Nurburgring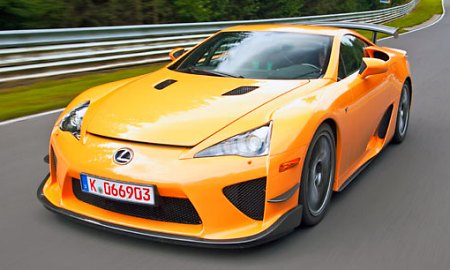 Few cars are as single-minded as Lexus LFA. Its creation has only one objective: to excel in Nurburgring Nordschleife. While other performance cars would be considered serious if they had been tested at Nurburgring for a few months, the Japanese supercar spent years lapping the famous 20.6 km track during its development. It even entered the Nurburgring endurance race before production to further polish its chassis and electronics. Some of the racing experience fed back to the road car and created this Nurburgring edition. Among the 500 units of LFA to be produced, 50 of them will be finished in the Nurburgring specifications. Its price is even more staggering than the standard car - a full £400,000 !

The Nurburgring edition is a hardcore version of LFA, just like Porsche 911 GT3 RS versus the standard GT3. It is not significantly different, but all the minor modifications push it closer to the extreme end of road car spectrum. Its suspension is set stiffer and 10 mm closer to the ground. Its engine ECU is remapped to produce another 11 horsepower at the top end. Its automated manual gearbox is reprogrammed to cut gearshift time from 200ms to 150ms. Semi-slick Bridgestone RE070s provide stronger grip. Lighter wheels partly offset the harsher ride resulted from the stiffer suspensions. However, the most crucial modification must be aerodynamics. A deep, race-car-like front air dam, a high-mounted fixed rear wing and small winglets ahead of the front wheel arches – all made of carbon-fiber – help generating 30 percent more downforce than the standard LFA. This mean while the straight line performance figures (202 mph top speed and 0-60 mph in 3.6 seconds) remain unchanged, the Nurburgring edition should corner faster and therefore achieve a faster lap time at Nurburgring Nordschleife.



On 31st August, the big day came. Test driver Akira Iida piloted the LFA Nurburgring to lap the north loop in 7 minutes and 14.64 seconds, beating the best time of Porsche 911 GT2 RS (7:18), Corvette ZR1 (7:19.63) and Nissan GT-R (7:24.22) convincingly. That was the unofficial record for production car, if you can call it a production car.

So, mission accomplished. The 12-year investment was finally paid off. Time for celebration? No, I am sure its lap record will be broken soon – in fact, just a few days later Chrysler announced its retired Viper ACR did 7:12.13. Lap records never make cars timeless. What makes them great is the driving experience. The LFA Nurburgring differs from many record chasers by offering a really enjoyable driving experience. Its handling is swiss-watch precise. Its 9000-rpm V10 reacts instantly to your throttle input and rewards your effort with addictive sound. For all its remarkable cornering prowess and body control, its ride is still livable on public road – well, not in the league of Ferrari 458 or Audi R8, but for a track-oriented special it is by all means decent. The Bridestones semi-slick tires are less prone to wear than the Michelin Cup tires its record-chasing rivals employed, so it is sensible for everyday use. Its cabin, with Alcantara and carbon-fiber trim replacing the standard car's leather, is still a benchmark for solid build quality. The LFA Nurburgring can be driven as hard as a race car yet it feels as polished as any prestigous supercars coming from Europe.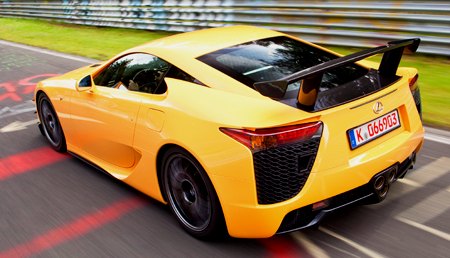 The big question is: is it worth the extra 18 percent price over the standard car? Put it this way, if you are willing to spend £340,000 on the LFA, you will find the extra money a bargain, even though the price difference alone can buy you a nice 911 Carrera. On the road, the difference between the Nurburgring edition and the standard car is not power, which is actually hard to detect, but the extra downforce. It makes the chassis balance better, grip better and brake better once it is up to speed. The result is a more confidence inspiring drive. You can go faster in every corner, so fast that probably no other cars can match.

In the opposite view, the car is not as good a road car as Ferrari 458, or to less extent McLaren MP4-12C. Its suspension lacks the suppleness of its rivals. Its deep air dam limits its usage on B-roads. Its gearshift is too harsh for regular drivers. Its thin racing buckets are not as comfortable as those fully powered leather seats on its rivals. It also cries for a more beautiful shape, both exterior and interior. Moreover, its price can buy a 458, an MP4-12C and a Lotus Evora simultaneously. Seems not the best way to spend your fortune.

The only reason to buy this car is you want the ultimate track and road car in one. Provided you regard a Porsche 911 GT3 RS as too slow or too common in sight, the LFA Nurburgring will be the only option.

Verdict: