Lexus GS

Debut: 2005
Maker:
Toyota
Predecessor: Lexus GS / Toyota Aristo Mk2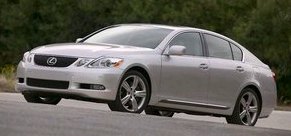 Talk about Lexus GS, what will you think of? You may remember the Giugiaro styling of the original GS and the V8 power of the second generation car, but probably nothing else. Why? Because Lexus GS had never been competitive enough to fight against class leader BMW 5-Series and Mercedes E-class. Can the third generation GS close the gap?

In terms of styling, the answer is definitely positive. Although it is not as elegant as Audi A6 and Jaguar S-Type, the new GS is a fine piece of design. Its body profile is smoother and sleeker than before, thanks to faster-angle windscreen and fastback-like rear window. Simultaneously, the pronounced shoulder line and taller / shorter tail contribute to a sportier appearance. What a pity the clumsy headlamps and characterless grille devoid it of a prestige image.

Enter the cabin, you will be amazed by its simplicity. The dashboard is very clean, almost too lean. At first, you may find the plastic surface too shinny, without the quality feel of Audi's cabin. But then examine the assembly gap and the hinges of moving parts you will find build quality is actually first rate. It will last forever. In terms of space, there is hardly any surprise. It matches its main rivals but no more.

What allows the dashboard design to be so clean is the clever use of a retractable control panel to place those rarely used buttons, keeping them out of sight in normal driving. Furthermore, Lexus cleverly uses a touch screen to control more complicated functions such as navigation. This is far more user friendly than BMW's rotary knob-controlled i-Drive. Ease of use continues to be a strength of Lexus.



Chassis and Systems



The outgoing GS shared platform and engines with the Japan-bounded Toyota Crown to benefit economy of scale - that's why it can be sold at lower price yet lower volume than its German rivals. This strategy continues in the latest car. As before, the new GS is a rear-drive machine powered by a six-cylinder and a V8 engine. However, it is not lack of new technologies:

1) Optional 4WD system: this feature is only available to GS300. It uses an electronic-controlled multi-plate clutch to deliver 70% torque to the rear wheels in normal condition to maintain rear-biased handling character, and up to 50% torque to the front wheels when the road get slippery.

2) New suspensions: while the front remains to be double-wishbones, the rear suspensions have been changed to a multi-link setup. Adaptive damping is available to GS430.

3) 6-speed gearbox: like LS430, the automatic gearbox is upgraded from 5-speed to 6-speed. This should improve acceleration and reduce fuel consumption. Note that Lexus still resists manual gearbox, a reflection of its comfort-biased nature.

4) Brake-by-wire: following the footprints of Mercedes' SBC system, Lexus GS is also introducing its own version of brake-by-wire system called ECB (Electronic-Controlled Braking). Will it be as problematic as Mercedes' system? we shall see later.

5) Variable gear ratio steering (VGRS): this is similar to BMW's AFS system but work in a more civilized manner (that means a smaller range of variation). The steering gear ratio can be varied electrically according to speed - at below 50km/h, the steering ratio is fixed at a relatively high value, quickening steering response. Above that, steering ratio is continuously reduced as a function of speed, resulting in slower steering response. This makes the steering less nervous and improves high-speed stability. Another important feature of VGRS is its ability to correct understeer and oversteer. When VDIM (Vehicle Dynamic Integrated Management) system tells it the car is running in understeer or oversteer, VGRS can steer the front wheels actively by up to 6 degrees to counter the understeer or oversteer. On highway, it can also adjust the steering to compensate side wind. (Both VGRS and VDIM are available to GS430 only)

Apart from VGRS, VDIM and ECB, the new GS also features the usual ABS, BA (Brake Assist), EBD (Electronic Brakeforce Distribution), TRAC (Traction Control) and VSC (Vehicle Stability Control). Who says only the German are mad of electronic trickeries?



Engines and Performance



As before, Lexus offers a 4.3-litre V8 and a 3.0-litre six-cylinder engine for the GS. They are called GS430 and GS300 respectively.

The V8 is carried over from the old car and is shared with LS430 as well. It produces the same 300 horsepower and 325 lbft of torque, propelling the car from 0 to 60 mph in 5.7 seconds and hitting a regulated top speed of 155 mph. This compete well with BMW 545i, Mercedes E500, Audi A6 4.2 and Infiniti M45.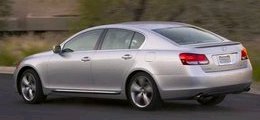 In contrast, GS300 employs a new engine. In place of the long-serving iron-block inline-6 is an all-aluminum V6 displacing the same capacity. Dual VVT-i, variable intake manifolds and direct-injection helps it to lift maximum power from 220 hp to 245 hp, which is very efficient indeed, if not as efficient as BMW's 258hp 3.0 straight-six.

Naturally, the new V6 is substantially shorter and lighter than the old engine. It helps the new GS300 to undercut its predecessor by 50 kg. Nevertheless, at 1620 kg, it is hardly a lightweight. Competing with the lighter BMW 530i and the more powerful Mercedes E350 and Infiniti M35, the GS300 inevitably feels a little short on power. Why didn't Toyota give it the 280 horsepower 3.5-litre V6 recently applied to Avalon? Perhaps the bigger V6 is not refined enough to match the Lexus standard. But a more likely reason is: the V6 is reserved for the forthcoming IS350, which is supposed to deliver a sportier drive than the GS.



On the Road



For the first time, Lexus GS comes close to LS430 in quietness and refinement. Sound insulation throughout the cabin is superb, making it the quietest car of the class. The engines, no matter V6 or V8, are remarkably smooth and quiet. The 6-speed automatic transmission shifts seamlessly. In short, the "Lexus-ness" is obvious.

Ride quality is generally supple, but not as competent as Mercedes E-class and BMW 5-Series. GS300 has a softer suspension which results in more body movement. In contrast, GS430 with its adaptive damping and sportier tires transmit too much shocks from small irregularities on the road, ruining the otherwise refined ride.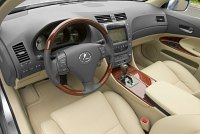 Keen drivers will once again find the Lexus not their cup of tea. Although the hardware is promising - 53/47 to 54/46 weight distribution, rear-wheel-drive, VGRS and VDIM etc. - Toyota still fails to put these stuffs together properly to deliver real driving pleasure. Failure one is the steering, which is light and uncommunicative; Failure two is the brake-by-wire, whose pedal feel is detached, modulation is difficult and way too sensitive. It really follows the footprints of Mercedes. Failure three is the gearbox, which upshifts automatically even in manual mode, leaving little control to the driver. But worse of all is failure four – the electronics (VDIM, VSC or the like) intervenes too keenly. Every time you want to exploit the chassis, it shut the car down and call an end to the party. It is the Big Brother HAL9000. And unlike "2001 The Space Odyssey", you cannot disable the computer.



Conclusion



The GS follows the tradition of Lexus to offer the highest mechanical refinement and build quality. It has a pair of good engines, a comfortable cabin, nice exterior styling and a lot of sophisticated technologies. However, it fails to deliver the ride and handling necessary to compete with its best German rivals. In particular, its driver interface provides little communication and control to the driver, making the car unexciting to drive. Sadly, this is also the tradition of Lexus.
The above report was last updated on 25 Apr 2005. All Rights Reserved.
GS450h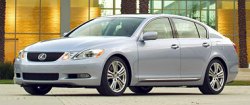 You can use electric-gasoline hybrid technology in two ways: A) to achieve superior frugality without losing performance, or B) to achieve superior performance without worsening fuel consumption. Lexus GS450h belongs to the latter kind. According to Lexus' traditional naming policy, it should have been named "GS350h". However, the combination of a 292 hp 3.5-litre V6 and a 197 hp electric motor results in a maximum 339 horsepower, which sounds more like the output of a 4.5-litre V8, hence the name GS450h.

The petrol V6 is a detuned version of IS350's. It has all the efficiency-enhanced technologies like dual VVT-i and direct injection. In the electric side, there is a NiMH battery pack added between the rear seatback and the boot, supplying electricity to a big electric motor. Another motor (a smaller one) works as starter and generator. Mating the engine and the electric motor together is a new longitudinal CVT. It provides an additional planetary gear set with 2 ratios to take care of highway cruising as well as low speed acceleration.

The hybrid system in this car is not as economy-biased as Toyota Prius, but it still drinks less fuel than its performance rivals like BMW 550i. Lexus claims it returns an excellent 27 mpg in city and 28 mpg on highway, versus BMW's 17 / 25 mpg. Although in reality most journalists found those figures impossible to repeat, the hybrid vehicle still has an edge over its German rivals, especially in city where the electric motor provides a bigger contribution to power.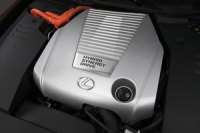 On the other hand, the electric motor provides very strong assistance right from idle. This is the so-called "supercharging effect". It enables the GS450h to sprint from rest to 60 mph in 5.2 seconds, beating BMW 550i by 0.1 seconds ! at higher speed, the supercharging effect fades out as electric motor doesn't excel at high rev, that's why the sum of 292 hp and 197 hp is 339 hp. By then you will see the advantage of BMW – it possesses 20 more horses yet carries 150 kg less weight than the hefty Japanese hybrid car. However, most American journalists did not notice that, because their GS450h are electronically regulated to 131 mph. In Europe, the speed limiter is set at 155 mph, so European drivers can see the difference.

The continuous variable transmission is generally good. Its operation is seamless in automatic mode (what else do you expect for CVT ?), although there is still a little rubber band effect can be detected. The CVT can also simulate a 6-speed manual gearbox, but it's no replacement to a real manual gearbox for responsiveness and feel.

The hybrid conversion has a couple drawbacks though. The first one is luggage space. To accommodate the battery pack, the boot volume is reduced by almost half ! this mean it cannot carry 4 people's belongings for long journey.

Another drawback is weight. The hybrid system added 175 kg to the kerb weight. This mean while the car sounds like a 3.5-litre sedan, it weighs like a 5.5-litre limousine ! GS has never matched BMW 5-series for handling and ride. With the extra weight, its handling and ride can only get worse.

And then the last factor you have to consider is price. Interestingly, the number in its name serves not only as an indication to its power level, but also an indication to its price. In the USA, the hybrid version costs about 12 percent more than the V8-powered GS430. So, you pay more money for lower fuel consumption and slightly quicker acceleration (0-60 mph: 5.2 sec versus 5.7 sec), but you get an useless boot and slight deterioration in handling. Apple or orange, that is your choice.
The above report was last updated on 20 Apr 2006. All Rights Reserved.
General remarks


GS300

GS430
GS450h

Layout

Front-engined, RWD

Front-engined, RWD

Front-engined, RWD
Chassis

Steel monocoque

Steel monocoque
Steel monocoque
Body

Mainly steel

Mainly steel
Mainly steel
Length / width / height
4825 / 1820 / 1430 mm
4825 / 1820 / 1430 mm
4825 / 1820 / 1430 mm

Wheelbase
2850 mm
2850 mm
2850 mm
Engine

V6, 60-degree

V8, 90-degree
V6, 60-degree, electric motor

Capacity

2994 cc

4293 cc
3456 cc

Valve gears

DOHC 24 valves, DVVT

DOHC 32 valves, VVT
DOHC 24 valves, DVVT
Induction

VIM

-
-

Other engine features

DI

-

DI
Max power

245 hp

300 hp
292 hp (engine)
197 hp (motor)
339 hp (combined)

Max torque

230 lbft

325 lbft
267 lbft (engine)
203 lbft (motor)

Transmission

6-speed automatic

6-speed automatic
CVT

Suspension layout

F: double-wishbone
R: multi-link

F: double-wishbone
R: multi-link
F: double-wishbone
R: multi-link
Suspension features

-

-
-
Tyres front/rear

225/50VR17

245/40ZR18

245/40ZR18

Kerb weight

1620 kg

1695 kg

1875 kg

Top speed

143 mph (c)

155 mph (limited)

155 mph (limited)

0-60 mph (sec)

6.9*

5.7** / 5.7***

5.2 (c) / 5.5**

0-100 mph (sec)

17.8*

15.0** / 14.3***

13.3**

Performance tested by:
*Autocar, **C&D, ***R&T



GS350

GS460


Layout

Front-engined, RWD (4WD)

Front-engined, RWD



Chassis

Steel monocoque

Steel monocoque


Body

Mainly steel

Mainly steel


Length / width / height
4825 / 1820 / 1425 mm
4825 / 1820 / 1425 mm


Wheelbase
2850 mm
2850 mm


Engine

V6, 60-degree

V8, 90-degree


Capacity

3456 cc

4608 cc


Valve gears

DOHC 24 valves, DVVT

DOHC 32 valves, DVVT


Induction

-

VIM



Other engine features

DI

DI



Max power

303 hp

342 hp



Max torque

274 lbft

339 lbft



Transmission

6-speed automatic

8-speed automatic


Suspension layout

F: double-wishbone
R: multi-link

F: double-wishbone
R: multi-link


Suspension features

-

-


Tyres front/rear

225/50VR17

245/40ZR18



Kerb weight

1680 kg (4WD: 1700 kg)

1790 kg



Top speed

155 mph (limited)

155 mph (limited)



0-60 mph (sec)

5.7 (c)
5.3*** (4WD)

5.4 (c) / 5.5* / 5.6**



0-100 mph (sec)

13.3*** (4WD)

13.1* / 13.4**



Performance tested by:
*C&D, **MT, ***R&T