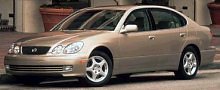 BMW 5-series, the untouchable. Since 1996, the 5-series has been the benchmark of the class, offering driver appeal as well as refinement that competitors hardly match. Among many challengers, Toyota Aristo comes closest to the benchmark.

Aristo is better known as Lexus GS300 / 430 for overseas market. You might remember, the first generation Aristo / GS had a sporty styling penned by Italdesign but it didn't drove like that. In contrast, the new car looks less pretty, a bit too fat, and the irregular-shaped headlights seem odd, but underneath the skin is a competent chassis and powertrain combination. As usual, Toyota gave it the best components - double wishbones suspension all round, rear-wheel drive, front and rear subframes - but most crucial is the chassis setup, which distinguish the new GS from its predecessor or Crown. However, let us first start from the heart ...

Having experience about Supra, you don't need more description about GS300's engine. In fact, Toyota uses this 2997 c.c. straight six (with dohc, 24 valves and VVT-i variable valve timing) throughout all its rear-drive big cars, such as Mark II, Crown and Supra. Powerful, responsive and smooth are its basic instinct, letting it to rival BMW's 2.8 well. If you want more power, Aristo provides two additional turbochargers and boost output to the domestic boundary of 280 hp, with 334 lbft to match. In other words, that's the same heart of Supra turbo. However, best among them is GS430's 4.3-litre V8, also aided by VVT-i. It pumps out 300 silky smooth horsepower without any hesitation. More powerful than BMW's 4.4 V8, yet refiner. Perfect.

Working in companion with the fine engines is a 5-speed adaptive automatic. For GS430, it offers E-shift Tiptronic-style manual override with finger-operated button on steering wheel spokes.

The V8 gives GS430 fire-breathing performance: it takes just 6.0 seconds for 0-60 mph acceleration. Top speed is electronically limited to 155 mph like its German rivals. In contrast, GS300 is just average by class standard. Autocar magazine found it took 8.5 sec for 0-60 and the kerb weight is 140 kg in excess of a BMW 528i. Admittedly, the GS300 paid little attention to weight saving - the straight six still uses cast iron block (the V8 is aluminium alloy). There's no aluminium used in suspension as well, unlike BMW and Audi.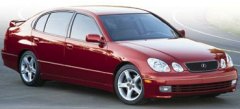 Lack of aluminium suspension also distinguish its ride quality from the BMW benchmark. Generally speaking, Lexus GS is tuned softer than its German rivals. Even with the UK-only Sport suspension package (with 17-inch wheels), although it runs very close to the 5-series, it is still noticeable the BMW has an edge in body control, steering feel and ride quality. The low-profile tyres ride and damp pretty well at speed, but does not overcome low speed bump as good as 5-series. 17-inch wheels are also optional for the GS430, although the suspension is no stiffer than the standard setup. American journalists also agreed the BMW 540i handles and rides better. In particular, the standard suspension lead to more roll and pitch, without the confidence experienced in BMW and Audi. European version GS430 fitted with Sport suspension package has quite poor ride on bumpy road, which is hardly forgivable for a Lexus, while body control and steering are both worse than GS300, thanks to the extra weight of V8.
That said, the GS is less sportier than 5-series and A6 (V8 only), but its driver appeal as well as refinement are well ahead of any front-drive A6, Jaguar S-Type and Lincoln LS. What about Mercedes E-class? it's good, but too expensive to be direct competitors. Talking about price, the GS300 isn't cheap in Euorpe, therefore Lexus found it difficult to shift more than 3,000 cars there annually.
While handling and ride matches the German, interior trimming is not. There is purposeful styling for dashboard, such as 3 separate backlit gauges. There are a lot of equipment as well, plus full leather trim. The problem is lack of classy feeling. The plastic feels cheap. The placement and styling of ventilation lack of attention to detail. Fit and finish is also under question. It feels more American than European, not even matching Lexus' own SC coupe.
However, the GS is still a satisfying executive sedan offering remarkable refinement, comfort and European-style handling. GS400 is especially good for high speed cross-country journey. It's fast and relaxing.