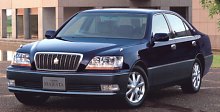 Appeared in 1955, "Crown" is the oldest nameplate in Toyota's current line-up. Generation after generation, today's Crown is still the most popular company car in Japan, which is good, but its presence is still bounded in domestic market and South East Asia, which is less good. One word summarise its character - Conservative. To please Japanese company executives and businessmen, you know, it HAS to be conservative in styling and trimming. It has to ride as supple as magic carpet, offering independent audio, climate and lighting controls for the rear passenger. In contrast, driving pleasure is not very important.

But the latest Crown is no longer that conservative. It has been styled, tuned and trimmed to please driver as well as passenger. To be honest, it is still not as driver-oriented as Lexus GS, but the improvement made is substantial enough to let you forget any pervious Crowns. For the first time, I found the Crown looks quite nice. Nice, if not handsome. Doesn't it look like a Lexus LS400?

The cabin also looks fresh. Lexus-like back-lit gauges looks cool. Center console has a unique shape and is no longer taxi-like. Two-tone colours match very well with wood decoration and leather trimming, although I suspect the wood is fake. Fit and finish is first rate, so is the quality of material. My only complain is the dull-looking 4-spoke steering wheel. There's plenty of space for front and rear passengers, the latter also enjoy independent audio and climate control, reading lamps and a small refrigerator behind the arm rest. Overall speaking, it's an enjoyable place to spend hours of long journey.
There are 3 versions of Crown - Majesta, Royal and Athlete. The Athlete is the most sporty, with stiffest suspension setup. Majesta is most luxurious, powered by a 280 hp V8. It also has longer wheelbase. Royal runs middle of the road and is usually the best seller among them. No matter which version, handling is far beyond imagination. Gone is the traditional soft suspension setup, which is replaced with firmer springing and damping. As a result, steering response and body control are greatly improved. Although it is still regarded as comfort-biased by European standard, it is already more driver-biased than other domestic rivals, including Nissan Gloria. In particular, it rolls less and steer with more feel than the Nissan.

Although the range-topping Majesta is powered by Lexus' 4-litre V8, most other Crowns are likely to be ordered with 3.0 inline-6. This 24-valver is actually the same as Supra and Lexus GS300. No matter with or without direct-injection, it output 220 horsepower and 217 lbft of torque. As in Lexus GS, it is silky smooth and quiet. Predictably, Toyota provides no option for manual gearbox, but there are two electronic automatic for choose: 4-speed automatic is smoother; 5-speed Super ECT (with Tiptronic style manual override mode) is quicker.