Born in 1955, "Crown" is the oldest nameplate in Toyota's current line-up. Generation after generation, Crown is still the most popular company car in Japan. It also serves as taxis, police and government officials cars, but its presence is bounded in domestic market. One word summarize its character - Conservative. To please the aging Japanese company executives and businessmen, you know, it HAS to be conservative in styling and trimming. It has to ride as supple as magic carpet. In contrast, driving pleasure is not very important. Eventually it was isolated from the rest of the world.

However, since last generation there were signs of changes, most notably was the addition of a sportier version called "Crown Athlete". It showed that Toyota tried to bring it back to international view. This change continues in the latest, 12th generation Crown. Although its sales is still bounded in Japan, its design is more inline with the rest of the world. It has been engineered and trimmed to please driver as well as passenger. To be honest, it is still not as driver-biased as Lexus GS, but the improvement made is substantial enough to let you forget any previous Crowns.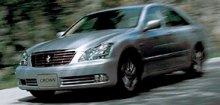 The new Crown still looks somewhat conservative, with a square front end and a traditional grille, but the body is noticeably smoother and more handsome than the last generation. Aerodynamic drag coefficient has been lowered to a remarkable 0.27. The new car grows a little from the last generation in all dimensions. Wheelbase has been stretched to 2850mm, about the same as Mercedes E-class. It is built on a new FR platform that will be shared with the forthcoming new Lexus GS. It has double-wishbone suspension up front and multi-link suspension at the rear. AVS adaptive variable suspension system, electrically assisted steering and 6-speed automatic gearbox are new to the Crown. The chassis employs 45% of high-strength steel to increase stiffness while aluminum bonnet and front sub-frame cancel the weight increase.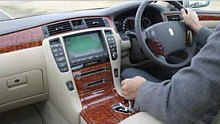 The cabin looks fresh and comfy. More attention has been paid to the driver environment: Lexus-style back-lit gauges, a stylish instrument panel and center console. Fit and finish is first rate, so is the high quality wood decoration, leather trim and soft-touch plastic. Light color trimming delivers a warm feeling unfound in German executive cars. As for space, there is plenty, especially for rear passengers. Despite of the change in character, Crown still place rear seat comfort in first priority. Not only provides more legroom than Mercedes E-class, the rear passengers also enjoy independent audio and climate control, reading lamps and a small refrigerator behind the arm rest. It knows who the boss is.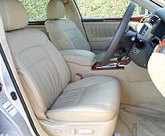 In this generation, Crown has finally gave up the long-serving straight-6 engine. In place of it is a pair of V6s. The compactness of V6 should improve weight distribution, but its main benefit is cost sharing. In the past, Toyota has to make inline-6 engines for its FR cars and V6 for its FF cars. Now all of them can share the same V6s. The Crown employs a 3.0-litre V6 and 2.5-litre V6 depending on price. Both incorporates D-4 direct gasoline injection and dual VVT-i. The larger engine pumps out 256hp and 232 lbft of torque. The smaller generates 215hp and 192lbft. Both engines are able to deliver at least 90% of maximum torque at 2000rpm, thanks to the intake and exhaust variable valve timing. Notice their outputs are much higher than class average, thanks partly to the direct injection which allows higher compression ratio.
As before, Crown is divided into 3 versions: Crown Athlete, Crown Royal and Crown Majesta. The former has younger, sportier styling tweaks such as mesh grille and different bumper design. The Royal is more conservative and is intended to target traditional customers. The Majesta is the most expensive and luxurious model. It is powered by Lexus LS430's 4.3-litre V8 and is also most heavily equipped, including electric boot lid, ozone air cleaner and Night Vision system (licensed by GM, see Cadillac DeVille).

However, Majesta is not designed for drivers. This task is to be fulfilled by Athlete instead. Like other versions, it uses air suspensions which provides adaptive damping as well as adjustable ride height. The driver can select normal or high ride height via a switch on dashboard, or at high speed the car will lower the ride height automatically to improve stability and reduce drag. In the Athlete, springing and damping are firmer. It also rides on 225/45 WR18 tires - bigger, wider and lower profile than others. As a result, steering response and body control are greatly improved. There is still some bulkiness, however. It understeers quite early and it turns into corners without the keenness of Mercedes and BMW. The electric power steering also lacks feel. Overall speaking, Crown still fails to give its driver sufficient confidence. For keen drivers, Lexus GS is a better choice. Unlike Crown, the Lexus will be thoroughly tested and tuned in Europe.
Nevertheless, for those Japanese businessmen and company executives sitting at the rear, Crown is definitely the better choice. Before they learn to drive by themselves, Crown will continue to bias towards the rear passengers. This is the biggest difference between it and Lexus GS, and this guarantees its survival in the foreseeable future.