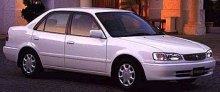 It is generally regarded that new cars should be better than their predecessors, otherwise, why not remain unchanged? The current Toyota Corolla is on the contrary. Visually, it looks a lot more conservative than its predecessor, which was the most elegant-looking cars in this segment a few years ago. For the new Corolla, I can still remember my first impressive about it in 1995: I can't even believe my eyes, it looked more like an older car than its predecessor! Well, conservative is not wrong (it depends on your taste and age), but this car looks cheap and likely to be made with degraded quality, something every other manufacturers had successfully avoided during cost reduction. It hurt the Corolla's traditional healthy image very bad.

Luckily, drive it, one can found there is still some improvement - a little bit quieter, engine is more torquer at low rev, plus some minor changes in the cabin. From 2000, VVT-i technology has been added to further improve power and torque. Now the 1.4-litre four is good for 97 hp, 1.6-litre is 110 hp while the US-only 1.8 produces 125 hp, all are well above class average, if not Honda-chasing. In additional to the lightweight, Corolla is one of the fastest cars in the C segment.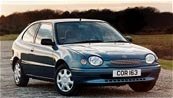 < European Corolla
Lively engines aside, Toyota has been gradually improving the chassis of Corolla. Compare with the '95 model, today's Corolla (especially the European version) handles better, thanks to the strengthening of chassis. Although steering is still too light and lack of feel, it controls the body precisely. The setting of the all strut suspensions is bias towards comfort but without introducing too much body roll. As a result, the Corolla is refined and comfortable enough to please women drivers while without letting men down. Of course, for real driving fun, Corolla is still not a natural choice.
Today, the biggest disadvantage of Corolla is perhaps cabin space for rear passengers. Basically, its wheelbase is very short compare with rivals - 150 mm shorter than Ford Focus and Honda Civic - so that rear legroom is very limited. Not only this is the crampest cabin in class, it is also the dullest. There's no much style in the cabin - grey dash, grey seats, cheap-looking plastics ...
Then, why are there so many people buy the Corolla? what made it the no. 1 best seller in history, with 23 million people purchased 8 generations of Corolla? From the beginning, the Corolla's strongest selling points have been reliability, economical and good after-sale service. This one remains unchanged in this respect.
This Corolla was developed during the economic recession in Japan several years ago. Its major objective was to reduce production cost as well as development cost, so the basic structure and mechanical parts are carried over with little modifications - and most modifications are made for the purpose of cost reduction. It seems that the company is too sensitive to the recession. It preserved profit but lost two precious things - image and competitiveness in Western market. Now the recession has gone, let's hope its successor to be radical.