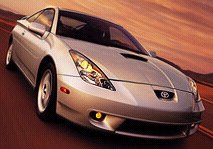 Unless you are Japanese, you must be amazed that the Celica has entered its 7th generation. A quick calculation found Toyota launched a new Celica every 4 and a half years, again hardly imagined by European and American. Since the first Celica appeared in 1970, it is always the biggest selling coupe in Toyota's line-up, capturing those 20-something buyers who want to have their first taste of a coupe. There were some memorable milestones in its 30 years history, e.g., the third generation gave birth to the six-cylinder Supra, the fourth generation shifted to front-wheel-drive and 16-valves engine, then came the rally ace GT-4. There were also some unfavourable moment, such as the launch of the overweight and ugly fifth generation (I used to call it "Monster") and the continuous sales decline during the life of the sixth generation. It's time to revive the Celica nameplate now.

Undoubtedly, the latest Celica has two things to make headline : first, a striking look ; second, the new VVTL-i. Sadly, both are not the efforts of Toyota itself. Across the Pacific, the American stylists of Toyota's California studio designed an aggressive body mirroring Ford's New Edge. The triangular headlights, a tiny nose intake and the scoop over the bonnet are the main features at the front, while a sharp shoulder edge dominates the rear half of the side. A rear wing is the signature of the 180hp version thus it is a must for enthusiasts.

Underneath the striking look, the new Celica is actually rather conservative. Everything play safe : front-wheel drive remains unchanged, no GT-4 anymore, no V6, no turbo ... that means the car is not going to be as exciting as Nissan Silvia, our current favourite. Why not build the car on the Altezza (IS200) chassis ? I'm sure it would be fantastic to handle. Why not gave it a chronographic gauge ?

The second selling point is the VVTL-i equipped 2ZZ-GE power plant, that is, an all new aluminium four cylinder developed with the help from Yamaha. Displacing 1796c.c., it breaks the tradition since the third generation that 2-litre engines must be used. It is smaller yet it has an aluminium alloy block. The result is of course great weight saving, which lightens the front wheels and improve handling. Yamaha has been known as an engine expert in Japan and works as a consultant to other car makers. Its experience was acquired from racing motorcycle (an arch-rival of Honda) and once the Formula one engine program (not really Honda's arch-rival). Its famous creations range from both generations of Ford Taurus SHO engines and the European Ford's Zetec engine. Toyota's first sports car, 2000GT of 1967, was also assembled by Yamaha.

Like many high tech aluminium engine, the 2ZZ-GE gets Nikasil treatment instead of using cast iron liner as a means to reduce friction and wear. Yamaha is one of the few experts in the world having the Nikasil treatment facilities (Ford's Zetec is treated there), thus Toyota is eager to ask it to assemble the 2ZZ-GE engine. Its work does not stop there. Base on Toyota's VVT-i variable valve timing system, Yamaha developed the VVTL-i which also incorporates variable lift control. You must know that variable lift is so important to top end power. Without it the new engine can never reaches a maximum power of 180hp at 7600rpm. Basically, the mechanism is a combination of the continuously phase-shifting variable timing (VVT-i) and a 2-stage cam-changing variable lift like Honda's VTEC, but the implementation differs a bit from Honda thus avoid violating the rival's patent. Once exceeding 6,000rpm, the high speed cams take over and the engine can rev for another 2 thousand rev. If you are interested in a more detailed explanation to the VVTL-i, click HERE to AutoZine Technical School.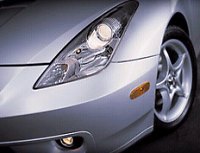 You may ask why the Toyota's unit does not pump out as many horsepower per litre as Honda's Civic Type R, Integra Type R or S2000. Very simple, Toyota's engine is a fully mass production engine without the hand-intensive treatment required by the special Hondas, such as forged pistons / con-rod / counter weights etc. Take a normal Integra GSR's VTEC and you'll notice the superiority of Toyota's VVTL-i, especially is low and mid-rpm torque, thanks to its additional continuously variable valve timing.
On the road, the 180hp Celica is pleasantly fast, despite of its reduced displacement. Benefited by weight saving (the kerb weight is 1190kg) and a close-ratio 6-speed manual, 0-60mph was timed in 6.8 sec by Road & Track (Motor Trend even did that in 6.6 sec), 0-100mph was reached in 18.2 sec, very impressive. Nevertheless, don't expect it to match the lightning Silvia turbo or Fiat Coupe turbo, they do 0-100 in 14.2 sec and 14.5 sec respectively.
If speed is not the most important, the Celica should restore some ground with its fine handling and ride. There is no trick in the conventional front MacPherson struts and rear double wishbones, but the combination of well-tuned spring / damper and lightweight engine lifts its performance. Ride quality couldn't be better for a coupe. Steering is surprisingly quick and accurate, with plenty of feedback. As a FF its understeer is well suppressed, although someone may ask for the ultimate fun as experienced in a rear-drive Silvia or even the Altezza sedan. However, the Celica's balance, body roll, grip and brake are all no inferior to those FR opponents.
The 180hp engine for the GT-S model is revvy yet sufficiently torquey once you're in open road. Although its peak torque of 133 lbft arrives at sky-high 6,800rpm, the torque curve is very flat across the whole rev range. However, I can't help thinking that an addition of 200c.c. would have been better coping with the competitors. The next thing I dream is a turbo, perhaps from TRD. No way, I'm afraid only a new GT-4 could cope with that.
Budget choice is also a 1.8-litre four, with the normal VVT-i instead of VVTL-i and output just 140hp and 125lbft. Please note that it is not a detuned version of the 180hp unit because it is developed by Toyota itself. Not only has cast iron liners instead of Nikasil coating, its cylinder bore / stroke dimension of 79.0 / 91.5mm also differs from the Yamaha engine's 82.0 / 85.0mm. As reflected by its name, IZZ-FE, it is the one shared with the new MR2 (MR-S). The basic engine has been reported as well short of power. Both engines have the same 6-speed manual, which requires a strong hand. An optional 4-speed E-shift automatic is well out of pace and grace.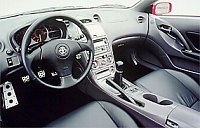 I personally dislike the interior. It tries to be stylish but without using the proper material to express the idea. The plasticky center console looks nothing like alloy as it wished to be. The dials are well left behind the chronographic era (finally the Japanese stylists found something superior to their American colleagues). Overall speaking the interior is nothing other than another mainstream coupe. In terms of comfort, the front seats and driving position are comfortable, with ergonomically placing instruments and controls. The rear seats are, again, lack of headroom thus they are just "+2".
Summing all up, the new Celica is far better than the last 2 generations, no matter in styling, performance and handling. On the down side, it does not have some fundamental breakthroughs to make it a class winner. It appears well to the majority, but might not be enough to set us on fire.