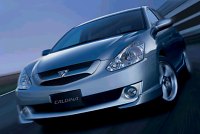 Talking about 4-wheel-drive performance estates, you might think of Audi RS4 or S4 Avant. In Japan, there are more choices, also at lower price - Subaru Legacy GTB, Mitsubishi Legnum VR4 and Toyota Caldina.

The new Caldina is derived from the Avensis platform, with the same 2700mm wheelbase. However, if we consider only the hottest model Caldina GT-4 - the most interesting model to me, we can find it owes very much to the last generation Caldina GT-T. Basically, the engine and 4-wheel-drive system are carried over from the old car, which in turn took the mechanicals from the mighty Celica GT-4.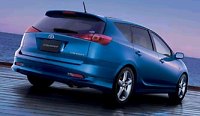 The engine is a 1998cc 16V Turbo, pumping out 260hp and 239lbft, unchanged from the old car. The 4WD system employs viscous coupling to distribute power between front and rear axle, in addition to a Torsen limited-slip differential between the rear wheels. Again, this is the same as the old Caldina and Celica GT-4. Transmission remains just a 4-speed automatic, although it gets manual shift pattern.
However, compare with the old car there are still a lot of new items. Most notably is the sharper and handsomer new look, the much higher quality interior and the introduction of double-wishbone rear suspensions from the current Celica.
Lesser models are powered by a 152hp 2-litre 16V engine (which has no relationship with the turbo engine) with direct injection, or a 132hp 1.8-litre 16V engine, both with VVT-i. The 1.8 unit is for FWD only.