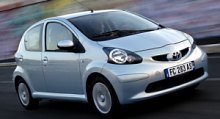 Toyota is the most versatile car maker in the world. Its vehicle lineup covers more market segments than any other car makers. But except the A-segment. This is the lowest price segment in Europe. At the moment it is dominated by Fiat and the Korean. Although Toyota is renowned for production efficiency, it is still impossible to match the low cost of these rivals. That's why it decided to build a factory in the Czech Republic to produce a new small car targeted the A-segment.

But doing it alone does not make business sense, because by calculation the Toyota brand could only attract 100,000 sales of this car every year. At this production scale, the cost of building and running a plant and the purchasing price of parts from local suppliers would be too high to make money. That's why 3 years ago Toyota signed an agreement with PSA group to set up a joint-venture. They co-own the Czech factory and produce the car in 3 versions – Toyota Aygo, Citroen C1 and Peugeot 107. Each car is expected to take 100,000 units of sales annually, thus 300,000 units in total. That would be enough to make a profit.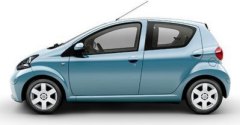 Basically, the three cars are the same except the clothes – some 92% of parts are common. As it was conceived and engineered by Toyota, PSA's involvement was rather limited - it styled its own cars, it provides a diesel engine, it negotiated with landlords and talked with local suppliers. That's why we had better to concentrate on Toyota Aygo.

The Aygo pronounces "I go". This implies its target buyers are young people who are about to have their first taste of car ownership. To attract young buyers, it adopts a funky styling. Imitating Smart, it has front and rear wheelarches extended beyond the body in north-south direction, creating a sporty, "I want to go" feel. What a pity Toyota still failed to establish a beautiful corporate grille, despite of countless of attempts. This means the Aygo looks somewhat strange when viewing from the front.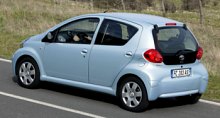 The Aygo has a compact bodyshell. It measures 3.4 meters in length, slightly shorter than Fiat Panda and Kia Picanto. Its 2.34 meter wheelbase slots between Panda (2.30m) and Picanto (2.37m). At 1465 mm tall, it is rather low by today's standard, especially compare with the 1540mm Fiat. Inside, you will find a spacious cabin for the front passengers, but the rear is no match with Picanto. Compare with Panda, there is more rear legroom but less headroom. The combination of lower roof and thick C-pillars does not promote a light and airy feel you found in its rivals.

Compare with Japanese K-cars, the deficit in space efficiency is even more. Take Daihatsu Mira (Charade) for example, it measures the same length as Aygo, but its wheelbase is a full 50 mm longer ! No wonder the Daihatsu can swallow a family while the Toyota is primarily a personal car with additional ability to carry adults for short journey.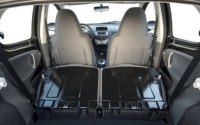 Luggage carrying capability is another weakness of Aygo. Its boot capacity is a dismal 139 litres. Its 50-50 split rear seat can neither slide nor fold flat. It does not offer the flexibility required by today's youngsters.

However, no one can deny Aygo is a safe and high-quality small car. From the moment you shut the door, you will see it sets new quality standard for the A-segment. The solidity of its bodyshell and interior construction, the tight panel gaps, the fine seats and the amazing level of safety features (carefully-designed crumple zone, the use of high strength steel, 8 air bags, seatbelt pretensioners and ISOFIX system)... all have no right to appear on a mini car produced in Eastern Europe. But thanks to Toyota, small car buyers no longer need to tolerate the quality and reliability problems usually encountered in Fiat and Korean products.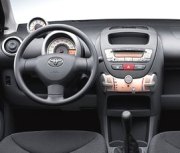 Engine is another strength of the Japanese. The Aygo employs the 68 hp (DIN) 1.0-litre VVT-i 12V three-cylinder engine recently launched in Toyota Passo and Daihatsu Boon. This all-alloy engine not only has the best power in the 1.0-litre class but also the lightest weight (68 kg) and the lowest fuel consumption (61.4 mpg) in the A-segment. It is willing to rev and fairly refined for a 3-cylinder engine. Thanks to a special engine mount, the 3-pot transmits little vibration into the cabin.

The car weighs less than 800 kg, so the 1.0 litre engine is capable enough for normal driving. The light steering and short turning circle makes it at home in city. If you push the car into corner, you will find too much body roll and too little feel from its electric power steering, so Aygo is clearly not designed to be a hot hatch. But by city car standard, it rides and handles competent enough.

The emergence of Aygo sends warning signals to Fiat. Although Panda is still better overall, the baby Toyota hits right at the weakness of Fiat – quality and reliability. Yaris was the first step of Toyota's invasion into the European heartland. Now Aygo is the second step. Sooner or later we will see the Japanese giant become a dominating force there.