Avensis is a typical Toyota product. Reliable, well-built, comfortable, easy to drive.... but it also associates with descriptions such as "ugly", "uninspiring", "lack of character" etc. In short, very Toyota-like.

This is not a great way to introduce the new Avensis, but I am really tired of such Toyotas after watching cars for many years. Toyota, in some way like GM, cares too much about customer surveys thus its mainstream cars are usually lack of a clear design and engineering philosophy. But the most disappointing is that they still do the styling wrong. By all standards, Avensis is an ugly design. It looks bulky, dull and boring. Its body language tells you that the driver inside must be Mr. Average.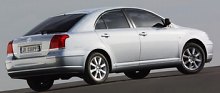 The Avensis was engineered mostly in Japan base on the Allion / Corona Premio architecture (the duo was launched about a year before the Avensis). However, it has the rear suspensions upgraded to the Celica's double-wishbones setup and the ride and handling was sorted out on European roads (by Lotus, if Toyota didn't tell you). Yes, I almost forget to tell you that the Avensis is built in UK and supplies only the European market, therefore care has been taken to make sure it handles and rides like a European car. The chassis is about in the same size as rivals, with a 2700mm wheelbase and tall roof to achieve a roomy cabin. The engines include a 1.6 VVT-i, a 1.8VVT-i, a direct-injection 2.0D-4 petrol and a 2.0D4-D common-rail turbo diesel. Cheaper models employ electric power steering while the top petrol and diesel model use conventional hydraulic assistance to ensure better road feel.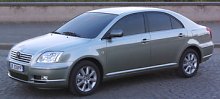 In terms of performance, the Avensis is rather disappointing. Autocar conducted a group test against Ford Mondeo, Mazda 6, Honda Accord and Renault Laguna and found the Avensis was the slowest. Despite of variable valve timing and direct injection technology, despite of 147 horsepower, the 2.0D4 engine fails to provide sparkling performance. Moreover, the engine sounds coarse and noisy under stress, which is disappointing by the engineering standard of Toyota.
In terms of ride and handling, the new Avensis is competent but never outstanding. It feels more like a European car than even some European rivals, such as Renault Laguna and Volkswagen Passat. The hydraulic steering in top models is responsive and provides crisp turn-in, if not specially good communication. As the suspension is set firmer than Japanese norm, Avensis has its body control very well in most circumstances. However, "most circumstances" does not include extreme conditions. If you rush into corners, weight transfer at the tail will build up suddenly and destroy your confidence. In short, Avensis is not as good a driver's car as Ford Mondeo, Mazda 6 and European Honda Accord.
The best thing is probably the cabin. It employs Volkswagen-grade soft-touch plastic and is screwed together as solidly as Lexus. The center console is surfaced with real metal, not metal-effect plastic. The cabin is roomy, although rear accommodation is ultimately not as big as Mondeo. 520 litres of luggage room is simply class-leading. However, the cabin is short of styling and character, just like the car itself. Mr. Average might like it, but we don't.