Toyota Avensis / Corona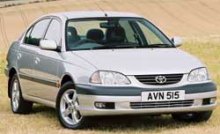 Toyota launched the new Avensis in late 1997 as a successor to the European Carina, which was a close sister of Japan's Corona. Obviously many components of these two cars are still interchangeable.

The basic layout is still all MacPherson struts in each corners. Wheelbase grew 50mm thus enable more cabin comfort. Engines including 1.6, 1.8 and 2.0, all are economical units, especially the 1.8 lean burn engine offers class-leading fuel consumption even better than Mitsubishi Carisma GDI. Improved sound insulation and vibration-absorbing structure raise refinement.

Toyota claims the Avensis is vastly improved on driver appeal. Maybe their standards are relatively modest, european testers still criticize for lack of steering precision and feedback while generates excessive body roll. Undoubtedly, its handling becomes better than its predecessor, but it is still bias strongly towards family man/woman car, this is further proved by its soft ride.

The above report was last updated in 1998. All Rights Reserved.
Caldina GT-T : estate or rally car ?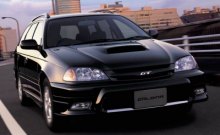 There are several hot estates in Japan, the most notably is my favourite Subaru Legacy GTB, then Mitsubishi Legnum VR4 is also another well-known alternative. However, Toyota also has its own weapon, Caldina. From its appearance, you can easily discover its relationship with Corona, however, in the running gear it is more like a derivative of the rally-purpose Celica GT4 - the same 260hp two litres turbocharged four, driving all four wheels permanently. Obviously this is the fastest way to create a hot estate.

Transmission could be selected between a 4 speed automatic or the button-operated semi-auto called "Super ECT", which had been applied to Lexus GS400. Early impression of Caldina is more civilised than Subaru Legacy GTB in terms of power delivery and handling, but the ride is harder than Legnum VR4. Styling is the worst among them.

The above report was last updated in 1998. All Rights Reserved.
Specifications
Model

Avensis 1.8

Corona 2.0 D-4

Caldina GT-T

Layout

Front-engined, Fwd

Front-engined, Fwd

Front-engined, 4wd.

Dimensions (mm)

L / W / H / WB:

4490 / 1710 / 1425 / 2580

L / W / H / WB:

4600 / 1695 / 1410 / 2580

L / W / H / WB:

4575 / 1695 / 1495 / 2580

Engine

Inline-4, dohc, 4v/cyl, lean burn.

Inline-4, dohc, 4v/cyl, direct-injection

Inline-4, dohc, 4v/cyl, turbo.

Capacity

1762 c.c.

1998 c.c.

1998 c.c.

Power

108 hp

145 hp

260 hp

Torque

114 lbft

144 lbft

239 lbft

Transmission

5M

4A

4A with manual mode

Suspensions

All: strut

Tyres

185/65 R14

N/A

N/A

Weight

1249 kg

1200 kg

1470 kg

Top speed

119 mph*

N/A

N/A

0-60 mph

11.6 sec*

N/A

N/A

0-100 mph

N/A

N/A

N/A
* Tested by Autocar
---
Copyright© 1997-2009 by Mark Wan @
AutoZine