Toyota Auris / Blade

Debut: 2007
Maker:
Toyota
Predecessor: no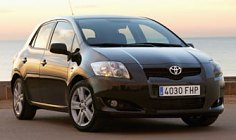 In the making of the 10th generation Corolla, Toyota found two mutually exclusive demands: on the one hand, the Corolla should not lose its existing conservative customers, especially in its home market. On the other hand, it wants to increase penetration to the Western Europe, whose customers demand a sportier appeal. To satisfy both, the company decided to develop a sportier derivative from the new Corolla platform specially for Europe (although it is also offered in Japan alongside Corolla). In other words, from now on no more Corolla will be on sale in Europe ! The new European car is produced in UK and Turkey. It shares most of the mechanicals with Corolla but employs different chassis (in 3 and 5-doors hatchback form instead of sedan), sportier exterior and interior design and a sportier suspension tuning. The car is renamed to Auris - a Latin word meaning "gold".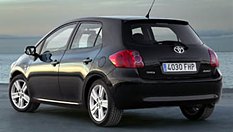 Like Yaris, Auris was designed in Toyota's ED2 studio in France. It certainly looks more stylish than the Japanese-styled Corolla, but you won't call it a beautiful car either. By European standard, the car is just another ordinary design, failing to deliver the same styling statements as Opel Astra, Seat Leon, Volkswagen Golf or Renault Megane, or even the controversial European Civic. In my opinion, the Auris looks too bulky to deliver a sense of sophistication and sportiness. It needs tauter surfaces, crisper lines and sharper edges to raise the game.

Inside, the cabin looks ordinary again. It is dark and unairy, blame to the black plastic, high shoulder line and thick pillars. A panoramic glass roof could have solved the problem, but unfortunately, Toyota seems lagging behind European rivals to offer this feature. The dashboard has a twin-dial design like Alfa Romeo, unfortunately this is not backed up by quality materials - soft-touched plastics are yet to arrive the latest Toyota mainstream car, the same problem as I complained for Yaris. This mean Auris fails to deliver the kind of expensiveness as Volkswagen or Renault, although durability and reliability is never in doubt. The only distinctive feature in this cabin is a floating console on which the gear lever is mounted. However, everybody knows the floating console was copied from Volvo S40 and, unlikely the Volvo, it looks bulky (like the car) and offers no real advantages. Because the floating console here is too thick, it is difficult to access the storage space underneath, violating the original concept of Volvo. This is a poor copy.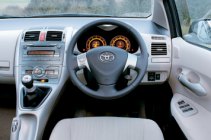 The Auris rides on the same 2600 mm wheelbase as the last generation Corolla. Still, it offers a roomy cabin because the car is made very tall (1515mm) and the rear floor is completely flat, thanks to clever routing of the exhaust pipes. The use of space-saving torsion-beam rear axle suspension also enables a rather large boot at 354 liters, if not as impressive as Fiat Bravo's 400 liters. However, note that the sportiest version, 2.2D-4D, employs double-wishbone rear suspensions to deliver better handling. Toyota would rather save costs on the majority models and leave the expensive suspension to the most expensive model. This is undeniably a clever solution, if not a welcomed one for car enthusiasts.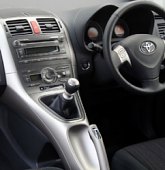 For models riding on torsion-beam axle, handling is predictable and secured rather than exciting. Compare with the multi-link Focus and Golf, there is more body roll and more ride harshnesses over poor surfaces. The high center of gravity and relatively soft suspension setup also hamper its high-speed stability. The handling has little throttle adjustability to speak of. The electric power steering is accurate and well weighted rather than communicative.

However, on regular roads the Auris rides pretty well. Noise insulation is excellent. Thanks to smooth engines, slick gearbox and lightweight controls, it achieves first class mechanical refinement. The new generation 124hp 1.6 VVT-i (for Europe) and 136hp 1.8 VVT-i (for Japan) engines run smoothly. Now they get dual VVT-i, i.e., continuous variable valve timing on both inlet and exhaust camshafts, to improve torque delivery and fuel consumption. Roller rocker cam followers and lower friction pistons let them to spin more freely. A stronger construction also reduces noise and vibration. In the diesel side, 126hp 2.0D-4D turbo is also up to the job. However, the most impressive is the 2.2D-4D turbo with 1800-bar piezo injector common rail injection system. It produces 177 horsepower and a tremendous 295 lbft of torque to deliver very strong real world performance. No wonder Toyota has no intention to offer a petrol hot hatch version in Europe.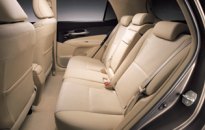 Naturally, the double-wishbone-suspended super diesel model handles better than the cheaper models, thanks partly to the sophisticated suspension geometry and partly to the stiffer setup. It rides harder but is well damped. However, the nose-heavy car still biases towards understeer and is reluctant to steer on throttle. It seems that the word "secured handling" is the signature of Auris, like most other Toyota.

Quite sadly, although Auris is supposed to be sportier and younger than Corolla, it is still too conservative and refinement-biased. There is little in its design and dynamics to raise your pulse. Frankly, the recent Kia Cee'd is actually more interesting to us.
The above report was last updated on 10 Feb 2007. All Rights Reserved.
Blade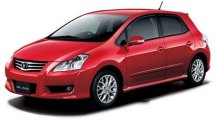 Blade is offered only in the Japanese market as a hotter derivative of Auris. It rides on the same double-wishbone rear suspensions as the European Auris 2.2D4-D. You can see it as an equivalent to 2.2D-4D except that its diesel engine is replaced with Toyota Camry's big four-cylinder petrol engine - the 167hp 2.4-liter VVT-i engine. Apart from upgraded suspension and engine, the Blade receives sportier body kits and a different grille to distinguish from lesser models.
The above report was last updated on 10 Feb 2007. All Rights Reserved.
Auris Hybrid


It's not difficult to understand Auris HSD (Hybrid Synergy Drive). It is basically an Auris powered by the hybrid powertrain of Prius. This mean the identical 1.8 Atkinson-cycle petrol engine, 80hp electric motor, CVT and NiMH battery pack are imported directly from Japan and install into the Auris at its UK production line. This explains why the car performs the same way as Prius. For example, it has a top speed limited to 112 mph (180 km/h), it is capable of running at pure electric mode for up to 2 km, it has an Eco driving mode which cuts engine rev and slow throttle response to boost mileage, and most important, its CO2 emission is only 89 g/km, better than any European clean diesel cars currently available.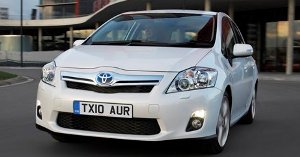 To achieve such efficiency, some minor modifications to the Auris are necessary – the suspensions are lowered by 5 mm to lower its aerodynamic drag coefficient to 0.28; Low rolling resistance tires are used to save energy; Inside, the instrument has its rev counter replaced by a battery indicator; Air-con and brake servo are decoupled from the engine.

On the road, the Auris Hybrid shows even less driver appeal than the regular car. Its new tires and suspension generate less grip but more body roll. Its steering is lifeless. When you want to overtake on motorway, its CVT squeezes the engine hard, resulting in a noisy yet hardly enthusiastic experience. The extra weight of the battery and electric components – amounted to around 150 kg – robs it of performance in straight line and agility in corner. To drive, Auris HSD is nowhere as good as a proper European diesel hatch.

The best way to use it is for short trips in town, or just any low speed, relaxing drives. This make better use of its pure electric mode and regenerative braking to optimize fuel efficiency. The Auris is more than 200mm shorter than Prius, so it is easier to drive and park in urban areas. However, switching from Prius to Auris you lose some interior space, a lot of luggage space (battery reduced its boot volume to a terrible 280 liters) and the unique look that your neighbours envy. Moreover, the Auris Hybrid is just marginally cheaper than its bigger brother. All things considered, it is unlikely to be popular.


The above report was last updated on 27 May 2010. All Rights Reserved.
Specifications
General remarks
Layout
Chassis
Body
Length / width / height
Wheelbase
Engine


Capacity
Valve gears
Induction
Other engine features
Max power



Max torque


Transmission
Suspension layout


Suspension features
Tires
Kerb weight
Top speed
0-60 mph (sec)
0-100 mph (sec)

Auris 1.6 VVT-i

Front-engined, FWD

Steel monocoque
Mainly steel
4220 / 1760 / 1515 mm
2600 mm
Inline-4


1598 cc
DOHC 16 valves, DVVT

-
-
124 hp



116 lbft


5-speed manual

F: strut
R: torsion-beam

-
195/65R15
1230 kg
118 mph (c)
9.9*
30.7*

Auris 2.2D-4D

Front-engined, FWD

Steel monocoque
Mainly steel
4220 / 1760 / 1505 mm
2600 mm
Inline-4, diesel


2231 cc
DOHC 16 valves

VTG turbo

CDI
177 hp



295 lbft


6-speed manual

F: strut
R: double-wishbones

-
225/45VR17
1435 kg
130 mph (c)
7.9 (c)

-

Auris Hybrid

Front-engined, FWD

Steel monocoque
Mainly steel
4245 / 1760 / 1510 mm
2600 mm
Inline-4, Atkinson cycle,
electric motor

1798 cc
DOHC 16 valves, VVT

-

-
98 hp (engine)
80 hp (motor)
134 hp (combined)
105 lbft (engine)
153 lbft (motor)
CVT

F: strut
R: torsion-beam

-
215/45VR17
1380 kg
112 mph (limited)
10.7 (est)

-










General remarks
Layout
Chassis
Body
Length / width / height
Wheelbase
Engine

Capacity
Valve gears
Induction
Other engine features
Max power

Max torque

Transmission
Suspension layout


Suspension features
Tires
Kerb weight
Top speed
0-60 mph (sec)
0-100 mph (sec)

Blade 2.4 VVT-i

Front-engined, FWD

Steel monocoque
Mainly steel
4260 / 1760 / 1515 mm
2600 mm
Inline-4

2362 cc
DOHC 16 valves, VVT

-

-
167 hp

165 lbft

CVT

F: strut
R: double-wishbones

-
205/55VR16
1400 kg
128 mph (est)
8.4 (est)

-





Performance tested by: *Autocar
Copyright© 1997-2010 by Mark Wan @
AutoZine