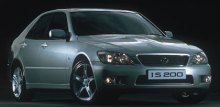 BMW 02 Series and 3 Series are one of the miracles in motor history. They proved there are millions of keen drivers that would pay premium price and sacrifice a little bit passenger comfort for a sedan with superb handling and performance. For thirty years, BMW dominated this market segment without any serious challenge. As the market is expanding, Audi A4 and Alfa Romeo entered the market, both with great success. Toyota, which has already created the 5-Series-challenging GS400, also wants to have a slice in this market.

If you are European or American, you need to do 100% to win people's heart. If you are Asian, you need to achieve 120% of what the European done in order to win their respect. That's what Toyota's engineers thought. Therefore, from the beginning they chose the most ideal mechanical configuration for their 3-Series challenger : rear-wheel-drive and all double wishbones suspensions.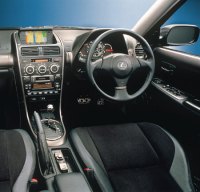 They know their suspension tuning used to be criticized by the Western media as too soft, steering used to be criticized as too light and lifeless, so they spent extra time to test and tune the car in Germany. After that, they decided to equip the car with sports car-style 17 inches wheels with 45% aspect ratio, a first in this class of car. Besides, 6 speed manual and 5 speed adaptive automatic were employed for enhancing driving pleasure.
In terms of engine, they thought they have nothing to worry about. From the existing range, they picked up Celica and MR2's 2-litres four, upgraded with double VVT-i (at both inlet and exhaust valves) and titanium valves. Accompany with 11.5 : 1 high compression ratio, this high-revving unit output 210ps at 7600rpm and 160lbft at 6400rpm.
So, this becomes the Altezza, the Japanese Car of the Year 1999. According to the local magazines which have tested it, Altezza has the handling to overshadow the latest BMW 3-Series E46. Steering is neutral and sensitive, body control and grip are extremely good.
Supra has good handling and performance, but it was criticized as lack of character. Altezza avoid this by deliberately making a beautiful exhaust note.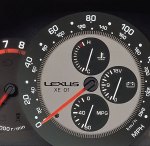 However, comparing with BMW 323i, 328i and Alfa 156 V6, Altezza's inline-4 feels lack of power. Forget the 210ps rating, the lack of capacity result in the lack of torque and a relatively peaky torque curve. Road testers felt unable to exploit the potential of the chassis.
Altezza / IS200 is rather small compare with the 3-Series. It is 71mm shorter, 19mm narrower and 5mm lower. Wheelbase is 55mm shorter. Although the rectangular shape seems to benefit interior room, it isn't. 6 feet high rear passengers will find their heads touching the roof as in the 3 Series. However, rear leg room is marginally better.
Toyota's stylists intentionally create a very aggressive interior. Undoubtedly, the highlight is 4-in-one chronograhic dial, which is probably inspired by Casio's G-shock watch. What a pity the packaging is awful. You'll see cheaper grade of plastic than rivals and sub-standard build quality for a Lexus. The seats looks unattractive and feels not very comfortable, mostly because of lacking lumbar adjustment and short in the squab. Steering wheel is not adjustable in reach thus deteriorate the otherwise good driving position.
The exterior looks even worse. This is the ugliest car I have seen in the whole 1998. Although recently I see this car twice a day averagely, I still can't accept its look.
Lexus IS200
A cheaper version was developed for both domestic and overseas market. For overseas market, it is badged as Lexus IS200. It is powered by a 2-litre straight 6 modified from the Mark II sedan, with inlet-bounded VVT-i. Lower compression ratio (10.0:1) suits the inferior fuel in overseas. Its output is very much lower : 153hp, although the 144lbft / 4400rpm makes acceleration less different.

It is not provided with the 5 speed automatic. People who need auto have to put up with the slow 4A. However, IS200 has a flat undertray to improve the coefficient of drag from 0.29 to 0.28. It should benefit high speed cruising on Germany's autobahn.

Road test impression

2 UK publications tested the IS200 and reported great impression. Both describe it handles very good on smooth surface. Steering feels very communicative in action, quick and more accurate than 3-Series. Nevertheless, power steering offers an abundance of assistance during parking. The chassis and well tuned suspensions feels alive in bends, body control precisely and tightly thanks to the grippy 215 tyres. However, when arriving limit, steering feel fade out as the camber change (due to body roll) makes the thin, 45% aspect ratio tyres riding on their outside edge. In this respect, BMW 3 Series and Alfa 156 deal better with cornering limit.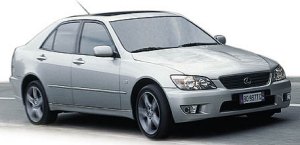 In terms of ride, Lexus IS200 is a little bit bias towards hard for some people but just perfect for keen drivers. Even our civilised local magazines regard its ride comfort as acceptable.
As predicted, performance is the weakest sector of the baby Lexus, at least until the arrival of IS300. Against the clock, it took a full 9 seconds to complete 0-60mph. 0-100mph of 25.8sec is no better. Not just the figures prove that, in fact the driver always feel the engine lack of flexibility and punch to keep up with BMW 323i (0-60 in 7.6sec) and even Alfa 156 2.0TS (8.1sec). It just edge out the four cylinder 318i.
Luckily, the short-throw, close-ratio 6-speed manual gearbox keeps the driver involving. The lovely exhaust noise also enhance excitement.
On a typical rough B-road, IS200 started to show its shortness in damping and body control, also shows some high speed float. Steering feel deteriorates as speed increases. Now I know why the European IS200 has added with the flat undertray : because the engineers experienced high speed stability problem during its test in Germany. They thought they've solved the problem by the addition of flat bottom thus the reduction of lift, but on rough British roads it is another matter.