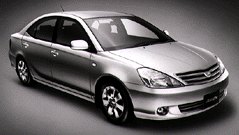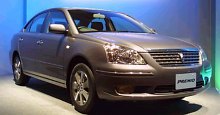 Left: Allion; Right: Premio
Toyota launched the Allion and its twins sister Premio in December 2001. Both are bounded in the domestic market thus are less well known overseas. They are basically the same car, just with different packaging. The Premio still goes the conservative route while the Allion (means "all in one", oddly) looks more sporting.
The Allion is smaller than the Avensis to which it derived. To meet the lower taxation class, its width is limited to 1.7 meters, virtually the same as the smaller Corolla. In fact, the Allion is merely longer than the Corolla and have a 100mm longer wheelbase. It even shares the same semi-independent torsion-beam axle rear suspension with the Corolla. In contrast, its European cousin, Avensis, employs a more expensive double-wishbone suspension instead. The same goes for other derivatives, Avensis Verso (the MPV), Caldina (the sport estate) and the next generation Vista sedan - all uses the higher-spec suspension. That's why I name Avensis as the representative of this platform although Allion was launched earlier.
3 engines are available to Allion: 1.5-litre (109hp), 1.8-litre (132hp) and 2.0-litre (152hp). All have VVT-i and the 2.0-litre also has D-4 direct-injection. No manual gearbox for domestic version. The top model is equipped with CVT while the other two have 4-speed automatic.