| | |
| --- | --- |
| Published on 26 Jun 2013 | All rights reserved. |

The outgoing, second generation Lexus IS was nearly 8 years old. Apparently, this was too long for a Japanese car, which is supposed to last only 4 or 5 years. The domestic Toyota Crown, which shares large amount of mechanicals with the Lexus, had completed 2 life cycles during the same period. Even the German BMW 3-Series E90 lasted for only 6 and a half years before its replacement by F30. What does this imply? On the positive side, this means the old IS was quite enduring. On the negative side, this implies its sales volume was not high enough to justify a frequent update. So after 8 long years, the "small Lexus" is finally renewed. Seeing its exterior design I have a mixed feeling. On the one hand, its strange headlights, spindle grille and heavily curved side skirts distinguish it from the class norm. On the other hand, it loses the pureness and clarity of its inspiration, i.e. last year's LF-CC concept. That car was really head-turning. If Lexus really developed in that direction it could have been a nightmare to the German. Now the production IS looks more like the old car enhanced with some controversial makeup. It will split opinions.


One of the criticisms about the old car was the lack of rear seat space. To solve this problem Toyota extended its wheelbase by 70 mm to a full 2800 mm, matching BMW 3-Series and Audi A4, and longer than the current Mercedes C-class by 40 mm. Compare with its platform donor Toyota Crown / Mark X / Lexus GS, that is only 50 mm shorter. The extra wheelbase boosts rear legroom by a significant 40 mm, plus 23 mm to the front passenger and a slightly larger boot. The rear seat now offers nearly as much legroom as BMW 3-Series (which remains a miracle of packaging considering its 50:50 balance and straight-six engine), although rear headroom is still tight and the steeply raked C-pillars still make access to the cabin difficult.

The vastly improved interior looks like a blend of Lexus GS and ES, with a more interesting architecture, high-quality materials and plenty of high-tech gadgets that make 3-Series look plain. In particular, the TFT instrument reading mirrors that of LFA supercar to feature a single dial at Sport mode, which looks really cool. The seats are supportive and comfy while driving position is excellent. On the negative side, the mouse-like infotainment control at transmission tunnel is difficult to use when the car is in motion. The software is also less intuitive than the best of the class. Some road testers reported the operating system malfunctioned and locked up at times, showing some glitches that should not have happened on a Cadillac, let alone Lexus.


Mechanically, it is not a big departure from the old car. The chassis is strengthened by only 10 percent with the help of some subtle measures, such as using laser welding and adhesive bonding. It continues to ride on double-wishbone front suspensions and multi-link rear suspensions, backed up by optional AVS adaptive damping like its Toyota and Lexus sisters. The front suspension has been retuned to increase roll resistance. The rear suspension comes straight from GS, with separate springs and dampers to reduce intrusion to luggage compartment, and it is mounted on a new, stiffer subframe. Variable gear ratio electrical power steering is optional. Inevitably, a variable control system is introduced. It provides Eco, Normal, Sport and Sport+ modes for the driver to choose from. Like other Lexus, it offers a sportier model called

F Sport

, which gets aggressive grille and aero kits (pictured above), stiffer suspension setting, retuned steering and 18-inch wheels shod with massive rubbers.

To enthusiastic drivers, the

F Sport

is a must. With its sportier suspension, its handling is now nearly as good as BMW 3-Series. The turn-in is sharp, the body control is good, understeer is minimal and there is high level of grip offered. The steering is quick and well weighted, only slightly less precise than BMW's. The suspension is a bit firm but not uncomfortable. However, the BMW is more rounded, offering a more versatile ride over a variety of road surfaces, even crisper steering and smoother maneuvering. That said, the Lexus IS F Sport is good enough to beat Mercedes and Audi.


What it can't quite match the class standard is the powertrain. Both petrol engines, the 204hp 2.5-liter and 306 hp 3.5-liter direct-injected V6, are carried over with virtually no change. The former is clearly not torquey and frugal enough to rival the turbocharged four-cylinder engines of its German rivals. The IS350 is strong enough, with a 0-60 mph time of 5.6 seconds, but there is still a considerable performance gap between it and BMW 335i. Moreover, Toyota's 8-speed automatic transmission is not as responsive and imperceptible as its ZF rival. Now having dropped the choice of manual gearbox, it is also more difficult to attract hardcore drivers.

The old IS used to offer a 2.2-liter turbo diesel for European market. Now it uses the new petrol hybrid model, IS300h, to replace the diesel and harmonize the offering across the world. Its powertrain combines an Atkinson-cycle 2.5-liter four – similar to that of Camry Hybrid, but introduces direct injection and dual-VVT-i to boost horsepower from 156 to 181 – and a 143 hp electric motor to provide a maximum output of 223 hp. Sounds good, but for a driver-oriented junior executive car we cannot put up with its sluggish throttle response, lack of overtaking power, thrashy engine (due to the CVT effect) and non-linear brake feel.

With better engines, the new Lexus IS could have been possible to threaten BMW 3-Series. Now it can only chase for the runner-up position. The range topping IS350 F Sport is a credible choice to keen drivers, while IS250 less remarkable and IS300h rather disappointing.

Verdict:




(IS350) /



(IS250 / IS300h)

| | |
| --- | --- |
| Published on 8 Oct 2015 | All rights reserved. |
IS200t


Following the industrial trend to boost fuel economy and drivability simultaneously, Lexus IS has to abandon its good old 2.5-liter V6 for a brand-new 2.0 DI turbo. This four-banger was first introduced to Lexus NX200t SUV-crossover last year, and its usage will spread to not only IS but also GS and RC coupe. Thankfully, the Japanese firm decided to name the car according to its exact engine specifications rather than a misleading number like its German rivals – you can't tell what engine a BMW 328i or Mercedes C250 employs – or the equally misleading IS300h. I like its honesty.

Codenamed 8AR-FTS, this 1998 c.c. four-cylinder is Toyota's first direct injection turbo engine. Predictably, it is equipped with a twin-scroll turbo to enable faster low-end response hence reduced turbo lag. Its output figures are exactly the same as the N20 engine of the outgoing BMW 328i, i.e. 245 horsepower and 258 lbft of torque, with the latter available between 1650 and 4400 rpm. Look deeper, you will find some technologies even more advanced than BMW's. Like Audi's 190 hp 2.0 TFSI engine, it is able to work at Atkinson cycle (i.e. with an expansion stroke longer than compression stroke) under light load and revert to Otto cycle at heavier loads. This is implemented by Toyota's VVT-iW variable cam phasing at the intake side, which delays the closure of intake valves well into the initial phase of compression stroke. Another advanced feature is D-4ST (T for turbo) dual-mode injection, which uses port injection to supplement direct injection in some conditions. You can have more insight of these technologies in our AutoZine Technical School (Otto-Atkinson cycle engine and Dual-mode injection), but here you only need to know their benefits: improved fuel economy and drivability. Compared with the outgoing IS250, the IS200t has 0-60 mph acceleration cut by a full second, while fuel consumption in combined cycles is reduced by 18 percent. That's brilliant.

Unfortunately, BMW 328i is a second quicker to 60 mph again, and the new 330i is a bit faster still. Despite of the improved performance, the IS200t is still somewhat handicapped by its excessive weight of over 1600 kg. Remember, its aging platform is derived from the bits of GS, Toyota Crown and Mark X, so it lacks the lightweight consideration of its fresher European rivals. Toyota's 8-speed automatic transmission is also not as good as its ZF opponent, at least in terms of calibration, as it often hunts for the right gears. This means the IS200t still trails its main rivals for performance.

If you take F-Sport package, the car's handling could be quite satisfying, with good grip and nicely controlled body movement, though the car is never quite as agile as, say, the 3-Series, Cadillac ATS or Jaguar XE. Likewise, its ride quality and cabin refinement can't match the best of the class.

While the new engine does improve the entry-level IS, it is not a step big enough to close the gap from its rivals. In fact, the new Jaguar XE, Mercedes C-class, Audi A4 and revised 3-Series have raised the bar again. That's not a good news to the Lexus, because it has several more years to soldier on.

Verdict:












IS250



2013

Front-engined, RWD
Steel monocoque
Mainly steel
4665 / 1810 / 1430 mm
2800 mm
V6, 60-degree


2499 cc
DOHC 24 valves, DVVT

-
DI
204 hp



185 lbft


6-speed automatic

F: double-wishbone
R: multi-link

-

225/45VR17
1570 kg

140 mph (c)

7.7 (c) / 7.2*

-


IS300h



2013

Front-engined, RWD
Steel monocoque
Mainly steel
4665 / 1810 / 1430 mm
2800 mm
Inline-4, Atkinson cyle + electric motor

2494 cc
DOHC 16 valves, DVVT

-
DI
Engine: 181 hp
Motor: 143 hp
Combined: 223 hp

Engine: 163 lbft
Motor: 221 lbft

CVT

F: double-wishbone
R: multi-link

-

225/45VR17
1620 kg

143 mph (c)

7.8 (c) / 8.1****

20.2****


IS350 F Sport



2013

Front-engined, RWD
Steel monocoque
Mainly steel
4665 / 1810 / 1430 mm
2800 mm
V6, 60-degree


3456 cc
DOHC 24 valves, DVVT

-
DI
306 hp



277 lbft


8-speed automatic

F: double-wishbone
R: multi-link

-

255/35YR18
1680 kg

143 mph (limited)

5.6 (c) / 5.6* / 5.4***

13.5* / 13.3***










Performance tested by: *C&D, **MT, ***R&T, ****Autocar










IS200t



2015

Front-engined, RWD
Steel monocoque
Mainly steel
4665 / 1810 / 1430 mm
2800 mm
Inline-4

1998 cc
DOHC 16 valves, DVVT

Turbo
DI
245 hp

258 lbft

8-speed automatic

F: double-wishbone
R: multi-link

-

225/45WR17
1620 kg

143 mph (c)

6.6 (c) / 6.5*

17.3*










Performance tested by: *C&D









General models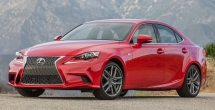 Copyright© 1997-2015 by Mark Wan @ AutoZine