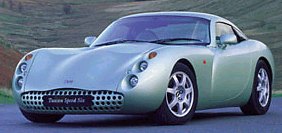 Welcome back, Tuscan ! wait a moment ... is this really a new Tuscan ? TVR boss Peter Wheeler said he no longer wants to create another stripped-out racing car in the name of Tuscan. Instead, he'd like the new Tuscan to challenge Porsche directly as a complete product. That means vast improvement to comfort and refinement. The same thing couldn't be said for any previous TVRs, including the Cerbera Speed Six. You know, TVR cars were always renowned for maximum performance per pound.

However, despite a lot of effort spent to refining the car (hence a 18 month delay since the debut in the 1998 London motor show), don't be too serious about what Wheeler called "refinement". Admittedly, the styling is very well executed, the trimming of cockpit is beautifully made, driving position is more natural, and there is new-found suppleness in ride quality, but what about airbags, ABS, traction control, power seats, electric windows, trip computer, sat-nav and blah blah blah ? All are missing in this "refined" TVR. In contrast, Lamborghini sold just one-tenth the number of cars as TVR last year, but it managed to equipped the Diablo with 4-wheel-drive, ABS, variable valve timing etc. The Blackpool sports car specialist is still far from world class.

If we're not misled by Wheeler and never compare it with Porsche, we'll find the new Tuscan very interesting. Firstly, stop watch proved that it is one of the quickest production cars today. From standstill, it takes just 4.2 seconds to reach 60 mph, and then passes the 100 mark at 9.5 seconds. You know, anything doing 0-100 mph in less than 10 ticks could be classified as supercars, these including Ferrari 360, Lamborghini Diablo, TVR's own Cerbera, Aston Vantage, Porsche 911 Turbo and probably 911 GT3 as well as Dodge Viper GTS. In short, Tuscan is one of the 8 fastest cars producing today, yet it is the cheapest among them. (well, Caterham R500 is excluded because of lacking a proper type-approval) At £40K, it actually competes directly with Boxster S rather than these supercars ! However, floor down the throttle at 5th, the Tuscan will hit 180 mph like its sister car Cerbera.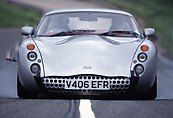 Providing such fire-breathing performance is a version of the "Speed Six" engine formerly exclusive to Cerbera. It's a modern 4.0-litre straight-six, with twin-cam and 24 valves to enable an outstanding specific output of 90 hp per litre, and that's achieved without the help of any VVT ! All must thanks to engine specialist Al Melling, who also gave birth to other TVR's recent engines, such as the AJP V8 and the 7-litre V12 used by Cerbera Speed 12.
In Tuscan, the Speed Six engine is tuned to 360 hp / 310 lbft instead of the Cerbera's 350 hp / 330 lbft. A new motorbike-style exhaust is exclusive to the Tuscan, which save weight. Talking about weight, the Tuscan tips the scale at 1120 kg without the optional air conditioning, that's 40 less than the Cerbera on which it is based. Basically, all TVRs are similar underneath the different-looking skins: tubular space frame chassis with lattice transmission tunnel acting as backbone. The Tuscan just differs from Cerbera by shortening wheelbase by 205 mm, thanks to the elimination of rear seats. Moreover, it is constructed as a Targa, with roll-over bar running right behind occupants' heads. The composite roof can be stored horizontally in the boot, just above luggage. The rear window can also be detached and placed vertically just in front of luggage if you want more fresh air. Unlike any previous TVRs, the body is made of honey-comb-style composites instead of glass-fiber and saved 30 kg.
The composites body panels also enable a highly curvy styling that conventional glass-fiber or steel sheets cannot hope for. Viewing from front, the Tuscan looks very much like Moby Dick the white whale . The wave-like front bonnet is actually made of two pieces - the front one can be opened and give access to oil and water refilling. The rear panel is fixed by bolts and can only be opened to access the engine during servicing. Wheeler seemed to realised this idea earlier than Audi with its A2.
In terms of styling, the Moby Dick really refreshes our eyes. It's extremely smooth and pure, yet delivering a strong sense of power. Yes, the power of white whale ! no one will doubt its 180 mph potential.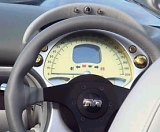 The interior is no less special. A speedometer made of brass and aluminium looks cyber yet retro (a paradox? aluminium seems cyber, brass accompany the style of readings looks retro). At night it backlit in green. Inside which is a small LCD provides digital readings for engine rev, oil/water temperature etc. Like a cheap digital watch, you press a button once to change to another mode. The cabin is fully leather clad, in lighter colours than other TVRs. Cheap plastics? no, because TVR can't afford plastic moulding so that it simply use leather instead. Comfort has been improved, with more leg room due to the use of straight six instead of a wide V8. The seats are supportive, pedals and steering wheel are adjustable to compensate the lack of height adjustment for seats. Door sills are lower, doors open wider. However, the transmission tunnel is as wide as before, thanks to the space frame construction inside that. The targa roof and side windows doesn't insulate wind noise properly. No much equipment, just air-con, a simple sound system ....
Not very simple indeed, because the Speed Six engine is already one of the best sound systems available. It sings very much like a Diablo V12 ! It's powerful right from idle, with sharp throttle response yet preserving the inherent smoothness of an inline-six should have. Power is fed to a Borg Warner 5-speeder with short and mechanical-feel shift quality. Brakes are strong and firm, despite of the lack of ABS, are more than effective to stop the 1120 kg car. Weighting of most controls are in the heavy side but manageable to real drivers.
The Tuscan have a good weight distribution of 51:49 front to rear. Nevertheless, there is still some way to match the fluency and competent of a Porsche Boxster S or GT3 in handling. The springs are too soft to provide adequate control over uneven surfaces (TVR deliberately chose a soft spring / firm damping combination for better ride compliance, but the outcome seems not very successful). On some bumpy roads the suspensions may even bottom out, or at least generate bump steer. On the other hand, the steering is obviously too quick - from lock to lock it takes just 1.7 turns ! I've never heard something like that before. It could be nervous sometimes and difficult to control fluently, especially in the presence of the suspension flaw. It could be tail-happy under hard throttle (luckily, the pedal travel is long enough to control power precisely) or in wet, lacking the confidence found in Boxster S. TVR really needs more effort to sort out the problems.