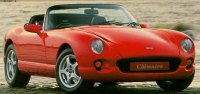 If you are familiar with TVR, you'll know their cars are always famous of performance / price ratio. Look at the Chimaera, the slowest cars available from the company. Top speed 154mph, 0-60mph takes 5.1sec. How can it achieve this in the price of around 30k pounds ?

Simple. Because everything is simple. The engine comes from Rover's ancient pushrod V8, the chassis is traditional spaceframe, the body is made of fiber-glass, no ABS, no traction control, no airbag.....as a result, the small British company in Blackpool need no more than simple tooling to hand-made its cars.

In many respect, Chimaera is the best developed car in TVR's model range. Its build quality, once found unsatisfactory in early production, is vastly improved to acceptable level as production experience gained. Although it can still hardly compare with German sports cars, Chimaera is definitely better build than Griffith and Cerbera, possibly matching local rivals like Lotus. Besides, its 4.5 litres V8 output progressively, matches the chassis very well. You won't feel the engine out-perform the chassis as in Griffith 500. Handling is quite good although ride remains hard. Overall speaking, Chimaera is far more drivable than predicted.