Suzuki Wagon R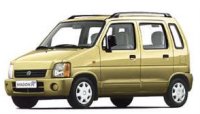 Being the first K-car introducing RV (Recreational Vechicle) features, Suzuki Wagon R broke many K-car records in Japan - 500,000 units sold within the first 38 months, the first K-car to become No. 1 seller in Japan (monthly count), beating the mighty Toyota Corolla. Why it could be so successful? First of all, the budget-wise K-car market grew rapidly in the past few years because of domestic economic recession, absorbed the sales from larger cars. Secondly, as I have already said, Wagon R introduced RV features that is exactly the young buyers want, such as tall-body, many storage spaces in the doors, versatile seating plan - 2 seats, 3 seats or 4 seats-layout are easily varied, lay down the rear seats can create 2 full-size beds, fold up rear seats create a huge loading space with 633 litres !
As usual, power comes from a 0.66 litres three cylinders 16 valves engine like other K-cars. Of course, don't expect too much performance and handling for such city car. However, to invade overseas market, Suzuki also made a larger version called "Wagon R +", which is wider, has one more door (strangely, the original Wagon R has only got a rear passenger door in left hand side.) and a 1 litre engine.
Specifications
Model

Wagon R

Wagon R +

Layout

Front-engine, Fwd.

Front-engine, Fwd.

Engine

Inline-3, sohc, 4v/cyl.

Inline-4, sohc, 4v/cyl.

Capacity

657 c.c.

approx. 1000c.c.

Power

55 hp

64 hp

Torque

44 lbft

60 lbft

Transmission

5M

5M

Weight

N/A

N/A

Top speed

N/A

N/A

0-60mph

N/A

N/A

Best competitors

Fiat Cinquecento 0.9

Seat Arosa 1.0

Daihatsu Move

Honda Life

Fiat Cinquecento 1.1

Ford Ka

Renault Twingo

Seat Arosa 1.4

Autozine's choice in this class

Daihatsu Move

Ford Ka
.
---
Copyright© 1997-2009 by Mark Wan @
AutoZine