Wagon R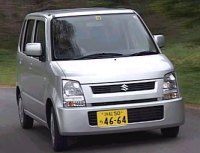 Wagon R was born in 1993. Over the past 11 years, more than 2 million units were sold, making it the biggest selling K-car in history. It was also the first K-car beating Toyota Corolla in domestic sales chart. During those years it usually topped the K-car sales chart, such success must thanks to its outstanding packaging - a combination of good look, tall body, roomy interior and flexible seating. However, this formula was copied by Daihatsu Move and other rivals quickly. In contrast, Wagon R improved little over the years. It has lost its leading position.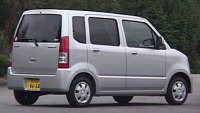 In late 2003, a so-called "new generation" was launched, but in fact it is just a re-package on the existing mechanicals. The new Wagon R still rides on strut and trailing arm suspensions, employing the same engines and gearbox. The monocoque chassis is 35mm lower than before, but otherwise is unchanged, including the 2360mm wheelbase and the rectangular profile. In my eyes, this shape is by all means bland and boring, even failing to match the original Wagon R.
The cabin, like the exterior, is disappointingly raw. Don't talk of any quality materials. Don't talk of any styling and taste. Suzuki seems to have no intention to inject any desirability into the Wagon R. It just works - it offers countless of storage cubbies, a rear bench slide, split and fold flat, front and rear seats that combine into a bed.... but these features are no longer new to the class. In fact, most K-cars offer these utilities now. It used to offer a class-leading cabin space, but now Daihatsu Move and Honda Life have overtaken it by using longer wheelbase.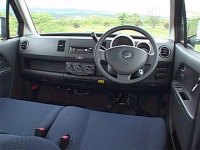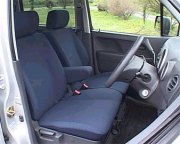 Wagon R seems to be the victim of Suzuki's differentiated K-car range. When it was launched in 1993, it was considered to be a niche, trend-setting model. Today, Suzuki has at least five K-cars in its menu - in particular, Lapin goes the niche route, MR Wagon shines in quality packaging. This leaves Wagon R little space to explore. It can only concentrate on space, practicality and keen pricing, losing the limelight it used to get.