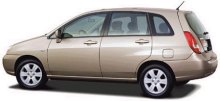 I have no idea what this Suzuki is going to do. Have a slice in the competitive D-segment which is currently overcrowded with nice cars such as Focus, 307, Golf, Corolla, Civic etc. ? no way. It doesn't look like competitive enough. To be another Scenic MPV ? excluding high roof and folding rear seats, it has no much MPV versatility.

Although it looks new, the long overhangs, short wheelbase proportion says otherwise. I even suspect that it may be built on the aging Esteem / Baleno floorpan, as they share exactly the same length, width and wheelbase. Only the height separates them. Where the Esteem measured only 1390mm vertically, the Liana exceed that by a massive 160 mm, that made it the tallest D-segment car at the time being. Depends on your definition, the odd-ball appearance can be seen as either a hatchback, an estate or a RV, but that doesn't matter, because those really care about styling will never consider this car.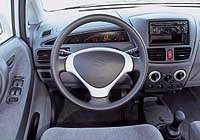 The digital dashboard is even more ugly, although Auto Express magazine described it as "a stylish, angular dash with a funky digital display". The influence from advertising money towards a commercial magazine is so powerful ! See the picture here and you make your judgement.
Anyway, if the advertising money did not influence all 3 magazines that I referred to, then the Liana could be described as well-built. Even the doors have a solid feel. The cabin is also rather comfortable and spacious, although I don't understand how Auto Express reached this conclusion by saying "big overhangs provide plenty of space". I my opinion, that plenty of space is actually freed up by sky-high roof and raised / upright seats. If you can understand how Mercedes A-class offer a lot of space from 2423mm wheelbase, you won't question why the 2480mm Liana can do that. The Suzuki also has a lot of cargo volume, from the regular 296 litres to 1060 litres when the rear bench is folded down.
The Liana is powered by a 1.6-litre 16V with 103 hp on tap. Carrying more than 1100 kg of weight, it is undoubtedly among the slowest 1.6 D-segment cars. Auto Bild tested a 1195kg 4WD version and timed 12.7 sec to 62.5mph (0-100km/h), so it seems the official 0-60 figure of 11.2 sec for the FWD version is not conservative.
No one ever tried to write a lot about its handling, so you can safely assume it is below average. However, refinement is fine, that means, slick gearchange, quite quiet on cruising and rides good. In corner, it doesn't roll more than a mini MPV, but then again it is not a real MPV indeed.