Subaru R2

Debut: 2004
Maker: Subaru
Predecessor: no
To automotive journalists, Japanese K-cars are not very interesting to write about. Although it is the most popular category in Japan and there are 2 dozens of models from 5 manufacturers flooding over the market, most K-cars are hardly distinguishable. Firstly, the size limit (3400mm long and 1475mm wide) dictates their shape. They are therefore made as square as possible and have their wheels pushing towards the corners to maximize interior space. In this way, the creativity of designers is seriously limited. Secondly, the limitation of 660cc engine capacity leaves no space for engineers to explore new directions. All K-cars have similar engine format and deliver similar performance. If BMW were asked to develop a K-car, I suspect it will be much the same as Suzuki or Daihatsu's offering, albeit the double-kidney grille.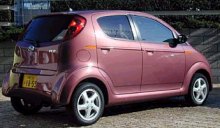 To a small manufacturer like Subaru, falling into the same mould as the giant Suzuki and Daihatsu is not a good thing, because its smaller scale of production would lead to higher production cost, hence lower competitiveness. To survive, it must go the premium route, differing from other K-cars in appearance and packaging. This task has been given to the company's foreign design chief, Andreas Zapatinas. The Greek was renowned for designing Alfa Romeo 145 and Fiat Barchetta in the last decade. Since joining Subaru in 2002, he created a couple of concept cars, B9 roadster and B11S sports coupe, both are radically styled by Japanese standard. However, his first production car would not be so easy, because it would be the replacement to Pleo, Subaru's only K-car. Zapatinas intended to revolve the styling of K-cars. Can he succeed?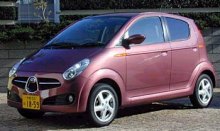 Look at the pictures, I am convinced that his work pays off. This car is called R2 - the same as another Subaru mini car in the late 60s. It looks nothing like other K-cars, but more like a 5-door, 4-seat version of Smart Fortwo, which is of course a praise. Its monospace body is smooth and nicely curved - the well-chosen curvature prevents a boxy and bland shape found in other Japanese K-cars yet prevents the R2 from being too radical. Pronounced wheelarches (like Smart again) deliver a sporty, planted feel. The R2 also introduced a new corporate grille (first shown in B9 and B11S concept cars), giving the front end a more elegant visual effect. This design is definitely a success, giving R2 a unique image and a premium status over other K-cars.

The achievement of Zapatinas also reminds me another foreign design chief in Japan, Olivier Boulay of Mitsubishi (now gone together with DaimlerChrysler). He changed the scene of Japanese mini cars by introducing the stylish new Colt. Obviously, Japanese car industry needs to hire more foreign designers. Unfortunately, they are still reluctant to do so.

The R2's body is stretched to the maximum limits for K-cars. It measures 3395mm in length, 1475mm in width while the height is pushed to 1520mm. Without exceeding 1550mm, it can be parked at tower parking which is popular in the crowded cities in Japan. Its wheelbase is 2360mm, slightly shorter than Daihatsu Mira (Charade) (by 30mm) and Honda Life (by 60mm) but matches Suzuki's various K-cars. This means it is not going to offer the most rear legroom among K-cars. Similarly, the curvy body eats a little bit shoulder room and luggage space. Never mind, BMWs also offer less room than rivals.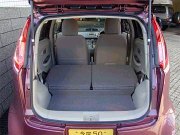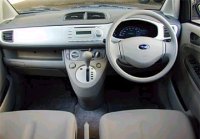 What the Subaru beats its rival is the interior style and quality. Most K-cars employ hard plastics throughout the cabin. Many of them care more about the number of storage cubbies and cup holders than style and quality. In contrast, R2 pays a lot of attention to the interior design and trimming, making it the most expensive-feeling K-car interior. In terms of styling, its instrument panel looks like that of Nissan Micra (March), which is one of the most elegant dashboards in small cars. It is constructed in high-quality plastics and, like the rest of the cabin, finished in light color scheme to please female buyers. Moreover, it does this without sacrificing functions. For example, the gear stick is mounted high at the center console for ease of use. There are a lot of storage cubbies. The rear bench is 50-50 split and can fold flat to store luggage. Although it is not the most spacious K-car, it still offer a high degree of practicality.

Exterior and interior packaging is definitely the strength of R2. Comparatively, mechanical is more mainstream. Like other K-cars, the R2 rides on strut and torsion-beam suspensions. Front-wheel-drive is the default choice while 4WD is optional. 5-speed manual gearbox is default, CVT is optional. Admittedly, if you buy the Turbo version, it will come with a CVT providing a 7-speed manual mode. That's perhaps the only unique feature.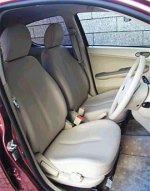 The little heart of R2 displaces 0.66 litres, of course. While most rivals employ 3 cylinders for lower cost and fuel consumption, R2 still employ 4 cylinders. Why? you may find the answer from its rivals. Suzuki, for example, employs 3 cylinders for both the naturally aspirated and turbocharged engines, but the turbo is a light pressure turbo producing only 60ps and 61 lbft of torque, even failing to reach the government limit of 64 horsepower. In contrast, the turbocharged version of R2 produces a full 64ps and a decisive 15 lbft more torque. Obviously, the imbalanced nature of 3-cylinder engines prevents them from heavily turbocharged. No wonder Daihatsu uses 4 cylinders for its powerful turbo engines and 3 cylinders for normally aspirated engines. To Subaru, they cannot afford to develop and produce 2 engines, so they chose 4 cylinders.

The little 4-pot engine has 3 stage of tune: the base version is normally aspirated, with a single-cam and 8-valve cylinder head to produce 46 horsepower. The second version is also normally aspirated, with twin-cam 16 valves and AVCS variable valve timing to produce 54 horsepower. This is likely to be the best seller. The hottest is the turbocharged version of the 16V but have the AVCS discarded. It makes 64 horsepower and a useful 76 lbft of torque. This is currently the most torquey engine in the K-car world.

Subaru R2 is a premium K-car. Its superior style and quality also bring a higher price tag. In Japan, it is about 20% more expensive than an equivalent Daihatsu Mira, our current pick of the class. That place it straight into the higher segment (Nissan March, Toyota Passo etc.). That's probably the biggest problem it faces. Although buying a K-car has advantages in tax and warrant fees, whether it make sense compare with a properly sized and properly engined car is debatable. One thing is for sure, this good-looking, high-quality mini car will be seen as a niche car and get many fans.
The above report was last updated on 20 Aug 2004. All Rights Reserved.
R1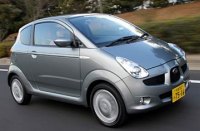 Most Japanese car makers try hard to maximize the space of their K-cars, pushing them right to the limits allowed by the law and making them as square as possible. The result is a bland and "me-too" shape.

Subaru R2 is by no means "me-too", but compare with Smart Fortwo it is obviously less interesting. Therefore, based on the R2 architecture, Subaru developed an even smaller and nicher car called R1. It appeals to the same crowd as the Smart - those single, yuppie and fun-seeking young people. Its selling point is a lovely bubble shape which is inspired by beetles (I mean the insect, not the Volkswagen), and a more colorful cabin.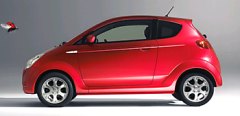 The R1 is a 3-door mini-hatch intended to carry 2 people only. Compare with R2, its length is cut by 110mm and wheelbase is 165mm shorter. That put it at an even lower category than the K-cars, although it actually sells at a rather premium price. Its 2-ton cabin with leather seats is more luxurious than the R2. The tiny rear seats can sit children or simply fold down to place shopping bags.

Subaru is not greedy. It just wants to sell 10,000 R1s a year. To justify the cost, all mechanicals are shared with the R2, including engine, transmission, suspensions and steering.
The above report was last updated on 3 Feb 2005. All Rights Reserved.