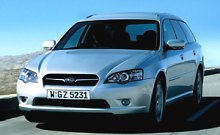 The first time I noticed and then fell in love with Subaru Legacy was about 10 years ago when the twin-turbo Legacy RS and GT-B were launched. 4-wheel-drive, wow, very Audi-like. Boxer engine (or horizontally-opposed engine), very Porsche-like. 280 horsepower out of merely 2 litres, very supercar-like.

The next generation launched in 1998 kept the format unchanged and continued to shine in the eyes of driving enthusiasts. Its rivalry with Mitsubishi Galant VR4 (the 280hp 2.5 twin-turbo V6, 4wd and 4ws, if you remember) was once the hottest topic in Asian car enthusiast circles. Those European journalists who tested them suddenly found their fast Volvo T5 and Audi S-badge Avant hopelessly slow, uninspiring and overpriced. "Long Live Legacy and Galant !" the Asian cried.

But time has changed. Mitsubishi discontinued Galant VR4 last year while the 5-year-old Legacy was finally overtaken by Alfa Romeo 156 GTA.

Undoubtedly, when the new generation Legacy was launched earlier this year, one of the targets must be clinching back the title as the world's best affordable sports sedan. I am confident about that, because Subaru is always an engineering-driven company. First of all, which company is brave enough to persist in employing boxer engine and 4WD as standard even in the price of considerable cost? answer: only Subaru. Second, which mainstream family car is so keen on weight reduction, cutting 60-100kg from its predecessor even though the car is larger and roomier in all dimensions? answer: only Subaru Legacy.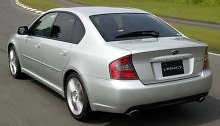 Now a little bit explanation to the second point. The new Legacy is slightly longer, wider and taller than the last generation. Wheelbase has been grown by 20mm thus the cabin is roomy. Despite that, the flagship Turbo version called Legacy GT Spec B weighs just 1430kg, some 100kg lighter than its predecessor. How can it do that? firstly, as learned from parent company GM, its chassis employs some cross-members made by hydroformed process - a technique using liquid pressure to shape a metal tube with the advantage of uniform thickness everywhere, thus improve rigidity-to-weight ratio. Secondly, it uses steel body panels of different thickness at different locations to fulfill the required strength without wasting a single kilogram. Thirdly, engine lid, front bumper beam and tailgate (for Wagon) are made of aluminum to save weight, so is the control arms of rear suspensions for the Turbo model, which is forged aluminum alloy.
The EJ20 boxer engine is another focus of surgery. From spec, it seems unchanged. Still 1994cc, same big bore short stroke combustion chambers, single-cam 16-valve for the cheapest version (which pumps out 140hp), same twin-cam 16-valve for the next up version.... now you suddenly discover this engine get more horsepower: 190hp versus the previous 155hp. What's going on? oh, it gets AVCS variable valve timing at the intake valves, smoother intake and exhaust manifolds, hollow camshafts, electronic throttle.... but you also notice the new boxer engine sounds different - gone is the traditional deep boxer bubble, replaced by a higher pitch and quieter exhaust note. What's the matter?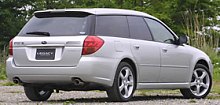 Open the bonnet, you can easily see the exhaust routing is different. By connecting the exhaust manifolds of opposite cylinders - instead of adjacent cylinders - together, it takes advantage of pulsation effect and increases low to mid-rev torque. That explains the change of exhaust note. What you are unlikely to discover is that the engine now sit 22mm lower in the chassis in order to lower center of gravity. Also, you won't notice the engine block is new, being more resisting to heat expansion. In fact, Subaru said the EJ20 is 80% new.
Open the bonnet of the Turbo version and you will face a bigger surprise. No twin-turbo any more. Now just one turbocharger and intercooler. You know Legacy was renowned for its sequential twin-turbo, an arrangement that activates one turbo at low rev and both turbo at high rev. You know this enabled a linear and refined power delivery, but if you remember my old report, in reality it was not all that great, neither especially responsive nor as punchy as Impreza's single turbo engine.
Today, with the advancement of technology, Legacy can employ a titanium turbine to reduce the turbo lag of its single turbocharger. Compare with the old twin-turbo, it is actually more responsive, improving torque output at low to medium rev. That said, although peak power and torque remains unchanged at 280hp and 253lbft, the new Legacy turbo feels more punchy and more responsive.
How fast will it go? there is no official figures yet, but considering the last generation Legacy RSK was timed by Autocar to take 5.9 sec to 60mph, we can safely estimate the new Legacy GT, which is 100kg lighter, can do it in no more than 5.5 sec. That should be faster than its main rival Volvo S60R / V70R and Alfa Romeo 156 GTA. Top speed should easily reach 155mph, as the new Legacy is aerodynamically efficient - Cd is 0.28 for the sedan (called B4) and 0.30 for the estate (called Touring Wagon) which has a higher roof.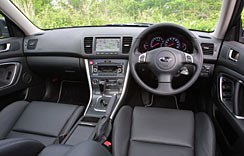 Externally, both B4 and Wagon evolves from the last generation. They still look very Japanese, without the emotional shape of Alfa or elegant finishing of Audi. However, the new headlamps look definitely smarter than before and are million miles better than Impreza's. Inside, the cabin takes a big step forward in both style and quality. It's still no Alfa and Audi, but is already one of the best cabin among family cars. I especially like the driver-focused center console, which has been foolishly dumped by BMW recently. Space is very good for 4 adults and their luggage. Those who find Impreza too cramped will be happy with the bigger car.
On the road, Subaru's expertise in handling is incomparable. The driver sits low and have perfect all round visibility. All the controls are well tuned - the steering is light yet feelsome, the clutch is smooth, gearchange is slick. Plenty of traction from all 4 wheels. The car feels eager to turn into corners, showing far less understeer than an Audi A4 Quattro.
Of course, being a mid-size sedan, the Legacy does not corner as hard as the more driver-focused Impreza. Its suspensions are set more compliant. Body control hasn't been sacrificed, however, because its multi-link rear suspensions has better geometry than the Impreza's strut-type setup.
The most important is, Legacy is willing to communicate with it driver. It inspires its driver, giving him confidence to extract more from it. It is this kind of involvement bring it more applause than the supposedly superior Audi S4, which is quite a lot dearer. For the price of an Alfa 156 GTA, this is a real bargain.
The only thing I would like to improve is the 280hp engine. Although it is powerful, it could use more displacement to deliver stronger torque and maybe 300 horsepower. But undoubtedly Subaru is reserving the best for the forthcoming Legacy STi. I would be happy if it employ a similar engine to the American Impreza STi. That means 500 more cc, a full 300hp and 300 lbft. Think about it, Subaru.