Spyker C8

Debut: 2000
Maker: Spyker
Predecessor: no


No one cares about the history of Spyker. The Dutch car maker was dead in 1925 and was never as famous as the likes of Bugatti or Hispano Suiza. But to Dutch tycoon Victor Muller, Spyker is probably the only valuable car label originated in his home country, and more important, it was cheap to acquire. Muller bought the right of the marque in 2000 and established a sports car company in Zeewolde, Holland. Its product lines include C8, C12 and later on, a 4-seat offroader called D12. In 2006, Spyker produced 94 cars out of a workforce of 177 people, so it is still a small company.


The prototype of C8 was first unveiled to the public in 2000. However, the car was mostly unfinished and it took the following years to refine. Spyker did produce a handful of cars for its European customers, but series production was not started until late 2005, when it found Karmann to produce the aluminum chassis and body. At the same time, it obtained EPA approval for importing to the USA.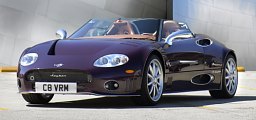 The C8 is a mid-engined sports car employing aluminum spaceframe chassis and body panels. As it was designed to be a spyder from the outset, chassis stiffness has little difference with or without roof. High rigidity and a pair of very strong (and thick) A-pillars means the car does not need a windscreen header rail. This is the most special feature of the car. Another specialty is the "butterfly" doors which swing upward and outward around a single hinge to open, and it is electrically operated ! Thanks to the lightweight construction and an all-alloy V8 engine, the C8 weighs only 1250 kilograms.

Power comes from an Audi 4.2-liter 40-valve V8. It is derived from the older non-FSI unit but tuned up to 400 horsepower at 6800 rpm. Maybe one day it could switch to the R8's 420hp FSI dry-sump unit. Transmission is a 6-speed manual supplied by Getrag. Unlike Ferrari and Lamborghini, Spyker could not afford to develop its own semi-automatic transmission. Power is sent to the 265/30ZR19 rear tires. Like race cars, the C8 rides on long-arm double-wishbone suspensions with inboard springs and dampers operated by pushrods. Also like race cars, its steering and brakes are unassisted. To save weight, to save development time or to save money, nobody knows.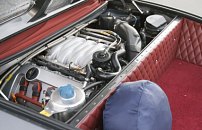 On the road, the Spyker delivers a mixed impression. The engine noise is very, very loud, but performance level does not live up to your expectation for a 400 horsepower and 1250 kilograms mid-engined machine. R&T found it took 4.4 and 10.3 seconds to accelerate from 0-60 and 0-100 mph respectively, which is about the same as a Porsche 911 Carrera S with 355 horsepower and 1420 kilograms kerb weight. Maybe Spyker has its own methods for measuring power and weight. What hurts is, the C8 is priced at £190,000 in UK or US$270,000 in USA, 3 times the price of the 911. In fact, the car is more expensive than the significantly faster Ferrari F430 (£130,000), 599GTB (£170,000), Lamborghini Gallardo (£120,000) and equals Lamborghini Murcielago LP640.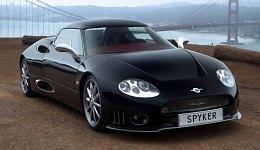 The Spyker does handle very well. It balances well and corners rock-steady, thanks to a stiff structure and even stiffer suspensions setting. In this car, ride comfort is virtually non-existent except on the smoothest highway, so any one driving it on B-roads should be prepared to have his eyeballs rock off. The suspensions fail to dampen bumps to the extent that handling could become very nervous. As expected, the unassisted steering is heavy, but it is undoubtedly feelsome and accurate. In contrast, the unservoed brake pedal brings no benefits except an intensive training to your leg muscles, albeit a painful training. The clutch is also very heavy. However, the most absurd is probably the hand-brake, as it is inaccessible by the driver once he has tightened the 4-point racing harness. The only way to actuate the hand-brake is to ask your passenger for help.


The handling character is old-fashion for its instantaneous response and honesty. There are pros and cons - on the up side, its steering tendency is as neutral as a race car. You can apply throttle and steering to induce oversteer in corners easily. On the down side, if you abuse it, the tail-happy machine will go wide and spin off the track, very old-fashion indeed. The Spyker does not have any electronic safety nets like ESP, traction control or active differential, so you can only rely on your driving skill to keep you save on track. Should you really crash, there are no airbags to save you. In this way, the Spyker is very much like a TVR, albeit a TVR at four times the price.


So, why are there some people willing to pay so much money for a TVR alike ? you may get the answer from the cockpit. With plenty of bespoke gauges, mechanical toggle switches, milled aluminum dashboard, quilted Connolly leather trim, a beautifully exposed aluminum gearshift linkage and an aluminum-spoke steering wheel mirroring a propeller of pre-war aircrafts, the Spyker brings back the memory of the most luxurious cars in the 1920s and 30s. There is hardly any trace of plastics in this cabin. Everything is finished in classical style with the best materials and craftsmanship, not even Italian or British exotics can compare with. Well, with the exception of Pagani perhaps. It is this exclusivity that brings dosens of customers annually to Spyker.

If you want to demonstrate your taste and wealth, the Spyker will be a fine purchase. However, if you want to enjoy performance and the thrill of driving like most people do, then you will find plenty of superior choices from Ferrari, Porsche and Lamborghini. Compare with those established marques, the Spyker has too many flaws and its talent is too limited.
The above report was last updated on 11 Mar 2007. All Rights Reserved.
C12 LaTurbie (prototype)


Spyker unveiled C12 LaTurbie in the 2005 Geneva motor show as a bigger brother of C8. As indicated by its name, it employs a more powerful 12-cylinder engine, this time the 6.0-liter W12 engine that powered the top Audi A8. Spyker tuned the engine from the stock 450 horsepower to 500 horsepower, accompany with a boost in maximum torque from 428 lbft to 442 lbft. Performance is claimed to be 196 mph and 0-60 mph in 3.8 seconds. That should place it near the league of Lamborghini Murcielago and Ferrari 599 GTB.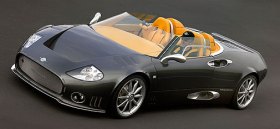 Unfortunately, no one could verify these claims. Until now, no automotive journalists have ever driven the car. Is it still under development ? no one knows. One thing is for sure - since the introduction of the D12 SSUV, Spyker has shifted its focus from the C12. We can understand why. The C12 has to fight an uphill battle against Ferrari, Lamborghini, Mercedes-McLaren, Pagani, Koenigsegg etc. while the 4-seat super offroader has virtually no competitors in the market, so the latter should be the future of Spyker.

Despite of occupying a higher category, the C12 is derived from C8. The aluminum space frame chassis is stretched by 65mm in wheelbase to improve stability rather than to accommodate the engine, because the ultra-compact W12 is even shorter than the V8. The body is widened considerably, as are the front and rear overhangs. However, the suspensions, transmission, exterior design and the impeccably built cabin are mostly carried over from the C8, so we expect it to succeed the strengths and flaws of its brother.

In late 2007, Spyker revealed that the development of C12 and its Zagato-bodied version had been cancelled (due to its poor financial condition, you know). Now its energy will be concentrated back on the V8 model and offroader.

The above report was written on 11 Mar 2007 and last updated on 13 Aug 2009. All Rights Reserved.