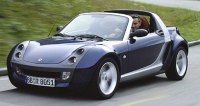 Roadster

Cheap tiny sports car isn't a new idea. To the Western, Smart Roadster revives the spirit of MG Midget. To the Japanese, it is just a copycat to Suzuki Cappucino and Honda Beat. Look at its 0.7-litre triple-cylinder engine, 3.4-meter length and 790kg weight, you can't help amazing how close it imitates the Japanese K-car classics. The biggest difference is: Smart sells the Roadster at a price closer to the MX-5 level, thanks to its creative styling and up-market image.

The car has 2 versions - Roadster and Roadster Coupe. As seen in the photos, Roadster Coupe (what a contradicting name) has a BMW Z3 Coupe-like rear end which increase luggage volume. In addition to a 911-style luggage space at the nose, this tiny car is highly practical. The Coupe has a 2-piece targa roof, so it offers the same level of open-air motoring as the Roadster which has a soft roof.

Both cars have a funny styling, especially the front end. Styled by Michael Mauer before he moved to Saab, the Smart Roadster twins received overwhelming appreciation when it was shown in 1999 as a concept car. Today, the production car remains loyal to the original design thus it will unquestionably win the hearts of car lovers.

The car is constructed in the same way as the current Smart city car: exposed steel frame chassis is surrounded by colorful plastic body panels which can be replaced if you get tired of the current color scheme. It shares 35% components with the city car, mostly engine, gearbox, rear suspensions and interior trim. Of course, to give it good handling, the Roadster is several sizes longer, wider and far lower than the city car. In fact, at 1192mm, it is even lower than a Ferrari 360M !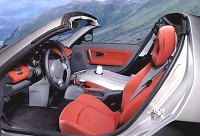 The cockpit is quite spacious, with generous legroom. Occupants sit as low as in supercars, yet both front and rear visibility are superb, thanks to big screens. Funny-looking gauges and center console distinguish the Smart from its Japanese rivals. Everything feels well built.
The engine is derived from the existing 3-cylinder turbocharged engine of the Smart city car. Many Japanese K-car engines employ 4-valve head and variable valve timing, but the Smart still relies on a single overhead camshaft, 2 valves per cylinder and fixed timing. Anyway, German tuning specialist Brabus helped modifying the engine. By increasing capacity from 600 to 700cc, raising boost pressure from 0.8 to 1.0 bar, improving cooling to intercooler and using a stronger forged crankshaft, maximum power increases to 82hp, while torque is a healthy 81 lbft. Brabus also deliberately tuned the exhaust to deliver a sporty note reassembling half a Porsche 911 engine.
Smart's engine has its highs and lows. On the positive side, it delivers respectable torque once rev pass 3000rpm. That means the Smart Roadster feel faster than its performance figures suggest. Officially, MCC claims 112mph top speed and 0-60 takes 10.2 sec for the 790kg Roadster and 10.5 sec for the 815kg Roadster Coupe. That's slower than a proper hot hatch, but already a second quicker than the late Suzuki Cappucino. Like the Cappucino, the Smart has sufficient performance to put smile on the driver's face.
On the negative side, the low-tech engine reaches power peak at just 5250rpm, fails to thrill keen drivers. A wider and more elastic power band is on our wish list. The SoftTouch 6-speed semi-auto gearbox is another disappointment. Not only shifting leisurely, it always automatically upshifts at around 6000rpm, spoiling the excitement just when the driver want to exploit.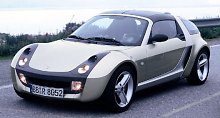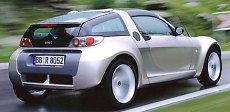 Roadster Coupe
Luckily, the disadvantage in drivetrain is compensated by the advantage in chassis. Unsurprisingly, the Roadster discarded the leaf-spring front suspensions of the city car for a proper set of MacPherson struts. At the back, deDion tube axle is considered adequate for a lightweight sports car. Having just 800kg to handle, the standard 15-inch wheels and 185/55 tyres do the job with ease, providing strong grip and good ride comfort simultaneously. Lightweight also enables the steering to be unassisted. Although it needs a rather slow 3.5 turns from lock to lock, it does provide uncorrupted steering feel not found in many modern cars, including the Roadster itself with optional power steering. The car is easy to control and correct in corners. It listens to throttle input to change attitude. Lift off mid-corner, it will induce some oversteering. However, it is not as tail-happy as the early Lotus Elise and Toyota MR-S, because Mercedes' engineers deliberately set up the suspensions to counter the rear-biased weight distribution and make it friendier to handle. Besides, it has ABS, EBD (electronic brake force distribution) and ESP (stability control) equipped as standard.
Smart Roadster is not cheap, but like the Smart city car, it is a statement of your personality. If you want to go fast and have excitement, Mazda MX-5 is actually a better choice. If you want a really niche car to express yourself and still fulfil the need for fun and practicality, nothing could be smarter than the Smart.