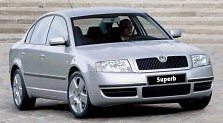 Call it a Passat LWB and it won't be far from the truth. The Superb is basically a Volkswagen Passat with wheelbase stretched for 100mm, then replaced the grille and bumper with Skoda's own designs. Its appearance is so close to the Passat that a Czech reader said he found it difficult to distinguish them on road.

Why Volkswagen do this is unknown. Even Octavia and Fabia are not as close to their Volkswagen roots. Maybe Dr. Piech found European needs a large car at the lowest price. While Volkswagen cannot do that in Germany, Skoda can do that in Czech.

From the experience of Fabia, you know Skoda's build quality matches that of the Wolfsburg. From the driver seat looking around the dashboard, you might swear this is a Passat. Basically the design and trimming mirrors that of the Passat, only the use of fake wood and poorer quality leather seats diminish the luxury feel. From rear seats, however, you will be amazed by the limousine-like legroom contributed by the 2803mm wheelbase - even longer than Audi A6 (another derivatives of Passat).

Unsurprisingly, under the bonnet is the existing Volkswagen engine - either a 8-valve 2.0 (115hp), 1.8 turbo (150hp), 2.8 V6 (193hp) or some diesel engines. It is not even given the group's latest engines, say, 2.0 16V, 2.3 V5 or 3.0 V6. The ancient 8-valve 2.0-litre has trouble to cope with the heavier kerb weight (70kg up from equivalent Passat), and it revs coarsely at high rev. The 1.8 turbo is perhaps the best compromise because it is relatively cheap, frugal and torquey enough. The 2.8 V6 is thirsty for a family car while not smooth and quiet enough for an executive sedan. Heavy flywheel effect robs it of crisp throttle response. Admittedly, Passat also has this problem.

Superb shares its semi-independent torsion-beam rear suspensions, thus is the largest car to date using such unsophisticated designs. Well, at least newer than the non-independent live axle of Ford Crown Victoria. Like the American dinosaur, the Czech large car chose a soft springing and damping setting to hide its shortcomings in suspension design, and further biased towards comfort than any European executive cars. Push it harder, body control becomes untidy. It rolls a lot and hates twisty roads, on which it feels like bigger than it is. Nevertheless, the combination of long wheelbase and soft setting actually provides a smooth ride quality, much better than Passat especially over low-speed bumps. This match its comfortable character very well.

Surprisingly, steering is well tuned, providing good feedback and accuracy. The 5-speed manual gearbox is not so good, feeling notchy to shift. Long-travel clutch pedal also doesn't help.

A good company car it may be, a practical and comfortable family saloon it may also be, the Superb does not really feel like what its name suggest. It does not have a chance to challenge other really superb executive cars, thanks to its outdated mechanical specifications and its imitator image. Price is still its strongest weapon.