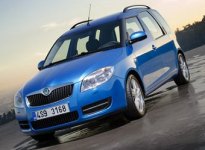 So far, Skoda has been no more than a Czech factory owned by Volkswagen AG. Its products were all derived from the existing platforms of Volkswagen group, such as the Fabia (from Polo), Octavia (from Golf) and Superb (from the previous Passat). Their relationships are so close that you can hardly say Skoda has its own R&D capability. Now a breakthrough is made by Roomster, the first car truly developed by the Czech car maker. It is not derived from any existing platforms of Volkswagen group, but a combination of various parts in Skoda's parts bin. This consist of the front structure of Fabia (suspensions, steering, engines and gearboxes) and the simple torsion-beam rear suspension of the old Octavia, while the long-wheelbase floorpan and spacious cabin are all new.

Of course, the funky exterior design is also the work by Skoda itself. It breaks away from the conservative theme of Volkswagen and the previous Skoda. The design features blackened A-pillars and irregular shape rear side windows which you can describe it odd or unusual. The body profile is actually oriented to practicality, as it is very tall and optimized for cargo volume (see its name Roomster). At first acquaintance it appears to be a rival to Citroen Berlingo and Renault Kangoo – those workmen's cars. But open the doors and you'll notice its decent quality and flexible seating plans rival Multi Activity Vehicles like Renault Scenic. It is a crossover between the two segments.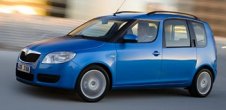 Benefited by the tall roof and big windows (especially the rear side windows), the cabin of Roomster feels light and airy while provides ample of headroom. The front seats and steering wheel are multi-adjustable, so finding a comfortable seating position is easy. Rear passengers sit higher than the front to enable a good view forward. However, they do not sacrifice any headroom, because the roofline rises towards the tail. Rear legroom is benefited by the long wheelbase of 2617mm (that's longer than Octavia and Golf), so Roomster is a real room star.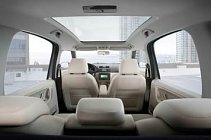 In terms of flexibility, the rear seats are just brilliant. You can slide them, fold them, flip them forward (to reveal a big loading area) or even detach them individually. In the latter form the luggage area is big enough to store 2 or 3 mountain bikes. That's not all though. If you want to sit four people more comfortably, you can take the center rear seat out and slide the two outer seats closer together (like Opel Meriva). In this way both passengers will enjoy enormous shoulder room in addition to the generous head and legroom. Judging by packaging, Roomster is definitely more innovative than any Volkswagen group products.

For cost and for packaging benefits, the Roomster uses the same torsion-beam rear suspension from the Golf IV and last generation Octavia. But it compensates with a well-judged setting and a wider rear track. The result is a smooth and quiet ride and tidy body control. Various British journalists said they enjoyed the car's ride and handling. This is hardly a surprise, as the Roomster's suspension setting was designed to ride well on the rough Czech roads, which is similar to the situation in the UK.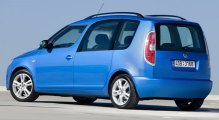 The weakest area is performance. Roomster is available with 3 petrol engines (70hp 1.2-litre three-pot, 85hp 1.4-litre, 105hp 1.6-litre) and none of them get FSI direct injection like its Volkswagen cousins because it wants to keep price low. Like-wise, the diesel engines (70hp 1.4TDI three-pot, 80hp 1.4TDI three-pot and 105hp 1.9TDI) are also the most outdated in Volkswagen's parts bin. None of these engines can propel it from 0 to 60 mph in less than 10 seconds.

If Skoda want, it can easily put a 150hp 1.8 turbo engine into the Roomster (like Polo GTI). But that's not the purpose of this car. We had better look at its refined engines (at least for the petrol), slick gearshift and the free of wind noise. These qualities are equally important to the driving pleasure. The Roomster is slow, but it is fun and useful.