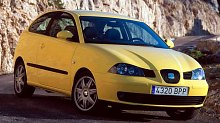 New Seat Ibiza does not look like a sister car of VW Polo and Skoda Fabia. Thanks to design chief Walter de Silva, the Ibiza has some flavour of Alfa Romeo, especially the radical nose and the overall smooth profile. Looking from the front, it even looks like a coupe. Only the high waistline and small wheels reveal its supermini identity.

Platform sharing means the Ibiza has the same mechanicals as Polo and Fabia, but brand policy gives it sportier character. The styling is just the beginning. The suspension setting is what actually distinguish a Seat from a VW and a Skoda. Springs and dampers are stiffer, so are rubber bushings and anti-roll bar. Ride height is also set 10mm lower. As a result, the Seat has driver appeal that both VW and Skoda fail to deliver. Yes, it does suffer from ride quality problems, especially on the diesel models (whose heavier front end requires even stiffer suspension set up). The point is, we have enough girlie superminis now and want some really distinctive products.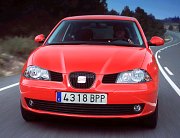 Seat knew that too, therefore it made a very unusual decision: give the Ibiza the group's 130hp TDI diesel engine and make it the flagship model of the range. Not only being the first car putting diesel engine on top, it is also by far the most powerful diesel of the class. If 130hp is not enough to scare you, read this - 229 lbft of torque. Thanks to high-pressure pump injection and turbocharger, the engine makes performance and fuel consumption no longer enemies. It will complete 0-60 in 8.8 seconds like a low-end hot hatch, and then use its 6 forward gears to achieve 55mpg in combined cycle.
You might think it does not need a 6-speed gearbox given 229 lbft of torque. In fact, the 6th gear is chosen to keep engine running at its most efficient and refined power band at motorway cruising. Although gearchange is slick and precise, you are unlikely to use it very often, thanks to the superior mid-range torque of the engine. As long as you keep it boiling at over 2000rpm, there won't be any turbo lag.
The drawback is nose heavy. A rigid iron block displacing 1.9-litre, pump injection system, turbocharger and intercooler burden the front axle, leading to more understeer than keen drivers like. The absence of lift-off oversteer also led me wondering why not Seat's engineers go a step further. Anyway, the steering feels quick and meaty.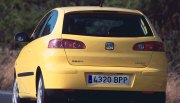 If you can forget the unforgettable torque of the TDI 130, maybe the 1.4 petrol engine worth your look. Throttle response is sharper than the diesel, rev cleanly towards 7000rpm, it is another kind of fun. 100 horsepower is more than enough for this supermini, although you will miss the titanic overtaking ability of the TDI. The petrol relieves the load at the nose, so it turn-in more crisply and handles better.
Base model's 1.2-litre 3-cylinder is also a good engine, but it suits the manner of Polo more.
The cockpit of Ibiza looks better in reality than in photo. Two-tone dashboard with center console angled towards the driver looks smarter than Polo. Plastic quality rates high, although it lose marks in small details - if you look for damped glove box cover for example, go to Volkswagen dealers.
Curvy roof line and small windows might give you a cramped impression, but in fact both front and rear seats are spacious, if not as spacious as sister cars.