Seat Arosa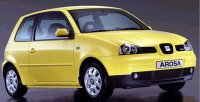 Arosa is actually designed and built in Germany by Volkswagen. It is another "Sub-supermini" after Fiat Cinequecento, Renault Twingo and Ford Ka. Basically, Arosa is a baby version of Volkswagen Polo - based on a shortened Polo floor pan and powered by Polo's entry level 999c.c. four with 5-speed manual box, or Polo's 1360c.c. multi-point injection (MPi) engine with a choice of 5M or 4A. (Update: now even with the 100 hp 1.4-litre 16v) No high tech, no radical new idea, no exciting performance, but you'll find Arosa is irreasonably well built considering its price - high quality plastic, narrow panel gaps, big car-like NVH suppression....you must be amazed how mature it is. My only criticism is the short of leg room in the rear seats, which is the draw back of the short wheelbase. (VW's marketing executives must think, 'if it is spacious, who would buy Polo ?') Boot volume is also tiny.

In dynamic aspect, Arosa offers decent handling and ride but not very inspiring. Performance is disappointing because of the old engine. It feels far less exciting to drive than Ford Ka, but don't worry, even the 1.4 litres Arosa is still some 10% cheaper than the 1.3 litres Ka. The real trouble comes from Toyota Yaris, which eclipse Arosa in virtually all area.

The above report was last updated on 17 Apr 2001. All Rights Reserved.
Specifications
Model

Arosa 1.0

Arosa 1.4MPi

Layout

Front-engined, Fwd

Front-engined, Fwd.

Size (L / W / H / WB)

3540 / 1640 / 1460 / 2320 mm

Engine

Inline-4, sohc, 2v/cyl.

Inline-4, dohc, 4v/cyl.

Capacity

999 c.c.

1360 c.c.

Power

50 hp

100 hp

Torque

63 lbft

94 lbft

Transmission

5M

5M

Suspensions

F: strut / R: torsion beam

Tyres

155/70 R13

N/A

Weight

864 kg

N/A

Top speed

94 mph*

117 mph (claimed)

0-60 mph

15.2 sec*

9.4 sec (claimed)

0-100 mph

N/A

N/A
* Tested by Autocar
---
Copyright© 1997-2009 by Mark Wan @
AutoZine