SEAT Altea / Toledo

Debut: 2004
Maker: SEAT
Predecessor: Toledo
Altea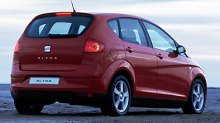 Other car makers call this kind of products as "MAV", or Multi-Activity Vehicles. Seat doesn't. It prefers to call the Altea as "MSV" - Multi-Sports Vehicle. It occurs silly to me. What multi-sports? football, basket and tennis? it seems that every car can take its driver to play multi-sports, not just MSV the Altea ! what a silly name.

Anyway, ex-Alfa Romeo, ex-Seat and now Audi group design boss Walter de Silva gave the Altea a wonderful shape. It is the first Seat penned under the full influence of Silva, and it shows how adventurous and emotional a new age Seat can be. So striking, so sporty, it looks almost like a concept car. Looking from the front it seems like a pump-up sports car. New-style grille will be a beautiful signature to all other Seats in the future. The rear end is less distinctive because of the need to compromise with functions - tailgate must be wide and deep to aid luggage access, coupe-like roof must be sacrificed for larger interior volume. That said, the Altea is still the most beautiful MAV - or MSV - I have ever seen.


Open the doors, the interior styling is very simple, almost spartan. Plastic quality is pretty good, but the ambience is no where as inviting as Renault Scenic. This environment is honest. It does not pretend to be high-tech or luxurious. Just some simple dials and controls. It seems like persuading the driver to concentrate on the road rather than the cockpit.

When you look for accommodation, Altea will let you down. I can't think of any MAV - yes, yes, I know it is called MSV - offer so little space. It is capable to sit 4 six-footers in comfort, but 5 will be a squeeze, let alone 6 or 7 that most other MAVs offer. The Altea is based on the Golf platform, but unlike Touran (Volkswagen's own MAV) it does not boost any longer wheelbase than the Golf. At 2578mm, this is the shortest in the class. So, despite of a tall roof, the cabin of Altea is easily the smallest.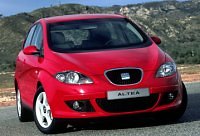 When you shift your attention to flexibility, Altea will once again disappoint you. Short wheelbase means independently sliding rear seats can only be a dream to Altea. Instead, it employs a 60/40-split rear bench just like any family hatches. There is no fold tables, no parcel shelf.... the rear seatbacks do not fold flat onto the floor... the only things distinguish it from regular family hatches is the higher roof and more storage cubbies.

However, when it comes to driving, Altea finally shines. The Golf V platform it used is renowned for handling and refinement, with sophisticated rear multi-link suspensions and a better than usual electric power steering. Being a Seat, Altea is tuned sportier than other MAVs. Further aided by the compact dimensions, handling is agile and fun.

Like other family members of Golf platform, Altea is offered with 5 engines: 102hp 1.6 8V, 115hp 1.6 16V FSI, 150hp 2.0 16V FSI, 105hp 1.9 8V TDI and 140hp 2.0 16V TDI. To exploit the capability of its chassis, the largest petrol and diesel engines with 6-speed gearbox is recommended.

However, if what you want is driving excitement, why don't you buy a high-spec family hatch instead? the only reason is probably its beautiful styling.

The above report was last updated on 10 Jul 2004. All Rights Reserved.
Toledo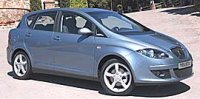 The new Toledo is actually an Altea MPV with a different tail. From the nose to the C-pillar they are identical. After that, it has a tiny boot and a wrap-around rear window very much in the style of Renault Vel Satis. Like the Renault, it is actually a hatchback, so what's the difference with Altea? not much. The longer boot contributes to more luggage space - 500 litres versus 409 litres, but then Skoda Octavia (another derivative of the Golf V platform) beats it at 560 litres. Moreover, access to the Toledo's boot is more difficult than Altea because of its higher load sill.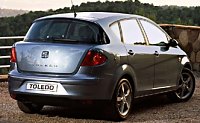 Sadly, apart from the boot, nothing differs Toledo from Altea. They share the same engines, transmissions and suspension setting, in other words, 70% components. They have the same sporty driving character. The same cabin features the same dashboard, materials, seats… inevitably, we have to question the purpose of building this car alongside Altea. Seat fails to give us a satisfying answer. It even refuses to classify this car - it is neither a family hatch (too big) nor a sedan (doesn't look like), nor a MPV (no versatile interior and not roomy enough). Call it a crossover and it offers nothing new.

Obviously, the car needs to have a clearer defined identity and more differentiation from its sister. Otherwise they will just steal sales from each other rather than bringing new customers.
The above report was last updated on 21 Oct 2004. All Rights Reserved.
General remarks


Altea 2.0FSI

Altea 1.8TSI Sport

Toledo 2.0TDI Sport

Layout

Front-engined, FWD

Front-engined, FWD
Front-engined, FWD
Chassis

Steel monocoque

Steel monocoque
Steel monocoque
Body

Mainly steel

Mainly steel
Mainly steel
Length / width / height
4280 / 1768 / 1568 mm
4282 / 1768 / 1576 mm
4458 / 1768 / 1568 mm
Wheelbase
2578 mm
2578 mm
2578 mm

Engine

Inline-4

Inline-4

Inline-4, diesel

Capacity

1984 cc

1798 cc
1968 cc

Valve gears

DOHC 16 valves, VVT

DOHC 16 valves, VVT

DOHC 16 valves

Induction

VIM

Turbo

VTG turbo

Other engine features

DI

DI

Pump injection

Max power

150 hp
160 hp
140 hp

Max torque

147 lbft
184 lbft
236 lbft

Transmission

6-speed manual

6-speed manual
6-speed twin-clutch (DSG)
Suspension layout

F: strut
R: multi-link

F: strut
R: multi-link
F: strut
R: multi-link
Suspension features

-

-
-

Tyres front/rear

205/55R16

225/45R17

225/45R17
Kerb weight

1375 kg

1400 kg

1489 kg

Top speed

128 mph (c)

130 mph (c)

125 mph (c)

0-60 mph (sec)

9.0 (c)

7.9 (c)

9.3 (c)

0-100 mph (sec)

-

-

-

Performance tested by:
-