Saab 9-5

Debut: 1997
Maker: Saab
Predecessor: 9000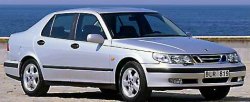 The newest Saab 9-5 replaces the 12 years-old 9000 series to target BMW 5 series and Audi A6. Is it capable enough to beat those brilliant rivals, particular the BMW ? In specification, 9-5 is intended to provide 90% the quality of Mercedes, BMW and Audi, and then undercut them in price. As it is based on Opel Vectra's suspensions and Omega's V6 engine (though the entry level 2.0 and 2.3 litres inline-4 turbo are inhouse-built, which serve 9000 for many years), the new 9-5 is even more cost-effective than its predecessor which was famous of platform sharing with Fiat group.

Like 900, 9-5 is less characterful with those German competitors. However, its engines are quite special. Perhaps Saab wants to reminding you that it was the pioneer of turbocharging technology, all three engines are fitted with light-pressure turbocharger, which is a low cost solution for lack of torque. Look at the 3 litres V6: Peak power 200hp is actually lower than the normally-aspirated version it based on, but the torque is 28lbft up and became more accessible at low rpm. Not only flexible, light-pressure turbocharging also benefits fuel consumption.

Because of the superior torque advantage, Saab 9-5 performs strong in normal road use. Nevertheless, it has not got the necessary chassis to cope with. In terms of handling, it was found to be too nose-heavy, thus generating considerably understeering. Steering is as lifeless as typical Japanese cars. Stability can never compare with German cars because of excessive body roll, but this also implying a very comfortable ride is obtained.

When comes to the cabin, the Saab regain so many scores : spacious, comfortable seats, stylish (aero-style) dashboard, nice quality of material....Unfortunately, competitions are too strong. I doubt whether 9-5 can steal sales from BMW 5 series and Audi A6, especially when the A6 is also a bargain.
The above report was last updated in 1998. All Rights Reserved.
9-5 Aero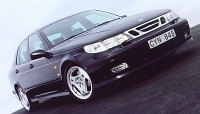 While the unfavourable experience of 9-3 Viggen is still living in our memory, Saab presents us the 9-5 Aero, a high performance 9-5 sharing the engine with Viggen. The 2.3-litre turbo four is as explosive as ever, with a massive 258 lbft of torque starting from 1900rpm. Instead of the younger brother's 225hp, it boost 5 more horses, thanks to a more generous engine management program. Even so, turbo lag is not noticeble, because the electronic throttle will automatically open wider at initial acceleration in order to bring the turbine to operation earlier. Moreover, the revised software allows overboost for 20 seconds, lifting the torque output to 273 lbft for enhanced overtaking ability.

Performance is no less impressive than the 9-3 Viggen, despite of the heavier body. Saab claims a 150mph top speed and 6.7 sec to 60mph, which is easily believable. Although the power still transfer to the front wheels, the 9-5 Aero handles a lot better than the 9-3 Viggen. While the Viggen upset its driver with torque steer, scare him with wheel spin and discomfort him with rock-stiff ride, the Aero avoided all such trouble. Torque steer does not exist except under the hardest acceleration. It should be noted that the basis of the Aero, that is, the 9-5, has a much modern chassis than the 9-3. Its superior torsional rigidity, advancer suspension design and its wider body benefits handling a lot without needing to stiffen the suspension too much. Wheel spin is taken care by the addition of traction control (why not in the 9-3 ? perhaps Saab should rethink about it), also helped by the heavier body. In short, the 9-5 Aero provides a smooth and mature driving experience that the Viggen couldn't hope for.

It is not to say the Aero is the best sports saloon. Its straight four, despite of twin balance shafts, does not rev as smooth as a six at higher rpm. Sound quality is also inferior. The suspension setting is bias towards ride comfort rather than handling, so body roll is not as well checked as the German opponents. Moreover, as a front-wheel drive, you can't enjoy power oversteer, although understeer is not an apparent issue in the car. Anyway, for those who want more performance without sacrificing comfort, this is the car you must seriously consider.

To make the Aero, Saab has lowered the 9-5's ride height by 10mm, stiffened its spring and dampers, installed aero skirts and 225/45 ZR 17 tyres .... everything just predictable. What unpredictable is the pricing : in UK it is 10% cheaper than the smaller and far worst 9-3 Viggen. Saab's engineers proved that they don't need TWR to teach them how to tune a high performance sedan. Do it in Sweden and save money.
The above report was last updated on 2 Nov 99. All Rights Reserved.
Late-2001 facelift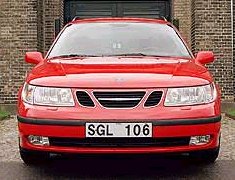 Although I always like the characterful Saab 9-5, writing about any facelift is unlikely to be very enjoyable. Basically, this is a lists of minor changes that won't raise your curiosity:
Body: restyled grille, lamps and bumpers inject more elegance to the distinctive shape. Front structure is stiffer now.
Suspensions: around 10% stiffer spring rate and 1mm thicker anti-roll bars throughout the whole range to deliver sharper handling, and surprisingly, with little price to pay in the ride department. Of course, it is still far from the standard set by BMW 5-series.
Petrol engines: much the same as before, but Aero's 2.3-litre four has been reprogrammed to produce another 20 horsepower (now 250hp). Sadly, it is no longer lag-free as a result. Torque steer is also easier to induce. I'd rather have the old engine unchanged.
Diesel engines: a new Isuzu V6 is added through the relationship with parent company GM. 3-litres, all-alloy, 24-valves, common-rail injection, variable geometry turbo ... all seemed sophisticated, but it output just 176 horsepower and 258 lbft of torque, inferior to BMW 530d's 184hp / 288 lbft. Refinement is good by Isuzu standard but bad for exec cars, with too much vibration and noise. However, performance and fuel consumption are good.
Transmission: new 5-speed automatic replaces 4-speed. Still lack of Tiptronic gadget.
The above report was last updated on 27 Nov 2001. All Rights Reserved.
2005 facelift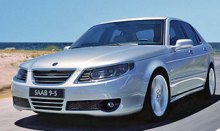 Saab 9-5 would have been renewed if GM did not pull out from the premium platform program co-developed with Alfa Romeo 159. Today, the 9-5 is already 7 years old, but Saab still needs it to soldier on for 3 more years until the replacement come - that will be based on the next Opel Vectra platform. Therefore Saab has introduced another facelift to the car.
Externally, the facelift brought 9-5 a new mask - Spiderman-like. Underneath the skin remains the same chassis. The long-serving turbocharged 2.0-litre and 2.3-litre four-cylinder continues to power the 9-5. However, the latter now has 3 state of tune: 185 hp, 220 hp and, for the performance flagship
Aero
, 260 hp. If you compare with the old Aero, you will find it has gained 10 horsepower, thanks to improved intake. Torque output remains unchanged at 258 lbft, so does the overboost function, which can crank out 273 lbft for at most 20 seconds. Saab claims 155 mph top speed and 0-60 mph can be done in 6.6 seconds, representing a reduction of 0.1 second from the old car, which is hard to detect. However, the high boost 2.3 engine is always a strong powerplant, with abundance of punch once you overcome the slight initial turbo lag. If you want smoother power delivery, I suspect the 220 hp light-pressure version could be a better choice. Its 146 mph top speed and 7.4 seconds 0-60 mph acceleration are also highly respectable.
Refinement-wise, the straight-four engines cannot match a six-cylinder engine of course. Saab has added a 2.8 turbo V6 to the 9-3 recently, but it won't be applied to the 9-5 because the re-engineering cost could not be recovered in its remaining life. So an interesting scene occurs: the lower class car gets a V6 while the upper class car gets 4-cylinder engines only. Nevertheless, the fans of Saab may be glad that the 9-5 is powered by a Swedish-built engine in the traditional 4-cylinder turbocharged format.
The suspensions have been retuned with stiffer dampers, bushings and anti-roll bars but softer rear springs for regular models. The Aero has 10 percent stiffer dampers and, as before, rides 10 mm lower than regular models. However, Saab knows very well that the outdated chassis of 9-5 can never match German premium cars in dynamics, so they retain the comfort-biased character of the suspensions. The revised 9-5 actually rides smoother and quieter than before, making it a good companion for long-distance travel. What a pity at high speed cruising the pronounced wind noise started showing its age.
Also showing its age is the cabin. While ergonomics is still excellent, quality is not. You will be disappointed with its hard plastics and wide panel gaps.
Handling is still a weak point of 9-5. It might be a little better than before, but cannot catch up with the progress of its rivals. The problem mainly lies in body roll (which it has a lot), agility (which it lacks) and torque steer which associates with the most powerful Aero. It's way better than the 9-3 Viggen era, but these days our standard has raised and we can no longer tolerate torque steer in a premium executive car.
Outdated it may be, the 9-5 is still loyal to the traditional character of Saab – fast, comfortable, practical and affordable. It remains a true Saab, and, ironically, probably the last true Saab. It deserves a space for survival.
The above report was last updated on 24 Oct 2005. All Rights Reserved.