9-3 Viggen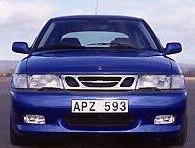 The name "Viggen" revives my memory as a military enthusiast years ago. I remember Saab made several supersonic jet fighters called Viggen, the AJ35, AJ37 and JAS39, they were famous of being capable to launch and land on Swedish highway. Today the same company's car division made the 9-3 Viggen. For your information, "Viggen" means "lightning".

This performance 9-3 is more the work of racing ace TWR than Saab's SVO special vehicle operation. Tom Walkinshaw used to make Aston Martin DB7, Jaguar XJ220 and currently Volvo C70, so it is not a great challenge for him to modify another Swedish car. He fitted a full set of body kits including a rear spoiler, deeper air dam and side skirts to produce an aerodynamic drag of 0.31 while reducing lift by more than 50% over the standard 9-3. Then stiffened the springs by 30% and installed new dampers, 17-in 215 width rubbers. Brake discs uprated to 308mm front and 286mm rear.

Otherwise are left to SVO. On the 9 years old birthday of the 2.3 litres turbocharged four-pot, they gave it a boost in power and torque - now 225hp and 253lbft, compare with the standard but discontinued 200hp and 243lbft back to a couple of years ago. There are more interesting figures for your reference : today's 2.3 light turbo develops 170hp under the bonnet of 9-5, the 2.0-litre high boost turbo generates 185hp for the 9-3, but back to 1991 the Saab 9000 Carlsson has the 2.3 unit boosted to 220hp. You can see how tuneable Saab�s turbocharged engines are.

Progress of technology through the years gives the current 225hp far better manner than 9000 Carlsson's 220hp. The twin-balancer shafts are still there, but electronic throttle and Trionic T7 engine management system are purely state-of-the-art. In addition to the intercooler, they reduce turbo lag to hardly noticeable. Those who have driven the 9-3 turbo SE or Volvo S70T5 couldn't understand how a near 100hp/litre engine managed to kill turbo lag. The same question may be raised to its silky smooth operation.

"Viggen" is really a suitable name. As low as 1500rpm the engine works eagerly, at 2000rpm the torque surges as the turbo is running on full boost. Torque curve flat out over a wide rev band between 2500 and 4000rpm, obviously due to the artificial work of engine management system. There is so much punch to the extent that the front wheels spin. Not just on wet, they spin also on dry. Oddly, traction control is not even optional equipment to this powerful front-wheel-drive sedan.

Apart from wheel spin, there is severe torque steer, so severe that devoid of any driving excitement. The extraordinary torque only adds the problem to the driver, who is fighting hard with the steering wheel and understeer. Don't blame TWR, it can't do much to alter the inherent flaw of the MacPherson strut front suspensions. Last time Alfa experienced torque steer in 164 (also with struts in front), they decided to install a double-wishbones setup to the front end of 156. Of course Saab won't do the same thing to just a derivative of 9-3.

Keep the 9-3 Viggen in straight line, it will cover the first 60mph in 6.5sec and top 155mph. Fastest ever for Saab, but not enough to compensate its flaw in handling.