Saab 9-3

Debut: 2002
Maker: Saab
Predecessor: 9-3 Mk1


Saab, a small Swedish car maker, always sells by its uniqueness. Special shape, special cockpit and turbocharged 4-pot engines are the trademarks of Saab. Even though it is under the umbrella of GM, Saab knows its survival depends very much on its unique character.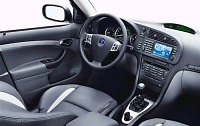 From the new 9-3, you can still see the pursuit of unique character. Although the exterior shape becomes more mainstream (I'm afraid the "ugly equals to unique" theory of Saab 900 can no longer work today), once you enter the cockpit you can easily recognize it as a Saab. The jet-fighter-style dashboard and console remains in the tradition of Saab. The Swedish also distinguish themselves from German rivals by placing ergonomics in first place. To prevent from distracting driver's sight from the road, Saab positions the display of trip computer at the bottom edge of windscreen and mounts the most frequently used controls high at the dashboard.

Although 9-3 is neither the biggest nor the best built junior executive car, its cockpit is what a good place to be in. The rear seats offer good leg and headroom. Driving position is superbly ergonomical, thanks to endless adjustment and the high dashboard. Seats are superbly comfortable. The visual quality of plastic and trimming is pretty good. With dark leather and "Vector" alloy-effect trimming, the cabin delivers a sense of luxury in the same way as Swedish furniture.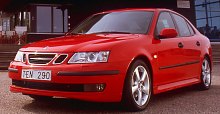 Like its predecessor, the new 9-3 shares platform with Opel Vectra. GM calls this global platform as Epsilon, which will also give birth to the next Saturn L-series, Chevrolet Malibu, Pontiac Grand Am and Opel Signum. Compare with the old platform, Epsilon is much more sophisticated and by no means a cheap design. First of all, it has a very rigid chassis, with a torsional rigidity of 20,000Nm/degree, even surpassing the already remarkable Vectra. A hydroformed subframe is employed to mount the engine and suspensions, improving chassis strength while reducing NVH. The Epsilon also has good suspensions, with MacPherson struts up front and multi-link at the rear. This compare favourably with the semi-trailing arm setup of the old 9-3. Moreover, the rear suspensions are also mounted on subframe to reduce noise and harshness.

Saab emphasis that it took part in the development of Epsilon from the very beginning, therefore the 9-3 chassis is tailor-made rather than adapted from Vectra's. In fact, the 9-3 is longer, narrower and whose wheelbase is 25mm shorter than the Vectra. Its steering employs conventional hydraulic assistance instead of the electro-hydraulic type of the Vectra as an attempt to improve steering feel. Its suspensions are tuned to be stiff laterally and soft vertically, this should improves motorway ride while ensuring good handling in twisty roads.

On motorways, the 9-3 is really superbly comfortable - it rides smoothly and quietly, so refined that it could be the best choice for long-distance travel alongside Mercedes C-class. Its steering display similar refined manner - well-weighted, precise and free of vibration. It also communicates better with the driver than Vectra, though not good enough to trouble BMW, Audi, Jaguar and Mercedes.

Push harder, the 9-3 still displays well-mannered handling. It handles much better than the old 9-3 Viggen. Admittedly, this is a pointless comparison, because the Viggen was one of the worst cars AutoZine ever rated (just 1 star when it was new). In fact, the new 9-3 has completely solved the fierce torque steer and wheelspin problems troubling its predecessor. The stronger chassis, the better suspensions and the cleverer Trionic 8 engine management system enable power put down on the ground effectively via the front wheels. Trionic 8, now runs on a 32-bit computer, automatically smoothens power output at sudden throttle opening to prevent from too much power upsetting the chassis. Even in the 210hp Aero model, handling remains smooth and tidy.

However, it would be very wrong to assume the new 9-3 matches its rear-wheel-drive and 4-wheel-drive rivals in handling. If you push it too hard, it won't display the same level of body control and mid-corner adjustability as its rivals. That said, Saab 9-3 is good to drive, but not designed for the most demanding drivers.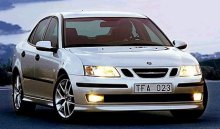 However, if we take the engine into account, the new 9-3 makes a lot of sense to keen drivers. Given a limited budget, your best choice of junior executive car could be either an entry-level BMW 318i, an Audi A4 1.8T or Saab 9-3 2.0t with 175 horsepower. The Saab is not only more powerful, faster in straight line and stronger in overtaking, but also delivers its power in an extremely refined manner. Light-pressure turbine ensures lag-free throttle response and a smooth power curve. Twin-balancer shafts and rigid engine construction suppress vibration and noise effectively. No other turbocharged inline-4 engines in the world could match its refinement, Audi's included.

If you remember, Saab is always the expert of turbocharged inline-4 engines. As early as 1985 it was already mass-producing a 2-litre four with twin-cam 16 valves, twin-balancer shafts, turbocharger and intercooler. This family of engines evolved and continued serving all Saab cars, excluding a small portion of 9-5 V6, until today.

However, what you see in the new 9-3 is a new generation engine. It is based on GM's L850 global four-cylinder family (see various Opel). Still employs twin-cam 16 valves, twin-balancer shafts, turbocharger and intercooler, the main improvement is the rigid yet lightweight all-aluminum construction. No wonder it is so free of NVH. So far, the Lotus-developed L850 has been appeared in normally aspirated form only. Saab's engineers are the first to turbocharge it. This requires a new cylinder head, a Garrett turbocharger, an intercooler and the aforementioned, very advanced Trionic 8 management system. In entry-level form, the turbocharger runs at a boost pressure as low as 0.5 bar. This give a modest 150hp output but a useful 178 lbft of torque. To join BMW and Mercedes' confusing badging policy, Saab calls this engine as 1.8t despite of its actual capacity of 1998c.c.

2.0t represents the same engine runs at 0.7 bar boost pressure. This give it 175hp and 195lbft. In many respect, the 2.0t is the choice of the range. It can top 136mph and accelerate from rest to 60mph in 8 seconds flat. Apart from decisively stronger performance, you can hardly tell the difference between it and the 1.8t. In other words, same smoothness and refinement.

On the top of the range is Aero. Again, it uses the same 2-litre engine but a more powerful Mitsubishi turbocharger enables maximum boost of 0.85 bar, hence outputting 210hp and 221lbft. The Aero also gets 6-speed manual gearbox and stiffer suspension setup, though poorer ride quality and suspension noise do not match the refined character of the car. However, I do love its sportier look with extra spoilers and skirts.

Now the junior executive car segment is added with another strong competitor. Whether you choose it over BMW, Audi, Jaguar and Mercedes depends on whether you love the unique character of Saab. The 9-3 is clever to distinguish itself from rivals. Powered by the world's best turbocharged four, having a comfortable and ergonomic cabin, and a ride quality so refined, the new Saab 9-3 seems to be a sensible choice, if not an emotional one.
The above report was last updated on 9 Aug 2002. All Rights Reserved.
9-3 Sport Hatch and 2.8 V6 turbo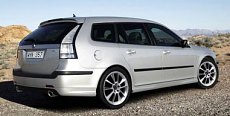 As GM announced it will shift production of the next generation 9-3 and 9-5 to Opel's factory in Germany, Saab - being a Swedish car maker - is effectively sentenced to death. But the execution is scheduled in 2008, so there are still 3 years to hang on. It's time to give the 3-years-old 9-3 a refresh to boost its slightly cooled down sales.

The first new element is an estate version called Sport Hatch (or SportWagon for some countries). As implied by its name, this car does not emphasis the capability of carrying load, but a sportier look and driving character, just like BMW 3-Series Touring, Audi A4 Avant and Alfa 156 Sportwagon - different names, the same thing. Its edge-cutting rear end styling and the "ice block" taillights look rather cool. It was the work of Michael Mauer who jumped ship to Porsche last year.

The luggage carrying capacity is average by class standard. When the rear seat is in normal position, its luggage capacity measures 419 litres (BMW: 460; Audi: 442; Alfa: 360). Fold the rear seat and the load capacity increases to 1273 litres (BMW: 1380; Audi 1184; Alfa: 1180). That means if you want driving excitement and practicality simultaneously, go to the BMW camp instead.

Another new addition to the 9-3 is a 2.8-litre turbocharged V6. It is derived from the Holden V6, produced in Australia but Saab involved the development of the turbocharging system, which is unique to Saab. The normally aspirated version of the 2.8-litre all-aluminum 60-degree engine has been used in Cadillac CTS. Based on that engine, Saab added a Mitsubishi turbocharger running at a light boost pressure of 0.6 bar. Because only a single turbo is employed, it chose a twin-scroll turbocharger which separate the exhaust gas from the two banks of cylinders to avoid interference. Other changes to the engine include a lower, 9.5:1 compression, sodium-filled exhaust valves (for better heat dissipation to deal with the extra heat generated by high pressure), stronger forged steel crankshaft and sintered forged con-rods. The flat torque characteristic of turbocharging allows the discard of variable-length intake manifolds, but intake variable valve timing is retained.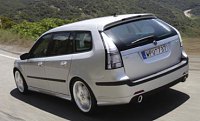 Installed in the 9-3 Aero, the engine produces 250 horsepower at 5500 rpm and 258 lbft of torque from 2000 to 4500 rpm. By the standard of light-pressure turbocharging, its power output cannot be described as disappointing, especially its emphasis is on easily accessible torque, i.e., some 90% of the maximum torque is available from just 1500 rpm. Performance is pretty strong too - acceleration from rest to 60 mph takes only 6.6 seconds for the sedan and 6.9 seconds for the estate. Top speed is 155 mph and 152 mph respectively.

Nevertheless, the engine is not very inspiring. Because of its low-revving manner and flat torque curve, keen drivers will find it not very interesting to exploit. Although its power delivery is lag-free, its not as smooth-revving as expected, showing no significant advantage over the existing 2.0 turbo, balance-shaft-equipped four-pot.

Saab used to be famous of building very good 4-cylinder turbocharged engines. By switching to GM's new V6, its unique character continues to fade out. Now we are worrying about the forthcoming Alfa 159, which uses the 3.2-litre version of the same V6.

The new 9-3 Aero is fast but not very exciting to drive. Apart from the soulless engine, torque steer is also more pronounced than before, blame to the stronger torque transmitted to the front wheels. Sadly, the outgoing 210hp Aero was actually a better drive.
The above report was last updated on 4 Jun 2005. All Rights Reserved.
9-3 facelift 2007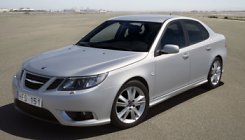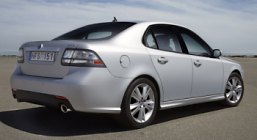 After 5 long years, Saab 9-3 has received a mid-life boost finally. Thankfully, the changes are quite extensive. Outside, the car gets a more beautiful front end including a new bumper, a more prominent corporate grille, wrap-around headlights and 9-5-style clamshell bonnet. The facelift changed some 70 percent of the body panels and you can see the differences clearly. I would say it is a successful facelift.

In the mechanical side, there are 3 improved engines:

1.9TTiD

: The Fiat 1910cc 16V diesel engine is added with a two-stage twin-turbo system first introduced in BMW 535d. A small turbo operates from just over idle to 1500 rpm, then a large turbo intervenes from there and completely takes over from 3000 rpm to provide full boost. As a result, it is virtually lag-free, very responsive from low rev and very strong in the mid-range. It produces 180 horsepower and 295 lbft of torque, accompany with an excellent fuel consumption of 47.8 mpg. For sure it will be a big seller !



2.0 Turbo BioPower

: based on the existing 2.0 turbo petrol but its reprogrammed Trionic 8 engine management system is compatible with E85 bioethanol fuel (85% ethanol and 15% gasoline). Thanks to the higher octane rating of biofuel (104 RON), it generates 200hp and 221 lbft of torque, some 25hp and 26 lbft more than the petrol version.



2.8 V6 Turbo

: Previously rated at 250hp, the range-topping turbocharged V6 gains another 5 horses to align with sister car Cadillac BLS. Better still, for those cars equipped with the optional all-wheel-drive system (we'll talk about it below), the engine is tuned to even more powerful – some 280 horses and 295 lbft – as the AWD system can handle. This is implemented by increasing the turbo boost from 0.5 to 0.8 bar.
As before, the front-wheel-drive Saab 9-3 is a refined junior executive car especially good at high-speed cruising. However, it is neither as sporty nor as engaging to drive as BMW 3-Series, new Mercedes C-class, Alfa Romeo 159 or new Ford Mondeo. To change this unfavorable situation, Saab turned to its Swedish neighbor for help – Haldex.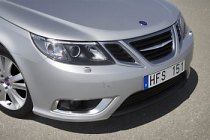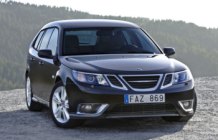 As everybody knows, Haldex has been famous for supplying 4-wheel-dirve system based on electromagnetic multi-plate clutch technology for Audi TT, Volkswagen Golf's 4motion and Volvo's AWD system, to name a few. Of course, the existing hardware can hardly win handling battles against BMW. Therefore Saab employs the latest, 4th generation Haldex system called "XWD" (Cross Wheel Drive). Unlike previous generations which transfer torque towards the rear wheels only when the front wheels are spinning, XWD's multi-plate clutch also engages the rear axle during takeoff. This ensure instantaneous acceleration without wheel spin. However, even more important is the addition of an active rear differential (also an electronic-controlled multi-plate clutch). Like Honda's SH-AWD system, the active rear differential can divert more torque to the desired rear wheel to change the yaw of the car. On the road, this means the 9-3 XWD turns into corner sharply, with none of the understeer associated with the FWD version. Push it in the twisty, it behaves like a well-balanced car, displaying admirable traction, stability and neutrality. With XWD equipped, the 9-3 is a match for 3-Series on handling on the dry and overwhelms it on the wet.

At the moment, the XWD is only offered for the Aero model with 2.8 V6 Turbo. We are looking forward to see its presence in other mainstream models, in particular, the very good 1.9TTiD.
The above report was last updated on 30 Jun 2007. All Rights Reserved.
Cadillac BLS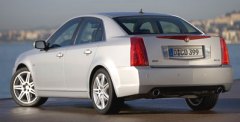 BLS must be the strangest Cadillac we have ever seen. Firstly, it is unbelievably small by the standard of the American luxury brand. Secondly, instead of the usual large capacity V8 or V6, it is powered by some turbocharged four-cylinder engines and even a 1.9-litre turbo diesel. Thirdly, perhaps the strangest of all, it is not available in the North America. Europe is the only place you can buy this entry-level Cadillac. Why? Because this car is actually NOT a Cadillac, but a badge-engineered Saab 9-3.

As many people know, Cadillac is nothing outside America. According to my 2004 figures, Cadillac sold only 2,000 cars outside North America out of its total sales 242,000 units. To increase its exposure in Europe, it needs a smaller and more fuel efficient entry-level model. At the same time, Saab's Trollhatten plant in Sweden also needs more products to fill its excess capacity, which will be seriously worsened when the next generation 9-3 move to Opel's Rüsselsheim plant in 2008. GM thus decided to let Saab to build BLS for Cadillac. If things go as optimistic as GM planned, it will grab 10,000 sales annually and keep the Trollhatten plant alive until 2010.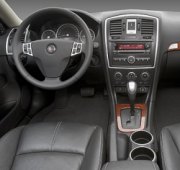 So, Cadillac BLS is basically a Saab 9-3 dressed in different clothes. The redesign was done in Detroit, employing the distinctive "Art and Science" design theme cleverly so that most people won't notice its Saab root. In the cabin, the dashboard and console are thoroughly redesigned too. They look quite nice, and Saab's build quality ensures they can embarrass the larger CTS. As all hard points are unaltered from 9-3, the cabin is inevitably small by Cadillac standard.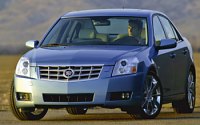 Naturally, the re-engineering was done by Saab. It mainly concerns the improvement of NVH isolation and a slightly softer ride setup (as expected by Cadillac customers). The BLS is more comfortable for cruising than its sister car as well as BMW 3-series and Audi A4, no matter ride comfort or quietness. However, its driver appeal is rather limited. The front-drive Saab has never matched its German rivals for handling and entertainment, the Cadillac is slightly worse still. Its body control and steering feel are among the worst in the compact premium sedan segment. The most powerful V6 turbo also adds torque steer into the dislike list.

All engines share with Saab 9-3: a Fiat-supplied 150hp 1.9 multijet turbo diesel, a 175hp 2.0 turbo, 210hp 2.0 turbo and a Holden-built 255hp 2.8 V6 turbo. Transmission also comes from 9-3: a 6-speed manual or a 6-speed automatic. As the car is slightly heavier and less aerodynamic efficient than the 9-3, performance is slightly slower.

Sadly, the fate of Trollhatten will be determined by the success – or the lack of it - of this car. If it fail to attract 10,000 sales next year, GM can declare it had tried all possibilities to turn-around the Swedish factory, and it will have a good reason to shut down the factory.
The above report was last updated on 26 Apr 2006. All Rights Reserved.