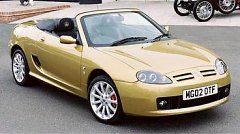 In 1995 Rover launched a new roadster called MGF. The car violated with all the MG traditional values - firstly, it was mid-engined, unlike any previous British roadsters; secondly, it was styled to emphasis sophistication, unlike the honest expression of MG TC or MGA/B/C; thirdly, it employed an unproven Hydragas suspension instead of conventional springs and dampers. This was eventually proved to be the reason for its inert handling. The Hydragas struts were also expensive to source and not free from leakage after extended use. This kind of risky engineering was far removed from the way Morris Garage used to make cars. There were also other reasons why the MGF experiment failed, such as poor ergonomics and ugly styling from Gerry McGovern. Excluding home market UK, MGF consistently slipped behind competitors Mazda MX-5 and Toyota MR-S. Among the 77,000 cars sold in 6 years, half of which were taken by patriots.

Entered the Phoenix group which wants to emphasis the brand image of MG (if there is any left after ruined by MG Metro / Maestro / Montego and the F itself), the MGF underwent a big surgery. The first revision came out was a limited edition called Trophy 160, as reported here last April. The car got 50% stiffer suspensions and all the rubber bushings removed from suspension subframes to sharpen chassis response. Further with the VVC K-series 1.8 engine tuned to deliver 160hp via improved breathing and reprogrammed ECU, the result was nearly a hardcore driver's car. Nearly.

The second wave is a much bigger reconstruction, ranging from facelift to all-new suspensions. MG Rover's new design chief Peter Stevens - the guy who penned McLaren F1 and various Lotuses - gave the new car a much sharper and cleaner front-end incorporating a new corporate nose and a nice-looking rectangular mouth with mesh grilles. Accompany with reshaped headlamps the car looks much more handsome. Stevens, a designer familiar with aerodynamics, also reshape the tail spoiler to cut aerodynamic lift. The new car looks so different that MG decided to give it a new name - MG TF. Interestingly, Isuzu claims the TF name belongs to one of its trucks, but in fact MG had already used this name to its roadster in 1953.

The chassis of TF is a further development from the Trophy 160. Having already stiffened suspensions and mounted the subframes solidly on chassis, and the result was still no complete success, MG finally decided to dump the Hydragas struts in favour of traditional coil springs and dampers. What links the wheels to the chassis now consist of double-wishbones at the front and multi-link at the rear. Other modifications include a 20% increase of chassis torsional rigidity by reinforcing sills, a quicker steering rack with weightier servo, an enlarged set of brakes .... you can see this is a big reconstruction.
A few words about the power steering. Back in 1995 MGF was probably the first car to employ pure electric power steering. While the F itself and most followers fail to deliver real feedback, the improved version in TF seems finally do it successfully, as you will see later.
Less impressive are the engines. Basically, they are still those K-series engines. 5 years ago the K might be world-beating, but today they are just average. The top 1.8-litre still employs the company's unique VVC variable-valve timing mechanism which not only varies cam phasing but also varies the duration of valve opening. As in Trophy 160, it is tuned to deliver an impressive 160 horsepower (15-20hp more than competitors) in a peaky and noisy manner. The non-VVC version, previously producing 120hp, has been tuned to deliver 135hp. The budget 1.6-litre K-series has also received a few more horsepower to 115hp. According to the number of horsepower, these cars are named TF160, TF135 and TF115 respectively. All drives through an unchanged 5-speed manual. Alternatively, you can order a 120hp 1.8-litre with Steptronic CVT - pardon me, after the BMW-era it has been renamed to "Stepspeed". Never mind, keen drivers won't consider a CVT, especially such a poor CVT. Other buyers are better to consider the sequential-manual Toyota MR-S SMT instead.
On the Road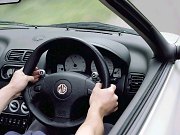 Despite of Stevens' effort, the MG TF still lives under the nightmare of the McGovern profile - the tail is too high, the wheels look small compare with the high shoulder line, and the car does not really look like a mid-engined machine. The exposed and manually-operated soft-roof is also clearly outdated. The interior, despite of new trimming, is as flawed as ever. The driver seat is so high that taller drivers will find their legs touching the dashboard and steering wheel. This could be a painful place to have a long journey. After modifying so many things, why not a pair of new seats ?
The 160hp VVC engine, as experienced in Trophy 160, is strong but peaky. It needs at least 4000rpm to get into its power band. This would not have been a problem were the gearshift not so balky. However, once you enter its power zone, the VVC engine will rev linearly and eagerly towards its 7100rpm cut-out. MG claims 0-60mph take 6.9 seconds. This might be a little bit optimistic considering the roadster weighs 1115kg. However, undoubtedly the TF160 is quicker than most rivals.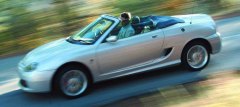 For those enjoying the easy going manner of the old car, they will be shocked by how different the TF perform. All controls - steering, clutch, gearshift and brakes - feels weighty. With the first turn of the steering wheel you can easily tell this is a focused driver's car. It is sharp and precise, offering more feedback than the MGF. Ultimately, when the car approaches its limit mid-corner, it does not provide as much communication as Mazda MX-5 and Toyota MR-S, but the MG feels rock steady in corners and uses its 215mm rear tyres to resist oversteer very well. Push too hard, it will understeer gently. Lift off, the nose will tuck in just a little bit, the tail still glues to the tarmac. Under the same conditions, MR-S will have its rear end break away suddenly and scare its driver.
However, the Japanese rivals still shine in terms of driver communication, gearchange and ergonomics. Most important, they ride like limousines compare with the TF. Now you start understanding how MG made it more driver focused than rivals - it sacrifices ride quality to obtain higher handling precision. With sports suspension package, the ride is so crashy that nearly unacceptable. With standard suspension, it won't display the aforementioned handling either.
Some may say the most hardcore drivers will choose MG TF, but don't forget Lotus have a pair of roadsters even quicker, more exciting to drive and rides far more comfortable. They are Elise and Speedster.