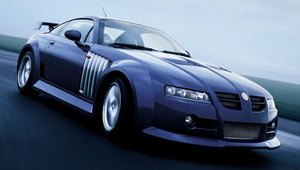 MG XPower SV is not a new car at all. It has a long long history.... in 1996, De Tomaso engineer Giordano Caserini designed a targa-top front-engined GT called "Bigua" and showed it in Geneva motor show. A couple of years later it went into production and became De Tomaso Mangusta. In 1999, the production right went into the hands of Qvales, an American dealer for De Tomaso. Qvale set up a modern factory in Modena, Italy and started manufacturing the Mangusta under its own brand name. However, failing to steal sales from Mercedes SL and Porsche 911, it did not survive long. In 2001, the production right together with the Modena factory were bought by MG Rover. MGR hired Peter Stevens (the designer of McLaren F1 and Lotus Elan II) to redesign the body and worked with Caserini to convert it into a wilder and more racetrack-oriented sports car. After some prototypes and some delays, MG XPower SV finally went into production in late 2003, but that was already seven years after Bigua first shown to the public.

Peter Stevens not only designed the car but also oversaw the whole project. To him, limited budget was the biggest headache. He did not have the money to redesign the open-top chassis of Mangusta to suit the close-top SV. He could only afford to reskin it with a more stylish carbon-fiber body (instead of glass-fiber composite). But having to compromise with the ill profile of the Mangusta chassis, even the best work of the ingenious designer failed to impress….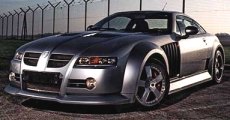 In fact, it is not the best work of Peter Stevens. This car won AutoZine's "Ugliest Car of the Year" award in 2003, thanks to its combination of dinosaur muscles and ill profile. By sports car standard it is very tall and fat. Even with very aggressive kits and artificially oversized shark side outlets, it looks more like an overweight knight rider rather than a sports athlete.
The car keeps the width, height and wheelbase of Mangusta and stretch the length by about 300mm. The body is full carbon fiber, but disappointingly it still gains 50kg from its predecessor. The chassis remains to be a box-section steel structure attached with double-wishbones suspensions at all corners. Engine and transmission continues to be Ford Mustang's 4.6-litre dohc V8 and Tremec 5-speed manual. Most of the car is produced in Modena. It is installed with the US powertrain and the UK-made carbon-fiber body and then shipped to England for fitting interior trimming and final assembly.
The American V8 is cheap to buy and easy to service, but it is never a sensational engine for sports cars. The standard SV is powered by the standard 4601cc V8 with 320 horsepower. Although its power matches a Porsche 911 Carrera, the use of 5-speed gearbox and the extra 150kg it carries harm its performance a lot. Although the company claims 0-60mph in 5.3 seconds, we believe it could take more than 6 seconds (a Qvale Mangusta was tested by R&T and took 6.1 seconds). This is hardly acceptable for a carbon-fiber sports car.
The hotter version, SV-R, not only gets a huge rear spoiler to distinguish it from the standard SV, but also a V8 bored out to 4996cc. It was prepared by American tuner Sean Hyland and is rated at 400 hp (SAE) or 385hp (DIN). It also produces 73 pound-foot more torque than the 4.6 V8. Nevertheless, in reality the engine is disappointing, not only lacking bottom end torque that you would expect for an American V8 but also top-end willingness above 4500rpm, where it sounds coarse and intrusive.
While the engine is far from joyful, the Tremec 5-speeder is even more disgusting. Its shift quality is truck-like - heavy and blocky. That might be forgivable if you are driving a super-cheap Mustang, but this MG SV and SV-R costs more money than a Porsche 911 !
SV-R is claimed to accelerate from 0-60mph in 4.9 seconds and top 175mph. But it never feels as fast as that. Acceleration is not sensational, not in the league of 911 Carrera, let alone 911 GT3 and 911 Turbo to whom it targets. In its home market, SV is sold at 66,000 pounds while SV-R at 83,000 pounds. For that money you can also buy Mercedes SL55 AMG. And don't forget some faster cars are significantly cheaper: TVR of all kinds, Noble M12, Mercedes SLK55 AMG, Chevrolet Corvette and Dodge Viper.

Open the doors, you will find a low quality, rough-finishing cockpit, shame for its price. Just two Recaro racing buckets were offered, no extra accommodation nor much luggage space at the boot. In place of the rear seats are a pair of cubbies for storing racing helmets. Sounds like a racing car? not really, because the driving position is saloon-like, with high seats, tall roof and upright windscreen. Yes, plenty of headroom for wearing racing helmet, but in case you don't wear helmet (will you do that in regular driving?) there is no airbag to protect you.
At least the handling and ride is good. On the road, the SV rides with suppleness and quietness you won't expect from its look. Although the car does not go very quick, it stops remarkably. The 355 / 310mm diameter Brembo brakes are powerful and crisp in response. What a pity it does not allow heel-and-toe action because of different height of pedals. The steering is quick and communicative. The wide tires generate a lot of grip. There is a little more body roll than desired, but overall speaking MG's tuning made the best from the Mangusta chassis.
However, that does not stop SV from failing the test. Poor engine and gearbox, lack of performance, low quality and high price all count against it. And don't forget that ugly look! I can't image any sensible person will buy MG SV instead of a 911 or other fine rivals.