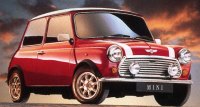 After nearly forty years of service, it is amazing that the Mini received another update in 1997. Of course, you won't expect advanced technology like multi-valve engine and ABS, but the newly-added side impact bars and driver's air bag may still be a surprise to you. Besides, the revision also improved brakes, cabin trimming and handling. Note that the wider wheels and arches are not shown in the above picture because this picture is out-dated. Compare with the newest generation of supermini, Rover Mini Cooper is still one of the most exciting one - direct steering response, nimble movement, excellent visibility..... these are missed by nowadays' car.

In 1959, Mini revolutionized the design of small cars - minimal overhangs, small wheels, compact transverse front engine driving the front wheels - all these rules still dictate today's small cars. 4 decades later, it inevitably showed weakness in many respect, most notable is cabin space. Remember, human grew considerably in height during the past 4 decades, Mini can no longer provide sufficient space for 4 full-size adults travelling a long journey. Although its space efficiency is still incomparable by today's supermini, Mini is far too small in external dimensions, especially in height.

The pushrod A series engine also showed its age, it is rather noisy. Transmission is still 4 speed manual, because it incorporates with the engine sump so that replacement is difficult. By the way, the small engine bay might not permit a larger gearbox.

Anyway, today's Mini is more than an economical small car, it is virtually an icon. Yuppies all over the world, especially Japanese, buy it for showing their personality (in recent years, Japanese bought 7,000-8,000 Mini every year and became the largest market) Otherwise, Rover won't sell it at a premium price.

Production of the classic Mini is going to cease in Sep 2000.