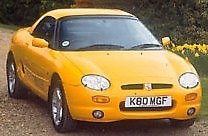 Since 1981, the famous British sports car brand name "MG" has not been used. Years and years passed, as many people including me thought MG was dead, Rover suddenly launched MG RV8 in 1992. Strangely, it is only a MGB installed with a Land Rover's 3.9 litres V8 engine. Apparently, it would be no more than a one-off special production and unlikely to benefit the company in economic sense. So, what is the purpose of this car ?

Well, the answer became clear in 1995 when Rover introduced an all new MG called MGF. Undoubtedly, the MG RV8 acted as a preparation for the MGF, recalling the MG reputation from people's memory. As the MGF launched, its mission had finished and production stopped.

In fact, MGF is a modern sports car without any relationship with any previous MGs. No matter in styling, mechanical structure and cabin, it is 100% a modern sports car. Perhaps Rover only takes the MG badge for the advantage of promotion !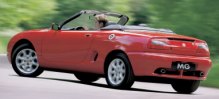 MGF is a small mid-engined roadster. Its soft appearance might not be the most attractive design, but definitely easy to live with. Under the skin, there is a 1.8 litres 143hp variable valve timing (Rover calls it VVC) engine which won many praises because of its smoothness and willingness to rev. Being the best British four cylinders engine, it can compete with Alfa's 2 litres twin sparks and Honda's VTEC to be the best four cylinders in the world.
Mating to a close ratio gearbox, performance of the VVC model is very good - 0-60 mph takes 7.6 sec. In contrast, the non-VVC version, with 118hp couples to taller gearing, result in less inspiring performance and feel.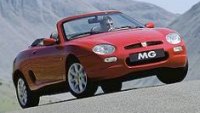 Being a mid-engined sports car weighing 1120kg, MGF was inevitably expected as an exciting driver's car. In fact, it handles without Z3's understeer manner, but also without the reborn MX-5's in-corner adjustability. Electric power steering seems filtering some of the steering feel.
The practical cabin has sufficient space. Driving position might not be as perfect as the pricey BMW, in particular the seats are a bit too high. Facia does not have the sense of occasion as found in Fiat Barchetta, just look too ordinary. In the positive side, there is sufficient luggage room under the bonnet and in the boot. Therefore it is a practical roadster which suit daily use. Perhaps this is the only character element carried over from the MGA / MGB / MGC series.
Report created before 16 Feb 99. Last updated on 21 Feb 99. All Rights Reserved.