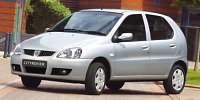 CityRover was born at a hard time to MG Rover. The company is facing unstoppable sales decline, delay of its all-important new family car RD/X60 and failure to get a Chinese partner. Cash reserve is drying out. It needs to introduce a new model immediately to stop bleeding. At this moment, it met Tata. The Indian car maker has been selling a mini car called Indica in domestic market and South Europe for some time. It was looking for a partner to increase sales in Europe. After a few months of negotiation, they reached an agreement to rebadge the Indica as CityRover and sell through MG Rover's network in UK. In this way, MG Rover acts only as an importer. It hopes to shift 30,000-40,000 cars a year.

Before talking about the CityRover, let us have a brief introduction to the original car first. Tata Indica was first launched in 1998. It was styled by Italian styling house IDEA (best known for Fiat Tipo, but then went burst) and engineered by Tata itself, though the petrol engine was helped by French consultant Le Moteur Moderne base on a PSA design. The early car was troubled by teething and quality problems thus was not very successful. These problems were largely solved by the Mk2 launched in late 2001.

CityRover is basically the Mk2 Indica, with just the minor and necessary facelift, equipment upgrade and revised tuning to suit European's taste. For example, the suspensions were stiffened by 50% to reduce body roll, the steering was sharpened by a quicker rack, the front brake discs were enlarged, shorter final drive ratio was used to improve engine response.... all these were requested by MG Rover after test drove it in UK, but the engineering was done by Tata and the car is 100% built in India.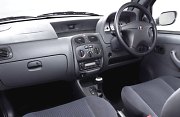 On paper, the Tata is very promising. It has a long, 2400mm wheelbase to enable a roomy interior for its class. Its Italian styling is pretty nice for a low budget car, at least no uglier than Korean rivals. Its 1.4-litre engine - although staying at the 8-valve era - produces as much as 85hp and 86lbft of torque, enabling a sparkling 0-60mph time of 11.4 sec. Again, very good for its class.
However, if you see it in fresh, you will be disappointed, because it is so lack of quality - not just in the way we used to criticize Korean cars, it is so bad that any Western car buyers will be hard to accept. From the poor paint finish, you can already see its inability to compete with Korea cars. Enter the cabin and it is even more appalling. When was the last time you saw a cabin as ugly and poorly-built? at least 20 years ago. Yes, it has space, but the look and feel of packaging is so bad that no one will be interested.
Moreover, the cabin has some serious ergonomic flaws: the steering wheel is fixed, the seats are cheap and uncomfortable. Equipment count is low compare with rivals. If you want to include power steering and electric windows, it will be more expensive than the equivalent Fiat Panda and Daihatsu Mira! yet it doesn't get ABS. It seems that MG Rover has forgotten this is an Indian car and charges the price of German cars. Unbelievable.
The CityRover also lacks mechanical refinement. Yes, performance is good, but the 1.4 engine is noisy. Gearshift is notchy. The ride is bouncy on bumps and generates a lot of suspension noise. The chassis lacks rigidity as well as sound-deadening, as there is too much NVH transmitted into the cabin. This is an old-school 80's mini car. Grip, steering and braking are also sub-standard.
The fact is, the original name "Indica" already indicates its real nature: a car for Indian. Price it properly, as Tata is doing, and sell it to Indian, this car makes more sense. Sell it to European and charge premium price will never work. The worst thing is, badge it as a Rover will undoubtedly cause more damage than gain to the brand.