MG ZS 180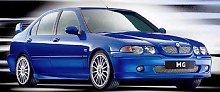 Among all the MG Z-cars, the Rover-45-based ZS 180 received the most performance upgrade. While the ZR and ZT breath from engine capacities no greater than their Rover roots, the ZS gets the 2.5 KV6 originally reserved for the bigger Rover 75. Mildly tuned to 177hp, it is already 27hp more than the existing 2.0 KV6. We don't know the exact kerb weight, but obviously it will tip the scale at the low-1300kg, that is, around 150kg lighter than the 190hp ZT. No wonder it feels much quicker. We are talking of 0-60 in 7.3 seconds.

The ZS 180 might not challenge the likes of Honda Civic Type R or the forthcoming Ford Focus RS, or the flyweight Renault Sport Clio 2.0, but the V6 engine has smoothness and beautiful vocal that the aforementioned 4-potters cannot compare with. As always, the KV6 is lightweight and free-revving, so it adds to driving fun without deteriorating handling. Moreover, throttle response is sharpened by revising ECU. Similarly, the close-ratio 5-speed gearbox couples perfectly with the engine and provides short-throw gearshift to satisfy keen drivers.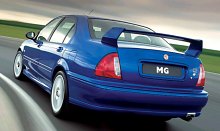 On the contrary to many expectation, the chassis upgrade has transformed the car dramatically. Although the basis is still the previous generation (1995) Civic, MG has revised the geometry of double wishbones suspensions to increase front castor, hence more self-centering and feedback to steering. Then there is lower ride height, uprated springs and dampers, thicker anti-roll bar, reduced power steering assistance, larger brakes, 17-inch wheels and wider tyres .... all the usual modifications, plus a quicker steering rack to sharpen steering response. As a result, the ZS is surprisingly involving to drive while it rides far more supple than the smaller ZR. It's not the most grippy or the most stable, but all good ingredients work in harmony to deliver the greatest possible fun from the old chassis. A great modification !
What a pity, not even Peter Steven's new nose-job and wing-job can hide its age, so is the mildly-decorated interior. It's good to drive, but not too satisfying to own.