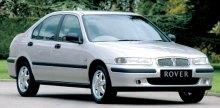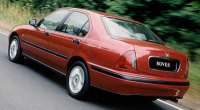 Rover 400 series is based on the Honda Civic platform. With the additional input from Rover itself such as their K series engine and luxurious packaging, it becomes the prestige version of Civic.

The 1.6 litres engine in 416 is developed from the 1.4 K series by enlarging the internal bore of the cylinder block. Since the external block dimensions has not changed, other components can be carried over without modification. Of course, you cannot expect class-leading power and smoothness from such a small budget design.

The chassis is exactly the same as the Civic donor, so it would be decent enough to please most customers. However, the best of the car is still the superior styling and the tasteful interior, where you can see the beautiful leather seats and wooden facia crafted in traditional British style. Although it is more expensive than Civic, I think it is worthy.

420 uses a T series engine with 2 litres and 136hp. It has better performance, of course, but the engine is not refiner than the 416. This car costs as much as a Ford Mondeo. Therefore 416 remains to be the value choice.

Report created before 16 Feb 99. Last updated before 16 Feb 99. All Rights Reserved.