MG ZR 160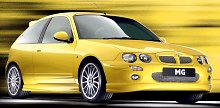 During the transition period from Rover to MG, the struggling British car maker will produce a line of MG cars alongside their Rover roots. Take this MG ZR as example, it is the MG version of Rover 25, with hotter look and tuning but it will offer a full range of engines from the warm 105hp 1.4 to the high-performance 160hp 1.8 VVC. In other words, the ZR will eventually replace the whole 25 lineup.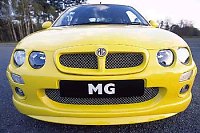 Given a weak basis of Rover 25, I don't have much expectation from this ZR160. Basically, this car is derived from the old 25 GTi with the VVC engine pumped up to deliver 160 horsepower in a peaky manner while the 128 lbft of torque is simply untouched. If you remember this engine is already serving the limited edition MGF Trophy 160, you don't need to be told that the power hike is the result of improved breathing and remapped ECU. The latter also improves throttle response, but the engine never feel as powerful as Volkswagen's 1.8T (even the 150hp version) and the French's 2.0-litre opponents. You need to work hard on rev with the close-ratio gearbox to extract the extra performance, which is not much. It is also very noisy.
Comparatively, suspension tuning seems mild. If the 25 were a modern hatchback, it won't need a magic to be converted to a real hot hatch. However, it was launched back in late 1995 (in the name of Rover 200) thus body stiffness is not comparable to today's hatches. Without applying any reinforcing, MG Rover struggled to achieve the right balance between sportiness and ride comfort. The result is a compromise thus satisfy neither sides. Drive it at eight-tenths effort, the stiffened suspension, hardened bushing and lowered ride height do deliver spirited handling. It is chuckable, throttle steerable and it corners flat, with good grip from 205 width 17-inch tyres and reassuring stopping power from larger brake discs. However, push it to limit and its shortcomings are revealed - excessive body roll, loss of grip and instability. On the other hand, ride quality is also inferior to most rivals. On broken surfaces it fails to overcome bumps that the French rivals can do easily, discomforting the occupants and reducing grip.
Everything else worth little mention. The interior design and materials are clearly outdated. Driving position remains poor. The exterior looks too much like aftermarket's work, especially the MG grille that looks as if attached by a poor craftman rather than an integrated part of the nose. Overall speaking, the ZR160 is the worst among the trio of hot MG recently launched (the others are ZS180 and ZT190). Peugeot 206GTi, Renault Clio 2.0 and even VW Lupo GTi need not to worry about it.