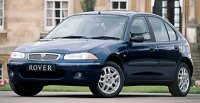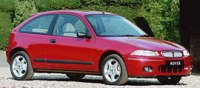 Rover 200 series is the first product after the departure between Rover and Honda. It is completely designed and built by Rover itself.

In dimension, it stands between those supermini and Golf class small sedan, but Rover promotes it directly against the latter. Therefore 200 series is always criticized for insufficient cabin space, especially in the rear seats and boot volume. Nevertheless, it performs strong in dynamic aspect, because it has one of the best European 16 valves four cylinder engine name "K series" and the lightest weight to cope with. For example, the 1.4 litres 214Si can finish 0-60 in merely 10.0 sec, better than many 1.8 litres rivals.

Besides, 214 is a well-built car like other Rover models, although this come under a relatively high price. Of course, 220Vi will not be missed, whose 143hp engine coming from MGF provides sparkling performance in a sweet manner. What a pity it lacks a communicative steering.

Report created before 16 Feb 99. Last updated before 16 Feb 99. All Rights Reserved.