French big cars gave us these impressions: cosseting ride, tasteful interior, comfortable seats. These qualities characterized the late Citroen CX, XM, Renault 25 and Safrane. Unfortunately, in the past 10 or so years they were progressively outclassed by German prestige sedans, to the extent that most people now regard them as the alternatives if one cannot afford German products. However, while the German brands are enjoying huge success, their 5-series, A6 and E-class are getting more and more similar to each other, so close that car journalists can use to the same phrases to describe them without thinking.

With the new Renault Vel Satis, it's time to have something special again. First of all, let me remind you that the Vel Satis is no cheap alternative to its German rivals. In fact, in the top-spec Initiale trim it costs more than a BMW 530i. Although it does pack more extra equipment, it does not have a brand name as prestige. Lexus and Infiniti, for example, would rather lower their price by 10% to avoid direct competition with the German. In contrast, Renault is much braver with the Vel Satis. It believes instead of lowering price it would be better to offer something different to the German in order to attract the rest of the buyers and those opt for luxurious MPVs in the past. This result in the world's first MPV-like luxurious executive sedan.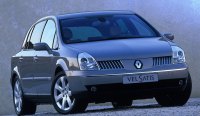 The first thing notice when you see the Vel Satis for the first time is its height - some 142mm taller than a 5-Series. Not only the roof is taller but the waistline and bumper level are also higher. The second thing is that it looks like a hatch, just enlarged in every dimensions. Yes, it IS a hatchback. French does not care about the stupid rule saying luxurious sedan must be 3-box. Renault 25 and Safrane already proved that hatchback can be just as fine to look, while with better practicality. Talking about the hatchback, you may notice that its wrap-around rear window resembles the lovely Renault 25, but what you might not notice is that the tailgate is now made of composite in order to reduce weight, or compensate the extra weight of the big glass window.

Styling is obviously a strong card of Vel Satis, at least Renault design boss Patrick Le Quement thinks so. He said the car follows the theme set by the 1998 concept car bearing the same name, but what I find is a beauty against a beast. Calling the production car a beast might be too hard, but the angry face with louvred grille and diamond-like headlights is not easily acceptable at first sight. It grows on you with time however. It has many elegant details, such as the bumpers with recessed square patterns and topped by a fine chromed line. Most important, the Vel Satis looks distinctive compare with any other executive sedans on the road.

Vel Satis Concept (1998)

Said to be the inspiration for the production car. It's far more handsome though.

Open the door and you will find a seat locating much higher than usual. You sit on the seat easily rather than drop onto it. You get off even easier. The MPV profile also benefits headroom, making the car extremely spacious. Rear legroom is also vast, but that is more out of the 2840mm wheelbase rather than the MPV profile. Passengers enjoy considerably more space here than in a E-class or 5-Series. Boot space is also very generous, thanks to a compact suspension design (we'll discuss that later) and the fact that the Vel Satis is a front-wheel-drive machine. Rear bench is 60/40 split, although it does not fold flat.

This is a really tasteful cabin. Big windows give it light and airy ambience unfound in German cars. Light wood trim (with recessed square patterns like the bumpers), high quality plastic and cream leather result in a luxurious yet warm environment. The design of dashboard and console is perhaps the biggest success among all Le Quement cars. In other words, they are tastefully styled. Fit and finish is also up to German standard, which is quite surprising. Better still is the front chairs with double hinges at backrest to enable a perfectly comfortable support that will please elderly having back problems. Rear passengers enjoy a LCD screen displaying DVD movies. In short, the Vel Satis has the most comfortable yet beautiful cabin in executive class.

While Mercedes sells 300,000 E-class in just a little more than 1 year, Renault plans to sell the same number of Vel Satis in its 6-year life span. Obviously, it cannot afford a unique platform thus cost sharing is inevitable. Therefore the Vel Satis shares platform with Laguna and the forthcoming new Espace, and to lesser extent, the Avantime. This allow the car to be produced in the same plant of Laguna and Espace, sharing 80% tooling. However, the Vel Satis has its own rear suspensions instead of Laguna's simple torsion-beam axle. Renault calls that a "Trigonal linkage", a patented design. The advantage is compact size while providing good compromise in ride and handling, although it is unlikely to trouble rivals' more sophisticated multi-link. The hub carrier and upper link are made of aluminium to reduce unsprung mass, hence better ride comfort. Front suspension remains to be MacPherson struts. Both rear and rear suspensions are mounted on subframes to reduce noise and harshness.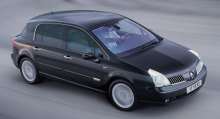 The Vel Satis is a big car. Measuring 85mm longer, 60mm wider and 142mm taller than a 5-Series, it tips the scale at up to 1735kg. This has already taken the aluminium engine and aluminium doors into account. What will happen when you throw such a big piece of metal into bends ? especially with high center of gravity ? will it handle like a van ?

Surprisingly, Vel Satis is pretty competent in handling department, although it does not inspire the driver. The suspension setting is stiffer than usual standard of French cars. On most roads it damps beautiful enough, but on really bumpy roads it will be unsettling. This may be disappointing for a French car, but in return it resists body roll well. It does not understeer very much. It has plenty of grip and adequate steering precision.

What it lacks is a sharper edge that lifts BMW 5-Series above everyone else. The Vel Satis handles safely and solidly. It is easy to drive. It is also nimbler than its size and weight suggest. However, its steering needs more feel, although already better than Safrane. Drivers are unlikely to push it into corners in the way like 5-series. If so, it will understeer like any front-drive cars.

What about on straight line ? with 1720kg to pull, Renault seeks help from Nissan's big capacity V6 to power the flagship Vel Satis. This VQ35DE, an all-alloy 3.5-litre V6 with continuous VVT at both intake and exhaust cams and a resonance variable intake, came from Altima and Maxima. With 245hp and 85% of its 243 lbft maximum torque from 1200rpm, it is the best thing Renault can dream of. The VQ is also renowned for its smoothness and enthusiastic sound. Renault claims this Vel Satis accelerates from 0-60mph in 7.8 seconds and tops 146mph. Good enough considering the comfort bias of the car.

The top diesel engine also comes from Japanese - this time by Isuzu. This is a 3.0-litre V6 with an odd 66° angle, 24 valves, an unusual aluminium block, common-rail injection and variable nozzle turbo. It pumps out 180hp and 258 lbft from 1800rpm. Yes, it is the same engine serving Saab 9-5 3.0 TiD.

Both V6s employ an intelligent Proactive 5-speed automatic with Tiptronic function. It shifts smoothly and reacts keenly to driver input. Other engines include a new light-pressure turbo 2.0 four-cylinder (165hp) and a 2.2dCi common-rail turbo diesel (150hp). They works with the superb 6-speed manual gearbox from Avantime. However, the budget choices fail to deliver satisfactory performance.

Conclusion

There are some exec sedans look prettier. Some ride better. Some go quicker. Many handle sharper. Nevertheless, the Vel Satis has a place of its own. In the homogeneous world of luxurious automobiles, it brings us fresh air and a really interesting idea of what a luxurious car could be. Yes, revolution started from France.