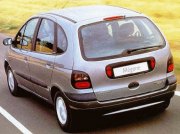 In my original Scenic report written in 1997, it predicted "Scenic is very likely to pioneer a new generation of cars, just like Espace pioneered the MPV in 1984."

It did that. Today, 3 years after its world debut, it contributed to 48% sales of the Megane family. Production has been 3-folded from the originally planned 100,000 units per year. As a trend-setter, it monopoly the market itself created for 2 and a half years until GME (Opel), Nissan, Mazda and Fiat eventually woke up and follow. While writing this article, Citroen is close to roll out the first production Picasso, Toyota is introducing Yaris Verso, and then Ford and Volkswagen will also enter the battle field within months.

Once again Renault demonstrated its vision and earned huge profit before others wake up. Facing tougher and tougher competition, it strikes back by facelifting the Scenic as well as launching a ground-breaking SUV based on Scenic.
Facelifted Scenic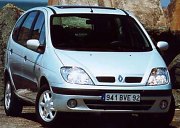 Firstly, let me briefly introduce the concept of Scenic. The idea is quite simple : to build a mini MPV (multi-purpose vehicle) on a D-segment platform, in this case it is Renault Megane. While retaining all engines, running gears, suspension, steering, dashboard etc. for the purpose of cost sharing, the roof is dramatically raised to maximize interior room. Furthermore, by raising the floor alongside with more vertical seats, the cabin will be less obstructed by the wheel arches, hence more usable room. The remaining work is to build in more storage and versatile seating plan. As a result, the Scenic drives more like a normal car than a van, cost just 10% in premium to normal Megane hatch while providing so much more comfort, versatility and fun for a whole family.

The facelift retains the basic mechanical structure, hence the same interior room and 5-passenger accommodation. Truly, in terms of accommodation it lags behind the 6-seat Fiat Multipla (which is the AutoZine's choice) and the 7-seat Opel Zafira. No matter exterior of interior dimension it is the smallest of the class. However, Renault would insists that more accommodation will be fulfilled by Espace. A good reason, but how to persuade customers continue buying the Scenic without looking for others ?

The answer is straightforward : fix the old problems, polish the strength, keeps out-pricing others.

The biggest old problem is the range of old 2-valve engines which are not only lack of power but harsh at high speed. This is easily fixed by adopting the latest 16-valves family from Clio, Megane and Laguna, startng from the 95hp 1.4-litre, 110hp 1.6-litre to the 140hp 2.0-litre. The latter incorporates VVT and is much more powerful than any competition. It brings GTi performance to the mini MPV.

Next to change is the face, otherwise it won't be a "facelift". I believe most people dislike the original car's grille and headlights combination. The new design is completely different. Big glassy eyes, body-colored bumper with fog lamps, new grille ... all look far smarter. It could even win sales by its good look.

The cabin used to be its strength, with independent and detachable seats. However, changes were made to keep it leading from other competitors. Like the Espace, now all seats are attached to rails thus can be slided forward and backward according to need. In the top spec model, the rear window can be opened for convenient access to the cargo space without needing to open the rear hatchback. Besides, more storage space is built in, such as the drawer under the front seats. Finally, the split-folding rear parcel shelf can be adjusted to four levels. It can now be folded away either along the back of the rear seats or flat at the bottom of the boot. No other mini MPV is so versatile.

Nevertheless, Renault did not re-design the interior packaging thoroughly, possibly because they want to continue sharing components with Megane. The dashboard is still built from Megane's parts bin, thus looking rather boring. Two-tone colour scheme also lack of fun. We don't need a Fiat Multipla to insult its interior design, just a Twingo from the same company is enough. Luckily, the strongest rival, Opel Zafira, has an even worse design.

Like many other mini MPVs, Scenic does not drive as good as conventional cars, thanks to the higher center of gravity. You may also blame Renault's parts pool which also contribute to the boring manner of Clio, Megane and Laguna. The 140hp 2.0 flagship, although with remarkable straight line performance and usefully passing ability, is not intended to be flicked around corners. The body control and steering feel never recommend the driver to do so.

Refinement and precision are not very satisfactory as well. Gear shift remains notchy, engine becomes quite noisy at the top end. However, these shorts are shared by nearly all mini MPV as cost control is so tight. Wanna more refinement ? buy a Mercedes A-class.